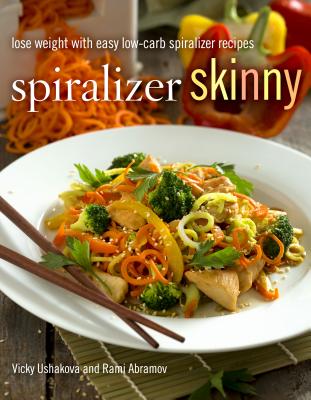 Spiralizer Skinny (Paperback)
Lose Weight with Easy Low-Carb Spiralizer Recipes
Castle Point Books, 9781250118622, 176pp.
Publication Date: January 17, 2017
* Individual store prices may vary.
Description
Change the way you think about dieting with Spiralizer Skinny. This book explores all of the weight-loss benefits and nutrition of going low-carb, and each recipe uses the spiralizing method to offer wholesome recipes that change how it feels to live a healthy, nutritious lifestyle. These incredible, easy-to-make meals--from Lasagna Rosettes to Drunken Parsnip Noodles with Steak--use the freshest of ingredients, letting you lose weight without the hassle and disappointment that comes with the latest diet fads. Find out just how easy it is to savor unbelievable, beautiful meals that make you feel great!
· Lose weight and forget carbs without the pain of dieting
· Feel healthy and great with easy-to-follow, tasty recipes
· Rejuvenate your health with incredible spiralized meals!
About the Author
Vicky Ushakova, co-founder of Tasteaholics.com, created Spiralizer Skinny to provide an easy way to understand why the scientifically-backed low-carb diet is truly effective for weight loss and health management. Vicky and her co-author Rami use spiralizing as an easy and versatile method to ease new dieters into the low-carb lifestyle. Her mission is to continue to improve her audience's health and outlook on life through diet and nutrition education.

Rami Abramov, co-founder of Tasteaholics.com, created Spiralizer Skinny to advocate the low-carb diet through research and easy-to-make, spiralized, low-carb recipes. He and his co-author Vicky are dedicated to helping change the detrimental nutritional guidelines in the United States and across the globe that have been plaguing hundreds of millions of people for the last 30 years.
Praise For Spiralizer Skinny: Lose Weight with Easy Low-Carb Spiralizer Recipes…
Praise for SPIRALIZER SKINNY:
"As more scientific studies report that the overconsumption of carbohydrates and sugar is contributing to the obesity epidemic rather than fat and calories, many individuals are reaching for their spiralizers and fresh fruits and vegetables to replace the traditional pastas and starches once seen on their plates. With over 100 whole-ingredient based recipes and easy to follow instructions, Vicky and Rami help us get tasty meals on the table with minimal effort. Their innovative recipes prove that healthy eating doesn't mean skimping on flavor. The choice to not include ingredient weights or nutritional counters puts the emphasis back on wholesome foods and the process of cooking - very liberating for those currently managing a low carb lifestyle. In addition, the authors explain and simplify the complex science behind metabolic processes and energy production, leaving no doubt that the recipes contained within were developed with health in mind. Vicky and Rami's book arrives just in time to help us capitalize on the healthful spiralizer craze."
--Kimberly Hardesty, Founder of LowCarbMaven.com
"Vicky's and Rami's new cookbook is a fabulous collection of some of the best grain-free recipes. Whether you want to lose weight or simply follow a healthy low carb diet, these easy-to-follow recipes with minimum prep time will show you how you can incorporate any vegetables into everyday meals. You will fall simply in love with spiralizing!"
--Martina Slajerova, Founder of The KetoDiet Blog
So you just bought yourself a spiral vegetable cutter. Fantastic, you are one step closer to giving up carb-heavy pasta for good! Except now what? What exactly are you going to make with this thing? Not to worry, Spiralizer Skinny is here to help you make the most of your fun new contraption. Authors Vicky Ushakova and Rami Abramov have created a gorgeous collection of healthy, low carb spiralizer dishes to make your mouth water. From soup to main courses to side dishes, it's all here. The only question is...what to make first?
--Carolyn Ketchum, Founder of AllDayIDreamAboutFood.com
or
Not Currently Available for Direct Purchase