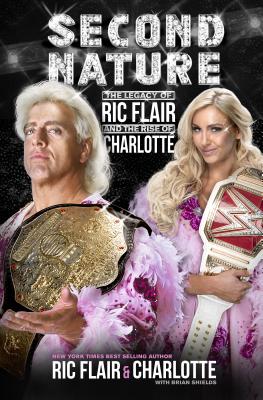 Second Nature (Hardcover)
The Legacy of Ric Flair and the Rise of Charlotte
St. Martin's Press, 9781250120571, 384pp.
Publication Date: September 19, 2017
Other Editions of This Title:
Compact Disc (9/19/2017)
* Individual store prices may vary.
Description
Second Nature is the father-daughter autobiography from WWE Legend "Nature Boy" Ric Flair himself and his talented daughter Charlotte, a multi-time WWE Women's Champion.
For the father-daughter duo of Ric and Charlotte Flair, sports entertainment is second nature, but with success comes a price. Following WrestleMania XXIV in 2008, the incomparable "Nature Boy" soaked in the adulation from the WWE Universe with tears in his eyes and his daughter, Ashley, watching proudly from ringside. Ric's emotional retirement marked the end of a four-decade journey thought by many to be the greatest wrestling career in history.
But for Ric and Ashley, now known as Charlotte, another journey was set to begin, one punctuated by unsettling struggles, unspeakable tragedy, and incredible triumph. Like a knife-edge chop to the chest, this brutally honest dual memoir details the trials and tribulations as one champion recaptures his enduring greatness while another embraces the challenge to usurp his place atop WWE.
Hear from the original limousine-ridin' sixteen-time World Champ as he reflects on his turbulent life away from the cameras. Get the real story from "Naitch" himself as well as Charlotte's eye-opening perspective as she recalls living in her famous father's shadow, rising above her own unique challenges, and the gravity of carrying on the Flair legacy. Follow two generations of WWE royalty and learn how their parallel paths come together as they learn to lean on each other on the road to glory, redemption, and the bright lights of WrestleMania.
About the Author
RICHARD MORGAN FLIEHR aka "Nature Boy" Ric Flair is a 16-time World Champion in sports entertainment. He began his professional career with the AWA in 1972. He was the cornerstone of the NWA/WCW for over two decades and leader of the illustrious Four Horsemen faction. He is also a former WWE Champion and the only man to be inducted into the WWE Hall of Fame twice.

ASHLEY ELIZABETH FLIEHR aka Charlotte is the daughter of Ric Flair. She first made a name for herself as the NXT Women's Champion before ascending to WWE's main roster and claiming the WWE Women's Championship.

Brian Shields is a New York Times bestselling author of the WWE Encyclopedia. Since 1998, he has worked with WWE on special projects, and partnered with Mattel, 2K Games, and Topps. Brian has written books for WWE and writes at the Friars Club in New York City where he enjoys membership. Brian teaches Digital Marketing and Social Media at Long Island University.
Praise For Second Nature: The Legacy of Ric Flair and the Rise of Charlotte…
"A winningly unadorned memoir... Second Nature is like wrestling itself — raw, cathartic and a lot of fun, and it's sure to please." —NPRBooks.com
"A must-read." —OrlandoSentinal.com
"A fascinating look at [Ric and Charlotte's] lives and the behind the scenes...of being a wrestler." —RedCarpetCrash.com
"Every person that aspires to be a professional in this business should take notes from Ric Flair." —John Cena

"After I did the film the wrestler, one of the greatest pro wrestlers approached me and congratulated me on my performance. The Nature Boy's compliment meant very much to me because he and Roddy Piper were inspiration for my character. Both Flair & Piper let it all hang out on many nights! I am certain that Ric Flair worked through the physical pain he endured year after year to give the audience a thrilling show. You could see it when Flair walked out to the ring— the man loved his job and loved his fans. He was and still is loved by millions all over the world. He gave all of himself. I loved the guy the first 30 seconds I meet him and was privileged to do a show in Houston with him. To this day I admire and look up to this great athlete & entertainer!"—MICKEY ROURKE
"Nobody compares to the stylin, profilin', limousine riding, jet flying, world-class entertainer and person, my friend, Ric Flair!"— Jim Harbaugh, University of Michigan.
"Even if people don't know anything about WWE, they know who Ric Flair is. The man is a legend, an all around great guy! Give me 2 claps and a Ric Flair WOOOOO!" —Rob Gronkowski 87
"I love Charlotte. She's a talented female… And she carries herself. When she enters that damn arena, everybody comes to their feet when they hit that music. It's a moment." —Stone Cold Steve Austin

"I used to watch 'Nature Boy' Ric Flair and hope that one day I could be just like him, the coolest, most happening guy in the world. Today, I sit a humble and flabbergasted wrestling fan to have the honor of calling him a colleague and a friend." —Shawn Michaels
"Having Ric Flair as a mentor made my career. Being under his wing helped me achieve more in this industry than I could have imagined." —Batista
"It is not easy being a wrestler's daughter. Charlotte always thinks she could do better. She is still so eager to learn and improve. She has been through a lot and it is rewarding to see her discovering her potential, which is limitless." —Natalya