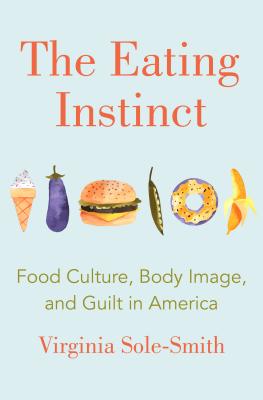 The Eating Instinct
Food Culture, Body Image, and Guilt in America
Hardcover

* Individual store prices may vary.
Other Editions of This Title:
Digital Audiobook (11/12/2018)
Paperback (1/21/2020)
Description
An exploration, both personal and deeply reported, of how we learn to eat in today's toxic food culture.

Food is supposed to sustain and nourish us. Eating well, any doctor will tell you, is the best way to take care of yourself. Feeding well, any human will tell you, is the most important job a mother has. But for too many of us, food now feels dangerous. We parse every bite we eat as good or bad, and judge our own worth accordingly. When her newborn daughter stopped eating after a medical crisis, Virginia Sole-Smith spent two years teaching her how to feel safe around food again — and in the process, realized just how many of us are struggling to do the same thing.

The Eating Instinct visits kitchen tables around America to tell Sole-Smith's own story, as well as the stories of women recovering from weight loss surgery, of people who eat only nine foods, of families with unlimited grocery budgets and those on food stamps. Every struggle is unique. But Sole-Smith shows how they're also all products of our modern food culture. And they're all asking the same questions: How did we learn to eat this way? Why is it so hard to feel good about food? And how can we make it better?
Praise For The Eating Instinct: Food Culture, Body Image, and Guilt in America…
*A Real Simple Best Book of 2018*

"A deeply moving book about the power of appetite to shape all of our lives. Sole-Smith writes with warmth and insight about the sheer complexity of eating today - and how this most basic and joyful of human activities can be relearned." —Bee Wilson, food writer and author of First Bite: How We Learn to Eat

"I thought food was food was food until I read the Eating Instinct. Now I understand so much better what's operating on me when I do what I've done a million times before...eat. Following Virginia Sole Smith on this ride that's both adventurous and personal will land you at a place where you feel so much more aware and also liberated every time you sit down for a meal. Read it before you take another bite!" —Hanna Rosin, host of NPR's Invisibilia and author of The End of Men

"[A] deeply personal and well-researched indictment of American diet culture." —Publishers Weekly

"Sole-Smith offers shrewd insights into far-ranging concerns about struggles with food…her narrative leads readers toward a better understanding and acceptance of individual instincts…a worthwhile read for anyone with anxieties about food." —Kirkus Reviews

"The Eating Instinct is a watershed book for smug foodies, worried dieters, and unrepentant junk-food lovers alike—none of us eats in a vacuum. As Virginia Sole-Smith casts a clear gaze not just on familiar villains like "big food" but on organics, "clean eating", and the wellness industry, she encourages us all to look more closely at what influences our choices, and does it in a smart, informed book that's hard to put down." —KJ Dell'Antonia, author of How to Be a Happier Parent

"The Eating Instinct is a thoroughly engaging and thought-provoking book. Reading it will help to liberate you from the power of our national obsession with thinness and the insidious diet culture it has spawned." —Janet Poppendieck, author of Free For All: Fixing School Food in America

"Virginia Sole-Smith is a first rate reporter and a warm, compassionate, funny writer to boot. That makes her the ideal guide for this tour of our many struggles around food, from obsessive dieting and "clean eating" to trying to eat healthy food on a food-stamp budget. If you've ever wondered why half of americans think Coke is a breakfast beverage while the other half thinks a French fry will kill them, The Eating Instinct is the book for you." —Katha Pollitt, columnist for The Nation and author of Pro: Reclaiming Abortion Rights

"To demand a program from her would be to miss her point, but if Sole-Smith has any advice in conclusion, it is to take a risk and trust yourself more with food." —Shelf Awareness

"With nuance and compassion, Sole-Smith asks how and why food has become so fraught—entangled with shame and fear and aspiration—for so many of us. Taking aim at not only weight-obsessed diet culture but also the "clean" eating dogmas of the alternative-food movement, she skillfully explores the cultural forces that have eroded our trust in our own instincts about how to eat. The Eating Instinct will make you think about your relationship to food and then make you hunger for a world in which we think less and just eat—simply and joyfully—more." —Maya Dusenbery, author of Doing Harm: The Truth About How Bad Medicine and Lazy Science Leave Women Dismissed, Misdiagnosed, and Sick

"Virginia Sole-Smith tackles one of the most complex and emotionally trying areas of life with depth, humor, and wisdom in her book The Eating Instinct. With a sensitive and thorough explanation of the issues and context, she creates a unique window through which to view the challenges that learning to eat and navigating the ever-present cultural food landmines create for many individuals. This book is a must-read for anyone who has ever struggled with eating, dieting, or judgement around food—and that is likely every person in America." —Jenny McGlothlin, SLP, Co-Author of Helping Your Child with Extreme Picky Eating and Conquer Picky Eating for Teens and Adults
Henry Holt and Co., 9781250120984, 304pp.
Publication Date: November 13, 2018
About the Author
Virginia Sole-Smith is a freelance journalist whose work has appeared in the New York Times Magazine, Harper's Magazine, Slate, and Elle. She is the author of The Eating Instinct: Food Culture, Body Image, and Guilt in America and also writes the Burnt Toast newsletter. She lives in New York's Hudson Valley with her husband, two daughters, a cat, a dog, and way too many houseplants.
or
Not Currently Available for Direct Purchase