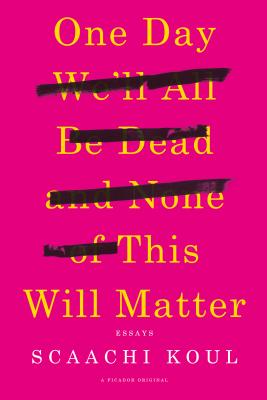 One Day We'll All Be Dead and None of This Will Matter
Essays
Paperback

* Individual store prices may vary.
Other Editions of This Title:
Digital Audiobook (9/25/2017)
Digital Audiobook (5/1/2017)
Description
One of NPR's Best Books of the Year

A DEBUT COLLECTION OF FIERCE, FUNNY ESSAYS ABOUT GROWING UP THE DAUGHTER OF INDIAN IMMIGRANTS IN WESTERN CULTURE, ADDRESSING SEXISM, STEREOTYPES, AND THE UNIVERSAL MISERIES OF LIFE

In One Day We'll All Be Dead and None of This Will Matter, Scaachi Koul deploys her razor-sharp humor to share all the fears, outrages, and mortifying moments of her life. She learned from an early age what made her miserable, and for Scaachi anything can be cause for despair. Whether it's a shopping trip gone awry; enduring awkward conversations with her bikini waxer; overcoming her fear of flying while vacationing halfway around the world; dealing with Internet trolls, or navigating the fears and anxieties of her parents. Alongside these personal stories are pointed observations about life as a woman of color: where every aspect of her appearance is open for critique, derision, or outright scorn; where strict gender rules bind in both Western and Indian cultures, leaving little room for a woman not solely focused on marriage and children to have a career (and a life) for herself.

With a sharp eye and biting wit, incomparable rising star and cultural observer Scaachi Koul offers a hilarious, scathing, and honest look at modern life.
Praise For One Day We'll All Be Dead and None of This Will Matter: Essays…
"Looking for a voice-of-their-generation type writer? No pressure or anything, but BuzzFeed writer Scaachi Koul might fit the bill. Drawing comparisons to Mindy Kaling and Roxane Gay, Koul is a voice for outsiders, children of immigrants and just about any other millennial trying to make their way in today's perplexing world with this entertaining and thought-provoking collection of essays."—Rolling Stone

"Heartfelt, clever essays."—Sarah Begley, TIME

"You're probably already in love with Scaachi Koul on Twitter, so if you read this book, be warned that you'll likely fall even deeper. Equal parts hilarious and profound, it's simply a must-read."—Cosmopolitan (Best Books to Read This Spring)

"I want to compare Koul to Nora Ephron and David Sedaris so that you'll buy the book (and because it is that funny), but her deft voice—with its smirking gut punches, its generous exasperation—is unmistakable, or at least will be soon."—The Village Voice

"Koul is one of the funniest people online, both in her work for places like Jezebel and The New Yorker and her must-follow Twitter feed...It's stunning how well Koul can alternate between self-deprecating, eye-opening, and heartbreaking [in this collection], or when she just does all three at the same time."—Vulture (Books Every Comedy Fan Should Read)

"Koul's essays are sharp, hilarious, and insightful."—The New York Post

"[Koul's] collection of thoughtful, funny essays made me think of Nora Ephron's effortless voice."—The Seattle Times

"[One Day We'll All Be Dead and None of This Will Matter] has made me a smarter, more curious, and more courageous woman. Scaachi Koul is electric in her honesty and humor...When authors like her courageously write about, and in turn magnify, difficult topics such as sexism, addiction, and biases, all other women are put in abetter position to succeed."—Elite Daily (Nine Books That Have Gotten Me Through Heartbreak, Love, & Everything in Between)

"Koul manages to balance uproarious comedy with poignant blows to the gut, somehow mastering the art of being both fun and affecting, outrageous and vulnerable."—Bustle

"In writing honestly about incredibly intimate moments, Koul reaches two distinct audiences: those who can't imagine what her life is like and are given a glimpse into it, and those like her, who will likely feel relief to see themselves reflected in a piece of culture that is sharp, witty and just plain fun to read."—The Toronto Star

"Deeply personal and humorous...In order to overcome racism, it must have a strong light shone on it to illuminate all its ugliness. Koul does this by bringing her vulnerability, honesty and, of course, wry sense of humour to the discussion. She weaves stories, which through their cultural uniqueness and specificity, become universal and applicable to all."—The Globe and Mail (Toronto)

"A first-generation Canadian with Indian parents, Koul offers up hilarious yet poignant takes on cultural issues from body image to stereotypes that fans of Roxane Gay are sure to love."—Orange County Register

"One Day We will be Dead and None of This Will Matter is full-throated Scaachi Koul—acerbic, honest, warm, funny, and occasionally confessional….Koul's essays are necessary at a time in our culture when xenophobia and misogyny are on the rise and when social media allows hatespeech to traverse across the globe. Koul's courage and her astute observations tempered by a wicked wit make this collection of essays worth reading."
—International Examiner

"Simultaneously uproarious and affecting, the personal essays in Buzzfeed contributor Koul's debut explore the nuances of life as a first-generation Canadian with Indian parents, from phobias, guilt trips, and grudges to the drama of interracial dating…. She also reflects poignantly on race, sexism, and body image issues…. The specifics of Koul's life are unique, but the overarching theme of inheritance is universal, particularly the vacillation between struggling against becoming one's parents and the begrudging acceptance that their ways might not be so bad. Koul's deft humor is a fringe benefit."—Publishers Weekly (starred review)

"Unveiling the double standards that exist for her both as a woman in her family (moving in with her much-older boyfriend prompts months of anger from her father) and a woman of color in the world, Koul is funny and generous in sharing, and blissfully not in the business of cutting slack...Like all great essays, Koul's will inform and entertain both those who already identify with her and those who don't yet."—Booklist

"One Day We'll All Be Dead and None of This Will Matter is an absolutely wonderful, impossible-not-to-love book. Whether writing about race or girlhood, the internet or family, Scaachi Koul's writing makes each issue feel fresh and newfound. Hilarious but thoughtful, Koul draws you in to her life and makes you never want to leave."—Jessica Valenti, New York Times bestselling author of Sex Object

"One Day We'll All Be Dead and None of This Will Matter made me laugh embarrassingly loud on the train while surrounded by snarling, irritated commuters, approximately 1,729 times. And she has so many killer lines that destroyed me. Scaachi Koul is a miracle."—Samantha Irby, author of We Are Never Meeting in Real Life and Meaty

"Koul writes with a humor that elevates her worries into something more universal…[A] funny yet poignant collection of essays."—Shelf Awareness

"One Day We'll All Be Dead and None of This Will Matter is moving, edifying and funny besides."—The National Post

"An iconoclast whose voice will likely resonate with a specific generation."—Kirkus Reviews
Picador, 9781250121028, 256pp.
Publication Date: May 2, 2017
About the Author
Scaachi Koul was born and raised in Calgary, Alberta, and is a culture writer for BuzzFeed. Her writing has also appeared in The New Yorker, The Hairpin, The Globe and Mail, and Jezebel. One Day We'll All Be Dead and None of This Will Matter is her first book. She lives in Toronto.