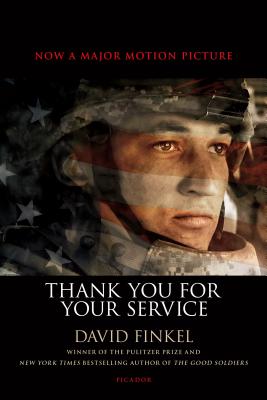 Thank You for Your Service (Paperback)
Picador, 9781250121462, 272pp.
Publication Date: September 5, 2017
Other Editions of This Title:
Digital Audiobook (9/30/2013)
Paperback (9/23/2014)
Pre-Recorded Audio Player (10/1/2013)
CD-Audio (10/1/2013)
Hardcover (10/1/2013)
* Individual store prices may vary.
Description
Now a Major Motion Picture Directed by American Sniper Writer Jason Hall and Starring Miles Teller
No journalist has reckoned with the psychology of war as intimately as David Finkel. In The Good Soldiers, his bestselling account from the front lines of Baghdad, Finkel embedded with the men of the 2-16 Infantry Battalion as they carried out the infamous "surge". Now, in Thank You for Your Service, Finkel tells the true story of those men as they return home from the front-lines of Baghdad and struggle to reintegrate--both into their family lives and into American society at large.
Finkel is with these veterans in their most intimate, painful, and hopeful moments as they try to recover, and in doing so, he creates an indelible, essential portrait of what life after war is like--not just for these soldiers, but for their wives, widows, children, and friends, and for the professionals who are truly trying, and to a great degree failing, to undo the damage that has been done. Thank You for Your Service is an act of understanding, and it offers a more complete picture than we have ever had of two essential questions: When we ask young men and women to go to war, what are we asking of them? And when they return, what are we thanking them for?
"Finkel sketches a panoramic view of postwar life....A book that every American should read." —Jake Tapper, Los Angeles Times
Finalist for the National Book Critics Circle Award, the Los Angeles Times Book Prize, and the New York Public Library Helen Bernstein Award for Excellence in Journalism. One of Ten Favorite Books of 2013 by Michiko Kakutani (The New York Times), a Washington Post Top Ten Book of the Year, and a New York Times Book Review Notable Book of the Year
About the Author
David Finkel is the author of The Good Soldiers, listed a best book of 2009 by the New York Times, Chicago Tribune, Slate.com, and The Boston Globe, and winner of the Helen Bernstein Book Award for Excellence in Journalism. He is a staff writer for The Washington Post, and is also the leader of the Post's national reporting team. He won the Pulitzer Prize for explanatory reporting in 2006 for a series of stories about U.S.-funded democracy efforts in Yemen, and the MacArthur "Genius" Grant in 2012. Finkel lives in Silver Spring, Maryland, with his wife and two daughters.
Praise For Thank You for Your Service…
"Incredible—a stunning, moving, subdued masterpiece of a book." —The Christian Science Monitor
"The stories of the soldiers and their families portrayed in Thank You for Your Service possess a visceral and deeply affecting power on their own that will haunt readers long after they have finished this book." —Michiko Kakutani, The New York Times
"Finkel sketches a panoramic view of postwar life....A book that every American should read." —Jake Tapper, Los Angeles Times
"His reporting is astonishingly intimate yet utterly respectful, taking us inside the hearts and minds of these men and their families." —Colette Bancroft, Tampa Bay Times
"This is not—nor should it be—an easy book. But it is an essential one." —Elizabeth D. Samet, The New York Times Book Review
"Embedded with the veterans, their families, their friends, and their counselors, Finkel lights up the lives of these struggling souls, who often compound their real problems by convincing themselves they're 'weak' for 'abandoning' their buddies and seeking treatment…Vivid, compelling, heartrending." —Jeff Stein, Bookforum
"Together with its masterful prequel The Good Soldiers, [Thank You for Your Service] measures the wages of the war in Iraq—the wages of war, period—as well as anything I've read...[Finkel] atones for our scant attention by paying meticulous heed." —Frank Bruni, The New York Times
"I'm urging everyone I know to give Thank You for Your Service just a few pages, a few minutes out of their busy lives. The families honored in this urgent, important book will take it from there." —Katherine Boo, National Book Award–winning author of Behind the Beautiful Forevers
"Thank You for Your Service is one of the best and truest books I have ever read. David Finkel cuts through all the spin, the excuses, the blowhard politics and mind-deadening metrics to discover the cost of war for the soldiers who fight it and the families they come home to. This extraordinary book will piss you off and break your heart. It will shame you and lift you up. It will bend your mind to the reality of an American war that is now well into its second decade." —Ben Fountain, author of Billy Lynn's Long Halftime Walk, winner of the National Book Critics' Circle Award and finalist for the National Book Award
"In this incredibly moving sequel, Finkel reconnects with some of the men of the 2-16—now home on American soil—and brings their struggles powerfully to life...Told in crisp, unsentimental prose and supplemented with excerpts from soldiers' diaries, medical reports, e-mails, and text messages, their stories give new meaning to the costs of service—and to giving thanks." —Publishers Weekly (starred review)
"In a series of interconnected stories, Finkel follows a handful of soldiers and their spouses through the painful, sometimes-fatal process of reintegration into American society. The author gives a clear-eyed, frightening portrayal of precisely what it is like to suffer with post-traumatic stress disorder or traumatic brain injury and what it is like to have the specter of suicide whispering into your ear every day." —Kirkus Reviews (starred review)
or
Not Currently Available for Direct Purchase