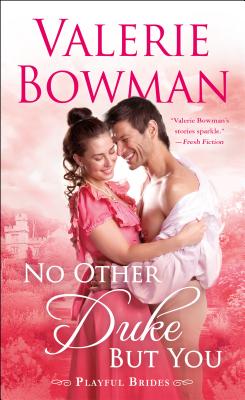 No Other Duke But You (Mass Market)
A Playful Brides Novel
St. Martin's Paperbacks, 9781250121677, 320pp.
Publication Date: April 30, 2019
* Individual store prices may vary.
Description
Bestselling author Valerie Bowman sets the stage in Regency England for her Playful Brides series, where couples' misadventures on the way to the altar are witty, romantic romps based on some of the world's most beloved plays. The eleventh book in the series, No Other Duke But You, is inspired by William Shakespeare's A Midsummer Night's Dream.
SINGLE LADY SEEKS DUKE
Lady Delilah Montebank has her marital sights set on the Duke of Branville. There's just one problem: he barely knows she exists. But no matter, she's got a plan to win him over with her charm, her wit—and perhaps the love potion she has in her possession wouldn't hurt her cause...
Lord Thomas Hobbs, Duke of Huntley, thinks his best friend Delilah's quest to become a duchess is ridiculous. He's always said he'd rather give up all the brandy in London than commit to one person for life. Besides, he knows that Delilah's love potion can't possibly win over Branville...since she accidentally gave it to him instead. But perhaps this is the excuse he needs to show her he's always loved her...
Delilah can't believe she gave the potion to the wrong duke. Then again, Delilah could do a lot worse than win the hand of her handsome best friend. Could it be that the right duke has been before her eyes all along?
The Playful Brides novels are:
"Wholly satisfying."—USA Today
"Smart and sensual."—RT Book Reviews
"Delicious." —Kirkus Reviews

About the Author
Valerie Bowman is an award-winning author who writes Regency-set historical romance novels aka Racy Regency Romps! Since her debut in 2012, Valerie's books have received starred reviews from Publisher's Weekly, Booklist, and Kirkus. She's been an RT Reviewers' Choice nominee for Best First Historical Romance and Best Historical Romance Love and Laughter. Two of her books have been nominated for the Kirkus Prize for fiction and New York Times bestselling author Lisa Kleypas calls them, "Too delightful to miss!"
Valerie has a B.A. in English Language and Literature with a minor in history from Smith College. By day, she is a technical editor at a computer software company. By night, she combines her love of writing, history, and romance to craft stories about people falling in love.
Originally from Rantoul, Illinois, Valerie lives in Jacksonville, Florida with her family including her two rascally dogs. When she's not writing, she keeps busy reading, traveling, or vacillating between watching crazy reality TV or PBS.
Praise For No Other Duke But You: A Playful Brides Novel…
"Regency fans will adore this charming tale and its cast of memorable characters." - Publisher's Weekly on No Other Duke But You
"Fans of second-chance romance will be charmed from the first chapter. " — Kirkus on A Duke Like No Other

"Chock-full of charm." - BookPage on A Duke Like No Other
"Readers are sure to be enthralled." - RT Reviews Top Pick on A Duke Like No Other