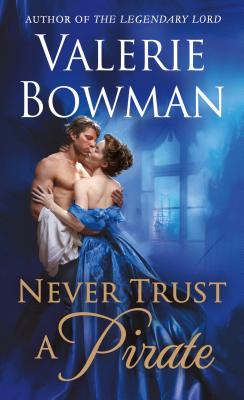 Never Trust a Pirate (Playful Brides #7)
Mass Market

* Individual store prices may vary.
Description
Bestselling author Valerie Bowman sets the stage in Regency England for her Playful Brides series, where couples' misadventures on the way to the altar are witty, romantic romps based on some of the world's most beloved plays. The seventh book in the series, Never Trust a Pirate, is inspired by Emma Orczy's The Scarlet Pimpernel.
The rules of engagement were never so scandalous. . .
A rumored pirate and the scurrilous black sheep of his well-to- do family, Cade Cavendish relishes his world of rebellion, deception, and seduction. Nothing and no one can hold him to be the duty-bound, honorable man he is expected to be. But when an unexpected run-in at his twin brother's estate with a ravishing, raven-haired maid leads her to believe he's actually a viscount, Cade's renegade life is thrown wildly off-kilter. And even though a case of mistaken identity can be quickly set to rights, matters of the heart are quite different…
Miss Danielle LaCrosse is startled to learn that the handsome gentleman who radiates sin and has the devil in his eyes is not her employer the Viscount, but rather his infamous brother. A former heiress, orphaned and left penniless, Danielle has more than a few secrets of her own. Cade may be skilled at coaxing even the most hidden desires out of Danielle but can he earn her trust—and win her heart—as they embark on an adventure to confront a dangerous enemy from both of their pasts . . . and uncover the identity of the so-called Black Fox along the way?
Never Trust a Pirate is part of the Regency-set Playful Brides series by Valerie Bowman
Praise For Never Trust a Pirate (Playful Brides #7)…
"Thrilling, delicious, and suspenseful." —Kirkus Reviews
"Wonderful, sprightly repartee, a fast pace and delightful characters blend together in another enthralling Bowman romance. Always smart and sassy, Bowman's heroines delight in piquing the hero; taunting and tempting. Together they heat up the pages and turn readers' thoughts to what original storyline she'll come up with next for their "keeper" shelf." —RT Book Reviews (Top Pick!)
"An engaging literary treat for all romance readers who don't take their historicals (or themselves) too seriously." —Booklist
"A delicious mix of intrigue and red-hot romance. Bowman pens a fun, fast page-turner of a romance, filled with characters that communicate even as they struggle to trust each other. For readers who like a soupçon of suspense with their romance, this is a book to keep you guessing." — BookPage
"A beautifully written tale, Never Trust a Pirate is a very enjoyable read." — Romance Reviews Today
"Bowman blends a lighthearted romp through Regency London with a secret spy mission and, yes, action aboard a pirate ship for a perfectly lovely novel." — Bestselling author Maya Rodale
"This book definitely had me on the edge of my seat and my head spinning with trying to figure out who was actually who and what was going to happen next. Valerie Bowman took me on a wild, adventurous, sexy & passionate ride with this book and I cannot wait for the next book in this series." — Crazii Bitches Book Blog
"A fun and entertaining adventure." — Rendezvous with a Romance
"Never Trust a Pirate is an intriguing book filled with secrets, deception, and romance. I loved it." — Write-Escape
"Never Trust a Pirate is a highly sensual read featuring independent, passionate characters and compelling Napoleon-era backstories." — Jessica Shuck
"If you're looking for a fun, mystery-adventure, pirate-themed novel with a rakish bad boy hero and a strong, sassy, secretive heroine, Never Trust A Pirate is an excellent romance story that is fully capable of sweeping you away to another time, and another place. The characters are compelling, the story is engaging, and the easy, natural writing style is seriously on point." — Okie Dreams book reviews
"Valerie Bownan has delivered a cast of vibrant characters and a suspense filled plot with witty dialogue, sexy times and a heartwarming romance." — Francoise's Reading Corner
St. Martin's Paperbacks, 9781250121691, 320pp.
Publication Date: May 2, 2017
About the Author
Valerie Bowman is an award-winning author who writes Regency-set historical romance novels aka Racy Regency Romps! Since her debut in 2012, Valerie's books have received starred reviews from Publisher's Weekly, Booklist, and Kirkus. She's been an RT Reviewers' Choice nominee for Best First Historical Romance and Best Historical Romance Love and Laughter. Two of her books have been nominated for the Kirkus Prize for fiction and New York Times bestselling author Lisa Kleypas calls them, "Too delightful to miss!"
Valerie has a B.A. in English Language and Literature with a minor in history from Smith College. By day, she is a technical editor at a computer software company. By night, she combines her love of writing, history, and romance to craft stories about people falling in love.
Originally from Rantoul, Illinois, Valerie lives in Jacksonville, Florida with her family including her two rascally dogs. When she's not writing, she keeps busy reading, traveling, or vacillating between watching crazy reality TV or PBS.
or
Not Currently Available for Direct Purchase