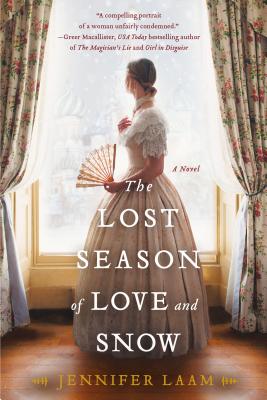 The Lost Season of Love and Snow
A Novel
Paperback

* Individual store prices may vary.
Description
"A captivating tale in which Natalya Pushkin is vividly imagined. [A] sensitive and skillfully written novel... sure to enchant." - Hazel Gaynor, New York Times bestselling author of The Girl Who Came Home

The unforgettable story of Alexander Pushkin's beautiful wife, Natalya, a woman much admired at Court, and how she became reviled as the villain of St. Petersburg.

At the beguiling age of sixteen, Natalya Goncharova is stunningly beautiful and intellectually curious. At her first public ball during the Christmas of 1828, she attracts the romantic attention of Russia's most lauded rebel poet: Alexander Pushkin. Finding herself deeply attracted to Alexander's intensity and joie de vivre, Natalya is swept up in a courtship and then a marriage full of passion but also destructive jealousies. When vicious court gossip leads Alexander to defend his honor as well as Natalya's in a duel, he tragically succumbs to his injuries. Natalya finds herself reviled for her perceived role in his death. In her striking new novel, The Lost Season of Love and Snow, Jennifer Laam helps bring Natalya's side of the story to life with vivid imagination—the compelling tale of her inner struggle to create a fulfilling life despite the dangerous intrigues of a glamorous imperial Court and that of her greatest love.
Praise For The Lost Season of Love and Snow: A Novel…
"The next time you need a break from reality, turn to The Lost Season of Love and Snow. It tells the story of how one woman, Natalya, goes from being the admired wife of a poet to the villain accused of playing a role in his death. Oh, and there's an epic duel. Sold." - HelloGiggles

"As a historical novel it is certainly inspiring, successfully setting out the beauty and cruelties of a previous time, as well as holding a mirror to our own age." - The Historical Novel Society

"An evocative story of love and power, Jennifer Laam draws the reader deep into the heart of a resilient woman's struggle to hold her own in Imperial Russian society. Natalya Pushkina, a woman once adored, ridiculed, and since forgotten, is brought to life in this vibrant, skillfully woven tale." - Serena Burdick, author of Girl in the Afternoon

"A captivating tale in which Natalya Pushkin is vividly imagined. The dramatic complexities of her personality, and of Imperial Russian society, are cleverly portrayed in this sensitive and skillfully written novel. Sure to enchant those who are already fans of Jennifer Laam, and fans of historical fiction." - Hazel Gaynor, New York Times bestselling author of The Girl Who Came Home

"This hauntingly elegant tale of love and tragedy in Imperial Russia, as seen through the eyes of Pushkin's much-reviled wife, sweeps us up into the fatal glamour and deceptions of an era, the peril of choices, and one woman's resilient struggle to discover herself." - C.W. Gortner, author of The Vatican Princess

"The Lost Season of Love and Snow deftly weaves historical facts with rich, deep emotion, taking us inside the unforgettable love story between young beauty Natalya Goncharova and famed poet Alexander Pushkin. Jennifer Laam delivers a compelling portrait of a woman unfairly condemned not just for her own desires, but for the adoration of powerful men she could neither reject nor control. Laam makes love itself both the hero and the villain of this powerful story, delicately exploring its joys, delights and tensions as well as its tragic consequences." - Greer Macallister, USA Today bestselling author of The Magician's Lie and Girl in Disguise
St. Martin's Griffin, 9781250121882, 352pp.
Publication Date: January 2, 2018
About the Author
Jennifer Laam earned her master's degree in History from Oakland University in Michigan and her bachelor's degree from the University of the Pacific in Stockton, CA. She has lived in Los Angeles and the suburbs of Detroit, traveled in Russia and Europe, and worked in education and non-profit development. She currently resides in Northern California. The Secret Daughter of the Tsar is her first novel.