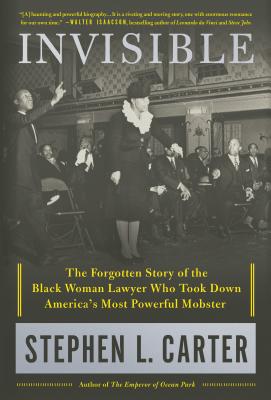 Invisible
The Forgotten Story of the Black Woman Lawyer Who Took Down America's Most Powerful Mobster
Hardcover

* Individual store prices may vary.
Other Editions of This Title:
Digital Audiobook (10/8/2018)
Paperback (10/8/2019)
Library Binding, Large Print (2/27/2019)
Description
The bestselling author delves into his past and discovers the inspiring story of his grandmother's extraordinary life
She was black and a woman and a prosecutor, a graduate of Smith College and the granddaughter of slaves, as dazzlingly unlikely a combination as one could imagine in New York of the 1930s—and without the strategy she devised, Lucky Luciano, the most powerful Mafia boss in history, would never have been convicted. When special prosecutor Thomas E. Dewey selected twenty lawyers to help him clean up the city's underworld, she was the only member of his team who was not a white male.
Eunice Hunton Carter, Stephen Carter's grandmother, was raised in a world of stultifying expectations about race and gender, yet by the 1940s, her professional and political successes had made her one of the most famous black women in America. But her triumphs were shadowed by prejudice and tragedy. Greatly complicating her rise was her difficult relationship with her younger brother, Alphaeus, an avowed Communist who—together with his friend Dashiell Hammett—would go to prison during the McCarthy era. Yet she remained unbowed.
Moving, haunting, and as fast-paced as a novel, Invisible tells the true story of a woman who often found her path blocked by the social and political expectations of her time. But Eunice Carter never accepted defeat, and thanks to her grandson's remarkable book, her long forgotten story is once again visible.
Praise For Invisible: The Forgotten Story of the Black Woman Lawyer Who Took Down America's Most Powerful Mobster…
A 2019 Hurston/Wright Legacy Award Nominee

"A vivid portrait of a remarkable woman."—Kirkus Reviews
"With artful storytelling and a narrative-like delivery, Carter tells Eunice's story in the best way possible, offering a compelling, unputdownable read with as much value in social history as legal appeal. Not to be missed."—Library Journal (starred review)
"Carter's enthusiasm for his grandmother's incredible fortitude despite numerous setbacks is contagious; Eunice Carter's story is another hidden gem of African-American history."—Publishers Weekly (starred review)
"Invisible is not only a personal restoration project; it's the reclamation of a key figure in recent American history. . . . Stephen L. Carter has revived his grandmother's voice when we most need it, and with utmost urgency." —Sarah Weinman, The New York Times Book Review
"[An] engaging biography. . . . [Eunice's] lifelong 'determination to rise' makes for a moving paean to female aspiration." —The New Yorker
"Riveting . . . Remind[s] us of the deep paradoxes of segregation."—The Washington Post
"Just a few pages into this engaging, inspiring biography, one question unavoidably comes to mind: Who will play her in the film? … His talent honed as a fiction writer (The Emperor of Ocean Park, among his novels), Carter brings to life the era when Eunice Carter faced formidable discrimination…forging ahead all the while to see that justice was done."—National Book Review
"Stephen L. Carter. . . is at it again. . . . While Carter the professor steadily guides readers toward Eunice's work in the Luciano trial, and the jury's eventual conviction of Luciano and his associates on nearly all counts, the heir to his grandmother's legacy shows us that he takes no small measure of joy in weaving a detailed quilt of family history that gets us there."—National Law Journal
"Carter's narrative reads at times like a legal thriller, as he traces the ins and outs of the case against Luciano and other high-profile cases Eunice later handled… Meticulously researched and compelling, Invisible is at once a fascinating slice of New York legal and racial history and a thoughtful portrayal of a woman who refused to be hidden."—Shelf Awareness (starred review)
"Moving, haunting, and written with dazzling power, Invisible tells the story of a woman who often found her path blocked by the social and political expectations of the age."—African American Literature Book Club
"Compelling . . . Utilizing his superb storytelling talent, [Carter] brings Eunice to life. . . . Impressive scholarship."—New York Law Journal
"In this haunting and powerful biography, Stephen Carter tells the astonishing story of his grandmother, a brilliant African-American lawyer who struggled with prejudice and personal tragedies. It is a riveting and moving story, one with enormous resonance for our own time."—Walter Isaacson, #1 New York Times bestselling author of Leonardo Da Vinci and Steve Jobs

"A black female lawyer in the 1930s whose legal strategy helped put away Lucky Luciano and who became a protégée of Thomas Dewey -- Eunice Hunton Carter led a life that seems almost fantastical. Yet she lived and did all these things and much more. Stephen L. Carter tells his grandmother's story with a clear eye and clear prose to match. This fascinating work reintroduces us to the life of a once-famous woman who should never have been forgotten."—Annette Gordon-Reed, author of The Hemingses of Monticello
"Page after page of surprises. Revealed is an incredible family story — hidden until now — about black people with intellect and grit. Oh, and this is also a new window on American history. Stephen Carter's strong skills as a novelist are evident in this powerful biography."—Juan Williams, author of Thurgood Marshall: American Revolutionary
Henry Holt and Co., 9781250121974, 384pp.
Publication Date: October 9, 2018
About the Author
Stephen L. Carter is the bestselling author of several novels—including The Emperor of Ocean Park and New England White—and over half a dozen works of non-fiction. Formerly a law clerk for Supreme Court Justice Thurgood Marshall, he is the William Nelson Cromwell Professor of Law at Yale University, where he has taught for more than thirty years. He and his wife live in Connecticut.
or
Not Currently Available for Direct Purchase