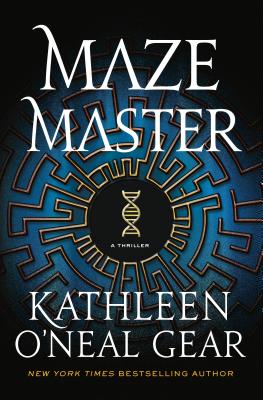 Maze Master
A Thriller
Hardcover

* Individual store prices may vary.
Description
New York Times bestselling author Kathleen Gear's new apocalyptic thriller Maze Master shows the world ending not in fire nor in ice but in science.

Kathleen Gear, who often co-writes with her husband W. Michael Gear, has authored 42 books which have been New York Times, USA Today and international bestsellers. Translated into 29 languages, there are around 17 million copies of her books in print worldwide.

LucentB is a retrovirus that's inevitable, unstoppable, and utterly catastrophic for humanity. The US government believes the only person who can find the cure is the geneticist who tried to warn them about it and then disappeared: James Hakari. They assign the task of finding him to his former student Anna Asher, who in turn recruits paleographer and religious studies scholar Dr. Martin Nadai.

The brilliant but insane geneticist is leaving clues for Anna and Martin to follow, showing he's truly earned his students' nickname for him: the Maze Master. The search takes Anna and Martin around the world and into a warzone they never imagined.

Maze Master's LucentB is based off of the real retrovirus HERV-K, which has caused several plagues over the past 75,000 years, almost wiping out Neanderthals 50,000 years ago, and maybe 30,000 years ago. Modern geneticists consider HERV-K not to be extinct, but rather to be waiting for some trigger to come alive again.

With its scientific and archaeological authenticity and suspenseful clues, Maze Master will have readers rushing through its intricate maze to find out the fate of the world in this thrilling adventure.
Praise For Maze Master: A Thriller…
Praise for Maze Master:

"Gear brings her own voice to the story, her own way of tackling the follow-the-clues format, and the result is a crisply written, lively, and quite satisfying novel—anything but a routine addition to an already overpopulated subgenre." —Booklist

"Dazzling and ambitious…Maze Master is an epic, breathless countdown to the end of mankind which can only be saved by locating and understanding ancient clues." — C.J. Box, #1 New York Times bestselling author of The Disappeared

"Crackles with tension and imagination, captivating with plausibility from beginning to the end. The science is both compelling and frightening as the characters match wits in a game with the highest stakes imaginable. The incredible thing is that the most surprising parts are real. This is nail-biting to the extreme." —Steve Berry, New York Times bestselling author

"Maze Master has everything you want in a science thriller: a continent-hopping hunt through exotic locales, pulse-pounding action, and a twisty mystery involving cutting-edge science. At times the suspense is damn near unbearable." —F. Paul Wilson, New York Times bestselling author

"Terrific ... Maze Master combines wild imagination with solid science and history to create sensational suspense." —Lee Child, New York Times bestselling author

"From the very first page, you'll know you're in the hands of a master storyteller. With plenty of "Da Vinci Code" twists and turns, Maze Master is both thrilling and mind-bending." —Tess Gerritsen, New York Times bestselling author of I Know a Secret

"Maze Master is a masterpiece of a bio-thriller that seamlessly melds science and superstition into a tale as relentless as it is riveting. Kathleen Gear has lent credence and credibility to the end-of-the-world tale championed by the likes of World War Z, I Am Legend and Stephen King's The Stand. This is speculative storytelling at its level best, weaving cutting edge genetics into a puzzle that must be solved if mankind is to survive. A master of the historical novel, Gear proves herself equally adept at handling the future in this cure for the common thriller." —Jon Land, USA Today bestselling author of The Rising

Praise for Kathleen O'Neal Gear's other books:
"No one reads a Gear novel without being transformed in beautiful ways. The Gears, separately and together, rank among the most significant novelists of modern times, and their work will endure for generations." —Richard S. Wheeler

"The Gears colorfully integrate authentic archaeological and anthropological details with a captivating story replete with romance, intrigue, mayhem, and a nail-biting climax."—Library Journal on People of the Owl

"Blended with the carefully drawn suspense of court intrigues, colorful characters and sharp plot twists, this is a terrific tale."—Publishers Weekly on People of the Thunder

"...the breadth of the Gears' archaeological and historical knowledge underpins the mythic adventure as it unfolds through a panoramic lens."—Booklist on People of the Songtrail
St. Martin's Press, 9781250121998, 352pp.
Publication Date: July 17, 2018
About the Author
Kathleen O'Neal Gear is a former state historian and archaeologist for Wyoming, Kansas, and Nebraska for the U.S. Department of the Interior. She has twice received the federal government's Special Achievement Award for "outstanding management" of our nation's cultural heritage. With her husband, W. Michael Gear, she is the co-author of many books, including the North America's Forgotten Past series (People of the Songtrail, People of the Morning Star, Sun Born, Moon Hunt, among others); and the Anasazi Mysteries series. She and her husband live in Thermopolis, WY.
or
Not Currently Available for Direct Purchase