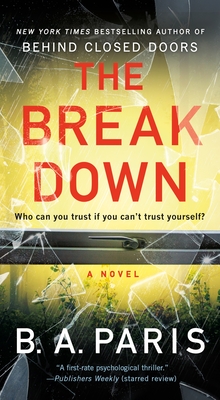 The Breakdown (Mass Market)
A Novel
St. Martin's Paperbacks, 9781250122476, 416pp.
Publication Date: February 25, 2020
Other Editions of This Title:
Digital Audiobook (7/17/2017)
Paperback (5/22/2018)
Paperback, Large Print (6/12/2018)
Hardcover (7/18/2017)
CD-Audio (7/18/2017)
Hardcover, Large Print (8/2/2017)
* Individual store prices may vary.
Description
The Breakdown is the next chilling, propulsive novel from B. A. Paris, the New York Times and USA Today bestselling author of Behind Closed Doors and Bring Me Back.
"Even harder to put down than Behind Closed Doors…with two in a row, Paris moves directly to the thriller A-list."—Booklist (starred review)
Cass is having a hard time since the night she saw the car in the woods. It was on the winding rural road, in the middle of a downpour, and a woman was sitting inside—the one who was killed. Cass is trying to put the crime out of her mind. What could she have done, really? It's a dangerous road to be on in the middle of a storm and, as her husband keeps reminding her, Cass might have been hurt herself if she'd pulled over.
But since then, Cass has been forgetting every little thing. Where she left the car, if she took her pills, even the alarm code. The only thing she can't forget is that woman. And now that Cass keeps receiving silent phone calls, she can't quite shake the feeling that someone's watching her…
"A story with a ratcheting sense of unease—a tale of friendship and love, sanity, and the terrible unravelling of it." —USA Today
About the Author
B. A. PARIS is the internationally bestselling author of Behind Closed Doors, The Breakdown, and Bring Me Back. She grew up in England but has spent most of her adult life in France. She has worked both in finance and as a teacher and has five daughters. The Dilemma is her fourth novel.
Praise For The Breakdown: A Novel…
"A story with a ratcheting sense of unease — a tale of friendship and love, sanity and the terrible unravelling of it." —USA Today
"B. A. Paris has done it again! The Breakdown is a page-turning thriller that will leave you questioning the family you love, the friends you trust, and even your own mind." —Wendy Walker, author of the USA Today bestselling novel All Is Not Forgotten
"In the same vein as the author's acclaimed debut, Behind Closed Doors, this riveting psychological thriller pulls readers into an engrossing narrative in which every character is suspect. With its well-formed protagonists, snappy, authentic dialog, and clever and twisty plot, this is one not to miss." —Library Journal (starred)
"This psychological thriller is even harder to put down than Paris' 2016 best-seller debut Behind Closed Doors; schedule reading time accordingly.… With two in a row, Paris moves directly to the thriller A-list." —Booklist (starred)
"British author Paris follows her bestselling debut, 2016's Behind Closed Doors, with another first-rate psychological thriller.... Tension quickly builds to a crescendo as Cass's fears...become palpable." —Publishers Weekly (starred review)
Praise for Behind Closed Doors
"Debut-novelist Paris adroitly toggles between the recent past and the present in building the suspense of Grace's increasingly unbearable situation, as time becomes critical and her possible solutions narrow. This is one readers won't be able to put down." —Booklist (starred review)
"Making her smash debut, Paris [keeps] the suspense level high. In the same vein as Gone Girl or Girl on the Train, this is a can't-put-down psychological thriller." —Library Journal (starred review)
"This debut is guaranteed to haunt you — especially if you're about to tie the knot. Paris's thriller asks the question: 'The perfect marriage or the perfect lie?' Jack and Grace, the couple at the center of this totally enthralling novel, are so clearly not what they seem you'll have no choice but to read and read and read until their darkest secrets are revealed. Warning: brace yourself." —Bustle (10 New Thrillers to Read This Summer)
"A gripping domestic thriller…the sense of believability and terror that engulfs Behind Closed Doors doesn't waver." —The Associated Press, picked up by The Washington Post
"Behind Closed Doors takes a classic tale to a whole new level…This was one of the best and [most] terrifying psychological thrillers I have ever read…each chapter brings you further in, to the point where you feel how Grace must feel. The desperation, the feeling that no one will believe you and yet still wanting to fight because someone you care deeply about will get hurt." —San Francisco Book Review
"Paris grabs the reader from the beginning with a powerful and electrifying tale. Behind Closed Doors, a novel sure to make one's skin crawl, also reveals no one truly knows what does go on behind closed doors."—New York Journal of Books
"Newlyweds Grace and Jack Angel seem to lead a perfect life in British author Paris's gripping debut, but appearances can be deceiving...Grace's terror is contagious, and Millie's impending peril creates a ticking clock that propels this claustrophobic cat-and-mouse tale toward its grisly, gratifying conclusion." —Publishers Weekly
"A frighteningly cool portrait of a serious sadist, Behind Closed Doors is a gripping, claustrophobia-inducing thriller... Read at the risk of running from every handsome British lawyer who crosses your path." —Romantic Times
"This book proves that looks are most definitely deceiving...Disturbing, to say the least, readers will definitely be shaken as the story commences and they become immediately absorbed. The writing was incredible, and the pace is quick, offering up too many chills to count...Behind Closed Doors screams: 'Stay single!'" —Suspense Magazine
"This book just has to be huge in 2016. I flew through it in two breathless sittings. Quite simply: astounding." —S.J.I. Holliday, author of Black Wood
"This outstanding debut novel will leave you breathless." —Bella
"This one is 2016's answer to Gone Girl. Nuff said." —Women's Health UK
"It took me just an afternoon to read this book and by the end, my heart was pounding. If you like fast and frantic stories, you'll love this." —The Sun
"Behind Closed Doors is an intriguing, sharply gripping debut thriller." —Lovereading.co.uk
"An utterly compelling journey through the darker side of the human psyche. Your blood will run cold but you won't be able to stop reading, I promise you that." —Sarah Harper, Lovereading reviewer
"This has been one of my best reads EVER and will be huge in 2016. Congratulations to B A Paris on a remarkable debut book." —Shelley Bennett, The Book Club member