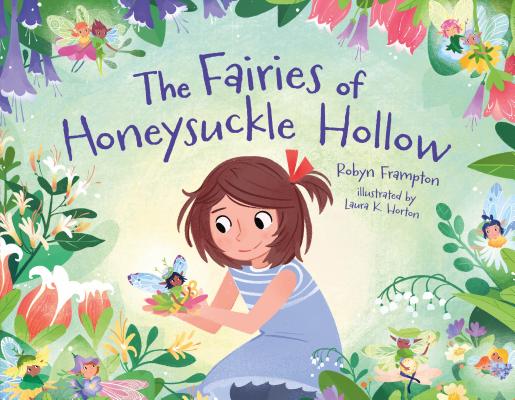 The Fairies of Honeysuckle Hollow
Hardcover

* Individual store prices may vary.
Description
The Fairies of Honeysuckle Hollow by Robyn Frampton is a heartwarming, whimsical picture book about a girl who makes friends with a fairy and earns her own fairy wings, featuring illustrations by Laura K. Horton.
Let me tell you a secret of the magical kind.
Step into the forest and open your mind.
In forests, in glens, near water and flowers,
magical creatures play at all hours . . .
One magical day in the woods, a young girl encounters a fairy who needs help. Showing kindness to someone in need earns her an invitation to visit Honeysuckle Hollow, where the girl's good heart earns her a set of fairy wings, a gift from the fairy queen.
Young readers can follow the Fairy Code of Kindness to share the magic!
An Imprint Book
Imprint, 9781250122643, 32pp.
Publication Date: March 17, 2020
About the Author
Robyn Frampton is the creative force behind the mystery of Firefly Forest. In the spring of 2013, she individually carved and placed installations with the help of her young sons along a well-traveled, picturesque trail in the heart of America. Robyn and her sons now reside in Utah, where she recently graduated summa cum laude with a bachelor's degree in psychology. She continues to create magical spaces, most recently donating an enormous whimsical tree to Primary Children's Hospital. Her work has recently been featured in the award-winning documentary The Gnomist, which aired on CNN in December 2015. Firefly Forest is her first picture book.

Having grown up with two rowdy older brothers, avast collection of books and a muddy creek in the backyard, illustrator Laura K. Horton has always had a passion for family, creativity and imagination. Laura earned her BFA in illustration and animation from the Milwaukee Institute of Art and Design. When she's not working, Laura can be found drinking tea, reading, and game designing. She recently obtained her MA from Aalto University, Finland and now lives in Seattle, Washington. Laura is the illustrator of Kirsten Mayer's Game of Gnomes and Go BIG or Go Gnome!