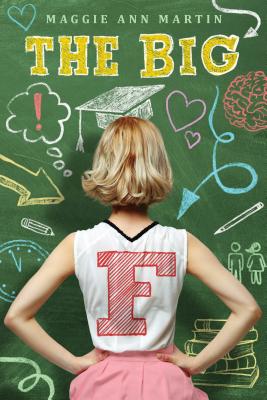 The Big F
Paperback

* Individual store prices may vary.
Description
A spunky, contemporary novel about friendship, failure, and what happens when things don't go according to plan, ideal for readers who like their heroines smart and strong—but not perfect.

Nominated for Best Young Adult Novel by the 2017 RT Reviewers' Choice Awards!
Danielle's plans for the future were all figured out... until she failed senior English and her single college acceptance was rescinded. Determined to get her life back on track, Danielle enrolls in her hometown community college with a plan: pass English and get back into Ohio State—and her mother's good graces. Romance isn't on her radar... until she reconnects with her childhood crush and golden boy next door, Luke.
Between family drama, first love and finding her own way, Danielle can't help but feel a little overwhelmed. Thankfully she has her friendship with the snarky and frustratingly attractive Porter, her coworker at the campus bookstore, to push her to experience new things and help keep her afloat. One thing's for sure: This time, failure's not an option.
Chosen by readers like you for Macmillan's young adult imprint Swoon Reads, The Big F is a smart, funny, and highly relatable novel by debut author Maggie Ann Martin about finding your own way after one epic fail.
Praise for The Big F:

"The quirkiest, most fun-loving read of [the year] so far!" —RT Book Reviews
"Danielle is a savvy, likable character with whom teens will easily identify." —School Library Journal
"An easy, enjoyable read." —VOYA
"Fun, cute, and totally relatable." —Book Allure
Praise For The Big F…
Praise for The Big F:

Nominated for Best Young Adult Novel by the 2017 RT Reviewers' Choice Awards!
"Martin's first book is nothing short of amazing! You'll laugh, cry and scream with every page as you follow Danielle and her realistic yet zany post–high-school antics. . . . The Big F deserves an A-plus for being the quirkiest, most fun-loving read of [the year] so far!" —RT Book Reviews
"A debut novel sure to resonate with high schoolers who eagerly anticipate graduation and the start of college. . . . Danielle is a savvy, likable character with whom teens will easily identify. . . . Romance fans will enjoy this fast-paced story that features an interesting set of characters and satisfying conclusion." —School Library Journal

"Danielle is a likeable character who tries to do the right thing. Readers will have confidence in her even when she sometimes lacks self-assurance. . . . An easy, enjoyable read." —VOYA
"'When life gives you lemons, make lemonade.' I'm pretty sure that that quote epitomizes The Big F. . . . Fun, cute, and totally relatable." —Book Allure

Praise for The Big F from the Swoon Reads community:
"What a fun read. . . . I was rooting for Danielle from the first page." —Anna S., reader on SwoonReads.com
"The Big F is such a fun and awesome read . . . It's great to see Danielle learning more on what makes her happy, overcoming her mistakes, and growing into a better person." —Chen Yan Chang, reader on SwoonReads.com
"I really loved this story and it's something I would read over and over again." —GM, reader on SwoonReads.com
Praise for To Be Honest:

An NPR Best YA Book of 2018

"The portrayal of Savvy's mother's eating disorder is sensitive and will resonate strongly with readers close to this issue. ... Savvy's story is a welcome one in today's YA market and will help spread a much-needed message to teens about parental mental health issues and the potential dangers of diet culture. A first purchase for libraries serving adolescents." —School Library Journal, starred review
"I cannot tell you how incredibly refreshing this is! I love that the book, itself, is not obsessed with its plus-size main character. Maggie Ann Martin actually allows us to look past Savvy's weight into other aspects of her life, and it's a shame that books like this are so few and far between." —NPR

"To Be Honest captures the struggle to be proud of who you are and to find the courage to live boldly, no matter your shape or size, an idea that is wonderful to see presented to teen audiences. For fans of To All the Boys I've Loved Before and Dumplin', Maggie Ann Martin's latest is sure to please both teens and adults alike who are in search of a moving and heartwarming story." —GERM Magazine
"This summer read tackles difficult subjects—anxiety and mental health, eating disorders, and more—while still keeping it a light and fun story about all kinds of love: parental, sibling, friendship, romantic, and most importantly, loving yourself." —Bustle

"To Be Honest by Maggie Ann Martin took my emotions on a joyride and didn't let them off until the very end. More and more Young Adult novels are featuring serious themes even though it's not the focus of the book and I absolutely love it. If this story sounds like your cup of tea, I highly recommend picking it up." —The Young Folks

"This is a super sweet novel that's surprisingly lighthearted despite some of the pretty serious issues dealt with throughout (eating disorders, living with anxiety, complicated family dynamics, etc.). ... Savvy is unerringly body positive (with some occasional moments of insecurity, just like anyone)." —Book Riot

"To Be Honest breaks down the ways criticism masked as concern can be so harmful to young women. And it's an empowering reminder to love our bodies, regardless of size." —HelloGiggles
"Unapologetically promotes healthy body image and love for oneself. Savvy and her mother provide the reader with diametrically opposed perspectives concerning the psychological impact of body shaming: Savvy possesses a strong, positive image while her mother derives self-worth from a scale. ... Educators and librarians seeking literature that resonates with female readers who struggle with body image will want to add this novel to their shelves." —VOYA

"To be honest...we loved the latest novel by Maggie Ann Martin! ... With her [Savannah], Martin has created a beautifully rendered portrait of a high school senior. She feels real and interesting, and like someone who you'd definitely want to drive around blasting Eminem with, if only because that's her favorite past time!" —Hypable
"A refreshing YA contemporary novel that wrestles with self-love, anxiety, and family. ... I would imagine people who loved Leah on the Offbeat, The Upside of Unrequited, or Turtles All the Way Down will also love this novel." —Better Books and Other Things

"I freaking adore this book! To Be Honest is the most honest young adult contemporary novel I have read in a while ... this book is worth every penny." —It's A Book Life
"This book was impossible to put down from the moment I started reading, and I flew through it so quickly that I could honestly read it again ... I'm so thankful to Maggie Ann Martin for writing this fantastic book and to Swoon Reads for publishing it!" —My Endless Shelf
"To Be Honest had me laughing and I even shed a few tears. Savannah is such a smart and strong character who is doing her best to love her body." —The Book Dutchesses
"To Be Honest has to be one of the most honest reads out there today!" —Bookish Wisps
Swoon Reads, 9781250123213, 304pp.
Publication Date: August 29, 2017
About the Author
Maggie Ann Martin, author of The Big F and To Be Honest, hails from Des Moines, Iowa, but moonlights as a New Yorker. She earned her BA in English and journalism from the University of Iowa, the most welcoming literary community in the world. When she is not writing, you can find her binge-watching TV shows or passionately fangirling over fictional characters on the Internet.
or
Not Currently Available for Direct Purchase