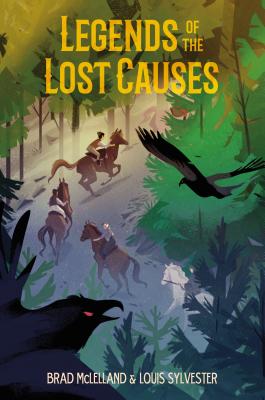 Legends of the Lost Causes (Hardcover)
Henry Holt and Co. (BYR), 9781250124326, 336pp.
Publication Date: February 20, 2018
Other Editions of This Title:
Paperback (2/19/2019)
* Individual store prices may vary.
Description
A band of orphan avengers. A cursed stone. A horde of zombie outlaws.
This is Keech Blackwood's new life after Bad Whiskey Nelson descends upon the Home for Lost Causes and burns it to the ground.
With his home destroyed and his family lost, Keech will have to use the lessons he learned from Pa Abner to hunt down the powerful Char Stone. Luckily, he has the help of a ragtag team of orphans. Together, they'll travel through treacherous forests, fight off the risen dead, and discover that they share mysterious bonds as they search for the legendary stone. Now it's a race against the clock, because if Bad Whiskey finds the stone first…all is lost.
But Keech and the other orphans won't hesitate. Because they're more than just heroes.
They're Lost Causes.
Legends of the Lost Causes marks the thrilling start to an action-packed middle grade series by debut authors Brad McLelland and Louis Sylvester.
Praise for Legends of the Lost Causes

A Junior Library Guild selection
"This is a fun and exciting story, written with the utmost respect for the Osage culture." —Wah-Zha-Zhi Cultural Center
"A rip-roaring adventure in the Wild West, filled with cowboys, magic, and a horde of undead villains that'll have you hunkered down in your bedroll, turning pages long after the campfire has died down." —Heidi Schulz, author of the New York Times bestselling Hook's Revenge
"I don't get to use the word rollicking enough but there's no other word for this book: a rollicking adventure filled with mystery and magic that crackles like a brush fire." —Emma Trevayne, author of The House of Months and Years
"Thrilling, dark, and full of heart, this is a Western like none I've ever read. I loved it." —Stefan Bachmann, author of The Peculiar and The Whatnot

"McLelland and Sylvester imbue the adventure with a Louis L'Amour-esque flair refreshed for today's readers by the thoughtful incorporation of American frontier history and Osage culture. This is an easy read for fans of Westerns like Bowman's Vengeance Road." —The Bulletin of the Center for Children's Books
About the Author
Born and raised in Arkansas, Brad McLelland spent several years working as a crime journalist in the South before earning his MFA in creative writing from Oklahoma State University. A part-time drummer and singer, Brad lives in Oklahoma with his wife, stepdaughter, a mini-Aussie who gives hugs, and a chubby cat who begs for ham.
Brad is coauthor, with Louis Sylvester, of Legends of the Lost Causes.
Louis Sylvester is a professor at Lewis-Clark State College in Lewiston, Idaho. He earned his PhD from Oklahoma State University. He enjoys playing tabletop games from his collection of over 1,000 card and board games, watching western films, reading fantasy novels, and spending time with his wife and two dogs.
Louis is the coauthor, with Brad McLelland, of Legends of the Lost Causes.
Praise For Legends of the Lost Causes…
A Junior Library Guild selection
"This is a fun and exciting story, written with the utmost respect for the Osage culture." —Wah-Zha-Zhi Cultural Center
"A rip-roaring adventure . . . filled with cowboys, magic, and a horde of undead villains that'll have you hunkered down in your bedroll, turning pages long after the campfire has died down." —Heidi Schulz, author of the New York Times bestselling Hook's Revenge
"I don't get to use the word rollicking enough but there's no other word for this book: a rollicking adventure filled with mystery and magic that crackles like a brush fire." —Emma Trevayne, author of The House of Months and Years
"Thrilling, dark, and full of heart, this is a Western like none I've ever read. I loved it." —Stefan Bachmann, author of The Peculiar and The Whatnot

"The Old West lingo-laden dialogue is pitch-perfect—not to mention contagious. It's rare to see a Western in middle grade fiction—especially one that, like this one, eliminates some of the genre's more harmful stereotypes of Native populations . . . [this] will surely gain more than a few young fans." —School Library Journal
"Vividly drawn characters, evocative writing, thrilling suspense along with the harrowing angle of the evil undead leave the reader eagerly awaiting the promised next installment." —The Buffalo News
"McLelland and Sylvester imbue the adventure with a Louis L'Amour-esque flair refreshed for today's readers by the thoughtful incorporation of American frontier history and Osage culture. This is an easy read for fans of Westerns like Bowman's Vengeance Road." —The Bulletin of the Center for Children's Books
"Cowriters McLelland and Sylvester incorporate aspects of Osage culture and legend into this action-packed series starter. Part western, part zombie flick, this pits scrappy, resourceful kids against some menacing villains—always a recipe for success." —Booklist