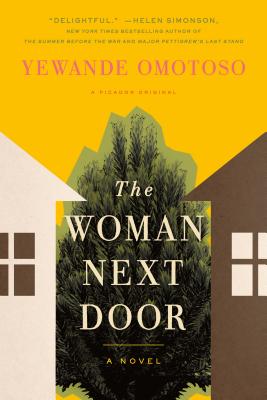 The Woman Next Door
A Novel
Paperback

* Individual store prices may vary.
Other Editions of This Title:
Digital Audiobook (2/16/2017)
Description
The U.S. debut of an award-winning writer, in which an unexpected friendship blossoms in contemporary Cape Town—and in a community where loving thy neighbor is easier said than done.

Hortensia James and Marion Agostino are neighbors. One is black, the other white. Both are successful women with impressive careers. Both have recently been widowed, and are living with questions, disappointments, and secrets that have brought them shame. And each has something that the woman next door deeply desires.

Sworn enemies, the two share a hedge and a deliberate hostility, which they maintain with a zeal that belies their age. But, one day, an unexpected event forces Hortensia and Marion together. As the physical barriers between them collapse, their bickering gradually softens into conversation and, gradually, the two discover common ground. But are these sparks of connection enough to ignite a friendship, or is it too late to expect these women to change?

A finalist for: International DUBLIN Literary Award • Hurston/Wright Legacy Award for Fiction • Barry Ronge Fiction Prize • Aidoo-Snyder Book Prize • University of Johannesburg Main Prize for South African Writing
Longlisted for the Bailey's Women's Prize for Fiction • One of the Best Black Heritage Reads (Essence Magazine) • One of NPR's Best Books of the Year • One of Publishers Weekly's Writers to Watch
Praise For The Woman Next Door: A Novel…
"A tale of a rivalry between two well-to-do widows and next-door-neighbors in South Africa...On the surface, author Yewande Omotoso presents a war of wits, but the story also addresses the history of colonialism, slavery, class and race as tensions come to a head."—Time (Female-Driven Books, Movies, and Shows We Can't Wait to Get Our Hands on in 2017)

"Incredibly smart...[The Woman Next Door] will delight you from start to finish."—Cosmopolitan (Best New Books to Read This Spring)

"With humor and charm, [The Woman Next Door] depicts the collapse of a feud between two elderly women—one white, one black—in a tony Cape Town suburb. Call it a female take on Grumpy Old Men."—O, The Oprah Magazine (Ten Titles to Pick Up Now)

"Two elderly Cape Town widows—one black, one white—find their mutual animosity fading in Omotoso's wise and witty tale."—People

"[The Woman Next Door] takes off in surprising ways, sometimes to shocking effect as instances of racial cruelty are recalled, or upsetting at a different level, when the descendants of former slaves make a valid claim for restitution...The novel's complex plot and convincing characters develop beautifully together and are lightened throughout with flashes of excellent comedy."—The Washington Post

"[A] provocative, enlightening, and at times outrageously funny novel...With an acutely perceptive eye, Omotoso paints a picture of the subtle changes in [Marion and Hortensia's] interactions. As their snipes and barbs morph into attempts at understanding, their personal growth reminds the reader of what is still occurring, on a grander scale, in the country these memorable women call home."—BookPage

"Omotoso treats her characters and themes delicately and deftly, allowing their complexities to naturally reveal themselves...The Woman Next Door is a thought-provoking representation of timely issues, peppered with smart humor and unforgettably fantastic female protagonists."—The Riveter

"Cape Town's answer to Mapp and Lucia, a war of wits and witticisms amid the bougainvillea of an impossibly smug neighborhood. Yewande Omotoso's deft writing and subtle weaving in of difficult history will leave you in love with these two stubborn old women. Delightful."—Helen Simonson, New York Times bestselling author of The Summer Before the War and Major Pettigrew's Last Stand

"At once historical and contemporary, The Woman Next Door is charged with beauty, precision, nuance, and hope. Yewande Omotoso is a stunning, essential voice."—NoViolet Bulawayo, author of We Need New Names

"Omotoso's warm and witty story is more complex than a simple tale of black and white...Like Helen Simonson's Major Pettigrew's Last Stand, which also depicts the wisdom found in aging, this novel will have universal appeal."—Library Journal

"Omotoso captures the changing racial relations since the 1950s, as well as the immigrant experience through personal detail and small psychological insights into mixed emotions, the artist's eye, and widow's remorse. Hers is a fresh voice as adept at evoking the peace of walking up a kopje as the cruelty of South Africa's past."—Publishers Weekly

"Yewande Omotoso's voice is exciting and fresh. The aesthetic and political engagement in her work is explored through a deep compassion for her characters and their social positions and constraints, without compromising on a fierce yet tender interrogation of their inner lives: race, place and the social web of expectation versus the freedom of an inner life, a complexity of self that she works out through beautiful and uplifting language."—Chris Abani, author of The Secret History of Las Vegas and The Face: A Cartography of the Void

"Although new to the scene, Yewande Omotoso writes with the skill, intelligence, and compassion of an old master. One of the astonishing achievements of The Woman Next Door is her ability to see all sides of a story. Only such keenness of vision could produce this enlightening and eloquent novel that serves as a testament to a truth that we seldom hear: through honest exchange, it is possible for us to free ourselves from the terrible hauntings of history."—Jeffery Renard Allen, author of Song of the Shank and Rails Under My Back

"A pleasing tale of reconciliation laced with acid humor and a cheery avoidance of sentimentality."—Kirkus Reviews

"[The Woman Next Door] made me howl with laughter and it made me cry."—Biyi Bandele, author of The King's Rifle and director of Half of a Yellow Sun

"Richly imagined...You might not know anyone like these two, but there's no doubt they exist—Omotoso is that good. Open your friggin' mind, dude."—Library Journal (Books for Dudes)
Picador, 9781250124579, 288pp.
Publication Date: February 7, 2017
About the Author
YEWANDE OMOTOSO was born in Barbados and grew up in Nigeria, moving to South Africa with her family in 1992. She is the author of Bom Boy, published in South Africa in 2011. In 2012, she won the South African Literary Award for First-Time Published Author and was shortlisted for the South African Sunday Times Fiction Prize. In 2013, she was a finalist in the inaugural pan-African Etisalat Fiction Prize. She lives in Johannesburg, where she writes and has her own architectural practice.
1. The residents of Katterijn are described as having "mastered a popular pastime, making a thing appear to be what it is not." In what ways is this sentiment seen throughout Katterjin and South Africa at large?
2. While Marion is staying at the guesthouse after her home is damaged, she muses, "This is what it feels like to be an old woman, discarded by your own family. Money. The only thing with the power to bring some respite to old age." Do you agree or disagree with this statement?
3. At a dinner party held when Marion was six years old, she told the guests, "Ma said black is the same as Kaffir." Some "tutted their disapproval" and many laughed. What does this incident reveal about Marion's upbringing and about the state of South Africa during Marion's childhood?
4. After the accident with the crane leaves Hortensia injured and bed-bound, a string of nurses attempt to tend to her. One in particular gets into an argument with Hortensia after he tells her about his "buddy" at the bank who taught him the "African handshake." Hortensia responds by asking, "Which is it that makes him your 'buddy'? The fact that he's black or the fact that he's poor—or is it both?" What do you think Hortensia was getting at with her question? Do you think it was inappropriate for her to ask the question? Why or why not?
5. Bassey beat Peter "quite brutally" the first time the two played chess, yet he lost every game after. Do you think Bassey lost those subsequent games on purpose? What does this event tell us both about race relations and the relationship between housekeeper and employer?
6. Hortensia learned that in Cape Town "a smiling black woman was a dangerous weapon in its apparent innocuousness." What does this mean and how does Hortensia deploy this weapon throughout the novel?
7. The main characters in the novel are older women, and they both reflect upon the difficulties of aging. Hortensia finds it especially annoying when the nurses speak to her a tone of voice that suggests she is "mentally deficient." Have you witnessed this sort of thing in your own life? Did the novel make you change your thoughts about the elderly and how they should be treated?
8. How does Marion's visit to the library serve as a turning point in the novel and for Marion?
9. The novel jumps from the viewpoint of two complex women—Marion and Hortensia throughout the novel. Why is this structure so appropriate and useful for this novel and the major themes it presents?
10. Why do you think Hortensia decided not to let the nurses in to administer the drip that was helping to keep Peter alive? Do you agree with her actions?
11. The author uses wit and humor throughout the novel in clever ways. What were some specific moments that you found especially funny? Why is humor such an effective tool in this novel in particular?
12. Did you believe Agnes's story about the painting? Do you think she should have given it back to Marion?
13. What could Peter have meant when he told Marx, "My wife, I love her very much, but that's the easy part"?
14.  How does the relationship that Hortensia and Marion forge by the novel's end speak to larger issues that have plagued post-apartheid South Africa?