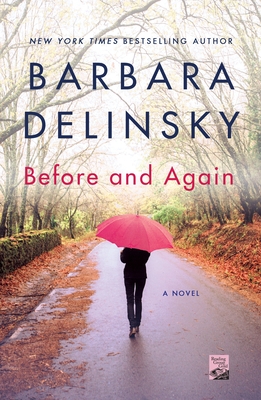 Before and Again
A Novel
Paperback

* Individual store prices may vary.
Other Editions of This Title:
Digital Audiobook (6/25/2018)
Mass Market (6/30/2020)
Paperback, Large Print (7/24/2019)
Library Binding, Large Print (7/4/2018)
Paperback (12/29/2020)
Description
From Barbara Delinsky, the New York Times bestselling author of Blueprints and Sweet Salt Air, a brand-new novel about a woman in hiding finding the courage to face the world again.

Mackenzie Cooper took her eyes off the road for just a moment but the resulting collision was enough to rob her not only of her beloved daughter but ultimately of her marriage, family, and friends—and thanks to the nonstop media coverage, even her privacy. Now she lives in Vermont under the name Maggie Reid, in a small house with her cats and dog. She's thankful for the new friends she's made—though she can't risk telling them too much. And she takes satisfaction in working as a makeup artist at the luxurious local spa, helping clients hide the visible outward signs of their weariness, illnesses, and injuries. Covering up scars is a skill she has mastered.

Her only goal is to stay under the radar and make it through her remaining probation. But she isn't the only one in this peaceful town with secrets. When a friend's teenage son is thrust into the national spotlight, accused of hacking a powerful man's Twitter account, Maggie is torn between pulling away and protecting herself—or stepping into the glare to be at their side. As the stunning truth behind their case is slowly revealed, Maggie's own carefully constructed story begins to unravel as well. She knows all too well that what we need from each other in this difficult world is comfort. But to provide it, sometimes we need to travel far outside our comfort zones.

From a multimillion-selling master of women's fiction, Before and Again is a story of the relationships we find ourselves in—mothers and daughters, spouses and siblings, true companions and fair-weather friends—and what kind of sacrifices we are or aren't willing to make to sustain them through good times and bad.
Praise For Before and Again: A Novel…
"Through a fast-paced and accessible narrative voice, Delinsky tackles many weighty issues in this complicated tale of friendship, loss, love, and redemption. A tale about surmounting life's most difficult moments and finding hope when one least expects it." - Kirkus

"This is a rewarding, emotionally intense novel." - Publishers Weekly

"With a bucolic New England setting and an emotional story that plumbs depths without feeling too heavy, Delinsky perfectly portrays the temptations of starting over." - Booklist

"It's largely about love and loss, mistakes and second chances and ultimately learning to survive life and whatever it throws your way and to go on living." - Medium
St. Martin's Griffin, 9781250125163, 432pp.
Publication Date: June 4, 2019
About the Author
Barbara Delinsky is the author of such New York Times bestselling books as Before and Again and Sweet Salt Air. She has been published in twenty-eight languages worldwide. A lifelong New Englander, Delinsky earned a B.A. in psychology at Tufts University and an M.A. in sociology at Boston College. She lives in Massachusetts with her husband, more books than she'll ever be able to read, two tennis racquets, and enough electronic devices to keep in close touch with her children and their families.
1. Maggie is a master of denial. She has learned to push painful things from mind for the sake of survival. Do you agree with this tactic? How does it impact the story? How does it impact your own life?
2. Maggie values her friendships with Joyce Mann and Cornelia Conrad, both of whom are older than she is and strong mother figures. Do women crave this? Might she have handled her own mother differently if she hadn't had a substitute? But were these women truly substitutes? How does a mother figure differ from a mother?
3. Small towns like Devon are often prone to gossip. How does "news" differentiate from "gossip?" Does gossip have to be bad? Does it help or hurt Maggie?
4. Responsibility is an issue for Maggie. In what ways does she avoid it? Do you think she is aware of doing this? How much does this issue play in her decision to return to see her mother for the first time in more than four years?
5. In many ways, Maggie's mother, Margaret McGowan Reid is representative of women caught between two worlds–that of a homemaker and that of a working woman. Do you identify with this dichotomy? How have things changed in this regard, or not?
6. Much of the angst in Before and Again has to do with the characters' need for forgiveness–Maggie for the accident that killed her daughter, Edward for not being there for her, Margaret for turning away when her daughter needed her most. Is forgiveness really possible after traumas like these? Edward suggests that one can forgive but not forget. Do you agree?
7. Many of Barbara Delinsky's books focus on the importance of communication in relationships, and Before and Again is no different. When Maggie and Edward stopped talking, their marriage was doomed. Why do people stop talking? What does it take to make them start talking again?
8. As a makeup artist, Maggie teaches clients how to hide what they don't want the world to see. Do you ever do this? In what ways? Is it healthy?
9. Things aren't always what they seem. This is a recurring theme in Before and Again. To which of the characters does it apply?
10. We often hear of people seeking anonymity in the big city, and yet small towns like Devon offer their own version of it. Is it really possible to find anonymity in a small town? How does small-town anonymity differ from that in a big city?
11. Maggie has a green velvet box that belonged to her grandmother under her bed. Do you have your version of a green velvet box? If so, what's in it? What does it mean to you?