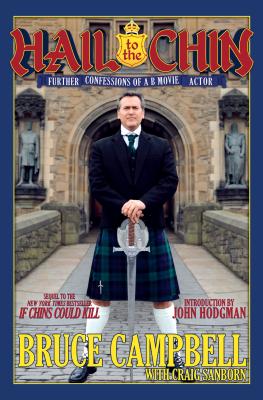 Hail to the Chin
Further Confessions of a B Movie Actor
Hardcover

* Individual store prices may vary.
Other Editions of This Title:
Paperback (9/17/2019)
Hardcover (8/1/2017)
Description
New York Times bestseller

Introduction by New York Times bestselling author and famous minor television personality John Hodgman

One of my dad's favorite jokes about getting older was: "I went out for coffee when I was twenty-one and when I got back I was fifty-eight!"

I get what he meant now. Time flies. My first book, If Chins Could Kill: Confessions of a "B" Movie Actor, was published back in 2001 and it chronicles the adventures of a "mid-grade, kind of hammy actor" (my words), cutting his teeth on exploitation movies far removed from mainstream Hollywood.

This next book, an "Act II" if you will, could be considered my "maturing years" in show business, when I began to say "no" more often and gravitated toward self-generated material. Taking stock in the overall quality of my life, I fled Los Angeles and moved to a remote part of Oregon to renew, regroup and reload.

If that sounds tame, the journey from Evil Dead to Spider-Man to Burn Notice was long, with plenty of adventures/mishaps along the way. I never pictured myself hovering above Baghdad in a Blackhawk helicopter, facing a pack of wild dogs in Bulgaria, or playing an aging Elvis Presley with cancer on his penis - how can you predict this stuff? The sheer lunacy of show business is part of the fun for me and I hope you'll come along for the ride.

– Bruce "Don't Call Me Ash" Campbell
Praise For Hail to the Chin: Further Confessions of a B Movie Actor…
"Campbell is an amusing raconteur, sharing stories about shooting the indie film My Name Is Bruce in his backyard, working on his old friend Sam Raimi's Spiderman movies, and spending seven seasons on Burn Notice. . . . Campbell is always entertaining, and his smart-ass style makes for a groovy ride. . . . Fans will eagerly await a sequel." —Publishers Weekly

"Die-hard fans will embrace it as canon..." —The Washington Post

"Whether recounting his life in the boondocks of south Oregon or the making of the dud The Man with the Screaming Brain in Bulgaria, Campbell, backed by co-author Sanborn, and his B-movie anecdotes, are thoroughly engaging and witty." —Booklist

"Campbell sheds further light on the (decidedly unglamorous) existence of a B-list actor, and fans of his work will undoubtedly be excited to read more from the enigmatic movie star.... Chock-full of amusing anecdotes about the underappreciated B-list movie industry. Hand to admirers of Campbell's previous book and fans of the talkies." —Library Journal

"A breezy read through a breezy life." —Kirkus Reviews

"A highly entertaining collection of war stories from a veteran B-movie actor who has learned a lot over the years and is eager to share his experiences. The book is a perfect counterpart to its predecessor and is a fast read." —Horror DNA

"Much like his Campbell's on-screen presence, Hail to the Chin: Further Confessions of a B Movie Actor is wildly vivacious. As he explains in the book's prologue, Campbell sees his memoirs as a trilogy. If If Chins Could Kill was the hero's origin story, then Hail to the Chin represents the second act." —Broke Horror Fan

Praise for If Chins Could Kill
"The book offers insights into the world of independent filmmaking and the life of a "B" actor, but most importantly it succeeds as an evocative memoir that allows the reader to know Campbell."—School Library Journal

"An insightful and rant-filled guide to being almost famous."—GQ

"Exceptionally literate yet conversational, wide-ranging but never wandering, and copiously, gleefully illustrated…" —Booklist

"entertaining and witty...Forecast: While a boon to film cultists and to Campbell's many fans, this book also has enough insights and smarts to appeal to readers with a serious interest in popular culture."—Publishers Weekly

"Campbell forgoes Hollywood anecdotes for more entertaining tales of struggling to break into the biz (even after Evil Dead II, he had to work security). With a quirky assortment of rants, as well as self-deprecating chapter titles like "The Higher the Budget, the Lower the Part," he's like the dinner guest you wish would never leave."—Entertainment Weekly

"This book is indispensable to anyone aspiring to a career as an actor, director, producer, or just about any other aspect of movie making...A fast, enjoyable read that is sure to garner Campbell even more of a following."—Fangoria

Praise for Bruce Campbell
"Without Bruce Campbell as Ash, Evil Dead likely would have remained one of the early-'80s splatterhouse flicks that indie filmmakers revere as inspirational to their craft. But Campbell molded Ash into a hero for the average guy by tempering the story's adrenaline-spiking frights and nausea-inducing gore with a performance steeped in expressive slapstick. . . . In encouraging us to laugh at the disgusting effects, Campbell's Ash made the franchise's outrageous shocks manageable." — Salon
Thomas Dunne Books, 9781250125606, 336pp.
Publication Date: August 15, 2017
About the Author
Bruce Campbell is the ultimate "B" actor with an ever-growing fan base.  In addition to starring in the huge cult hit Evil Dead series and a series of independent genre films, he has had featured roles in the film Bubba Ho-Tep, the Spider-man movies, the blockbuster Congo, the award-winning independent crime drama Running Time, and Paramount's romantic comedy Serving Sara. 

Bruce has also done a lot of television work, including appearances in Disney's TV movies Gold Rush and their update of The Love Bug, and has also starred in the highly touted Fox series The Adventures of Brisco County Jr. Bruce then appeared as a recurring guest star on the hit shows Lois and Clark: The New Adventures of Superman, Hercules: The Legendary Journeys, Xena: Warrior Princess, Ellen, and Showtime's edgy TV industry comedy Beggars and Choosers.  

Bruce Campbell is also the author of the bestselling books If Chins Could Kill and Make Love the Bruce Campbell Way.
HAIL TO THE CHIN co-author Craig "Kif" Sanborn has been working with Bruce Campbell for more than twenty years, contributing artwork and humor for all of Campbell's self-referential works, including
If Chins Could Kill: Confessions of a "B" Movie Actor
, the novel
Make Love! the Bruce Campbell Way
, the feature film
My Name Is Bruce
, and Campbell's own social media persona.
or
Not Currently Available for Direct Purchase