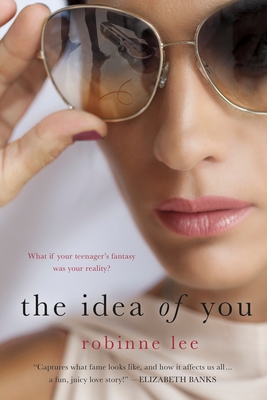 The Idea of You
A Novel
Paperback

* Individual store prices may vary.
Other Editions of This Title:
Digital Audiobook (4/2/2018)
MP3 CD (4/3/2018)
Compact Disc (4/3/2018)
Description
Included on The Skimm's 2020 list of Eight Books Both You and Mom Will Love

"The sleeper hit of the pandemic . . . . There is no escapism like reading about a nearly middle-aged woman embarking on a glittering, global love affair with a thoughtful young sex god . . . . It's electric, triumphant to read." —Vogue.com

"An OMG page-turner." —Gabrielle Union

Solène Marchand, the thirty-nine-year-old owner of an art gallery in Los Angeles, is reluctant to take her daughter, Isabelle, to meet her favorite boy band. But since her divorce, she's more eager than ever to be close to Isabelle. The last thing Solène expects is to make a connection with one of the members of the world-famous August Moon. But Hayes Campbell is clever, winning, confident, and posh, and the attraction is immediate. That he is all of twenty years old further complicates things.

What begins as a series of clandestine trysts quickly evolves into a passionate and genuine relationship. It is a journey that spans continents as Solène and Hayes navigate each other's worlds: from stadium tours to international art fairs to secluded hideaways in Paris and Miami. For Solène, it is a reclaiming of self, as well as a rediscovery of happiness and love. When Solène and Hayes' romance becomes a viral sensation, and both she and her daughter become the target of rabid fans and an insatiable media, Solène must face how her romantic life has impacted the lives of those she cares about most.
Praise For The Idea of You: A Novel…
"The sleeper hit of the pandemic . . . . There is no escapism like reading about a nearly middle-aged woman embarking on a glittering, global love affair withb a thoughtful young sex god . . . . It's electric, triumphant to read." —Vogue.com

"Actress Lee, who appeared in Fifty Shades Darker, debuts with a beautifully written novel that explores sex, love, romance, and fantasy in moving, insightful ways while also examining a woman's struggle with aging and sexism, with a nod at the tension between celebrity and privacy. A fascinating, thought-provoking, genre-bending romantic read." —Kirkus Reviews

"This sexy and bittersweet debut by actress-turned-author Lee zeros in on Solene's struggle as she is torn between her desire for Hayes and her need to live a normal life." —Booklist

"An OMG page-turner that literally sucks you in from page one to the last few words. I found myself yearning for more, needing, really, to know what happens next...it's that good." —Gabrielle Union

"Captures what fame looks like, and how it affects us all...a fun, juicy love story!" —Elizabeth Banks

"Not only is this romance a fun ride, but it also draws on themes of celebrity and sexism that will give you something to think about after you're done." —Bustle

"Sexy enough for the beach, smart enough for the book club." —Book Circle

"An honest and elegant book about modern love in the age of uber-celebrity and social media." —Hill Harper
St. Martin's Griffin, 9781250125903, 384pp.
Publication Date: June 13, 2017
About the Author
The Idea of You is actor, writer, and producer ROBINNE LEE's debut novel. A graduate of Yale University and Columbia Law School, Robinne was born and raised in Westchester County, New York. Robinne has numerous acting credits in both television and film, most notably opposite Will Smith in both Hitch and Seven Pounds and as Ros Bailey in Fifty Shades Darker and Fifty Shades Freed. She lives in Los Angeles with her husband and two children.
1. We are all combinations of head and heart. What do you think is the balance of head and heart in Solène? In Hayes?
2. There are numerous examples in fiction—and movies—of older men–younger women couples, everything from Jane Eyre to Pretty Woman. But there are very few examples of the reverse. Why do you think that is?
3. How do you feel about the term "cougar"? Would Solène rail against it?
4. From Love's Labours Lost to Sex and the City, a happy ending is indicated by a marriage, or at least a proposal. How would you describe the ending Robinne Lee gave Solène and Hayes? Is there more to their story? Does the traditional marriage ending of novels close off further speculation about what happens to the characters?
5. Do you think Solène and Isabelle have a fairly typical mother–teen daughter relationship? How much does it change over the course of the novel?
6. Readers have embraced Solène and Hayes as a couple. Who are some of your favorite couples in fiction (and why)?
7. Is the moment when the media intrudes on Solène and Hayes's relationship the moment it's destined to change? Could any relationship withstand that intrusive level of scrutiny?
8. Talk about the differences between the male gaze and the female gaze—is Robinne Lee reclaiming something for women that's traditionally been the province of men? Or is she trying to create a new dynamic when it comes to romantic relationships?
9. Solène teaches Isabelle—and also Hayes, to some extent—about art. And Isabelle instructs her mother about her generation's music (August Moon). What does Hayes teach Solène?
10. Despite his being only twenty, one of the appealing things about Hayes is that he's not a typical twenty-year-old. He may make pop culture, but he doesn't seem mired in it. Do you agree? In what ways does he show his age? And in what ways does he seem more mature than his chronological age?
11. How important is Solène's French heritage? Does it allow her to be in but not of some of the "very American" life that's around her?
12. When Solène and Hayes have their first lunch, she tells him she doesn't think men in Los Angeles even see women over a certain age, and if they do, "they register them as either 'mom' or 'business.'" Solène, of course, is both of those and much, much more. Does she challenge herself to add a third, secret "ID"?
13. Solène's sexual/relationship radar isn't broken: she senses immediately how Hayes approaches her. Does she "let it happen"? Urge it along? Or is, for all their age difference and the difference in their circumstances, Hayes and Solène's relationship a relationship of equals?
14. It's a cliché that certain men are all about what—and who—they're attracted to. Solène often seems to be leading with her sexuality, but is more in touch with it than the stereotypical man who lets sexual attraction lead him. Solène often is aware that her body is communicating one thing and her head another. And with Hayes, she usually follows her body. Why?
15. Solène seems both very connected to Isabelle but also somewhat removed, particularly as her relationship with Hayes progresses. Does Solène go too easy on herself by attributing some of that distance to teenage transition years?
16. Does Isabelle's reaction to her mother's changed relationship at the end of the book show that Isabelle is growing up? Is it Isabelle and Solène's version of the classic divorced family switch-up, where the child ends up parenting the parent?
17. How does Solène's opinion of August Moon change over the course of the novel?
18. Does Solène make the right choice at the end of the novel? In your opinion, does she have her priorities straight? Or is she in some ways martyring herself to her responsibilities toward her daughter?