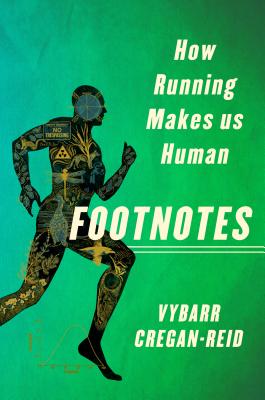 Footnotes (Hardcover)
How Running Makes Us Human
St. Martin's Press, 9781250127242, 352pp.
Publication Date: July 3, 2017
Other Editions of This Title:
MP3 CD (1/1/2019)
* Individual store prices may vary.
Description
Running is not just a sport. It reconnects us to our bodies and the places in which we live, breaking down our increasingly structured and demanding lives. It allows us to feel the world beneath our feet, lifts the spirit, lets our minds out to play, and helps us to slip away from the demands of the modern world.
When Vybarr Cregan-Reid set out to discover why running means so much to so many, he began a journey which would take him out to tread London's cobbled streets, the boulevards of Paris, and down the crumbling alleyways of Ruskin's Venice. Footnotes transports you to the deserted shorelines of Seattle, the giant redwood forests of California, and to the world's most advanced running laboratories and research centers. Using debates in literature, philosophy, neuroscience, and biology, this book explores that simple human desire to run.
Liberating and inspiring, Footnotes reminds us why feeling the earth beneath our feet is a necessary and healing part of our lives.
About the Author
VYBARR CREGAN-REID is a Senior Lecturer in English Literature at the University of Kent. He has written on running for the Guardian, Telegraph, Literary Review and Radio 4. He has also written numerous articles and essays for academic journals and a book on Victorian culture, Discovering Gilgamesh.
Praise For Footnotes: How Running Makes Us Human…
"The connections [Cregan-Reid] draws between our bodies and souls...are accessible and thought-provoking."—The Washington Post

"Overflowing with ideas from science and philosophy, rich in literary allusions and filled with evocative descriptions of the landscapes he has run through, this is a wonderfully subtle and ambitious book."—The Guardian

"If your commitment to minimalist running has faded in the several years since you read Born to Run, Footnotes will have you digging your Vibrams out of the closet."—Runner's World
"In this offbeat but entertaining take on the fitness memoir, Cregan-Reid shares his discovery of and love of running, occasionally adding intimate details from his personal life and frequently from his runs. It's a mashup that's equal parts philosophy, neuroscience, history, and love note to the author's exercise of choice. The book's greatest strength...is in its explanation of running's benefits and in the author's mystical, Anglicism-sprinkled descriptions of running."—Publishers Weekly
"Here is a book in which the striding energy of the prose matches its subject." -Iain Sinclair, author of American Smoke

"Wonderfully authoritative vindication of what ought to be a self-evident truth: that running should be about being alive, not being a consumer." -Richard Askwith, author of Running Free
"Insightful and intoxicating. Vybarr Cregan-Reid's book makes you take your shoes off and run through a world of ideas about nature."—Lynne Truss, author of Eats, Shoots and Leaves and A Certain Age
"Footnotes is a blazing achievement. It burns with restless energy as Cregan-Reid, alive, alert, wholly and gloriously present, sets out his manifesto that running makes us human"—Kate Norbury, author of The Fish Ladder
"Footnotes puts forward an impassioned and energetic case for the mechanics behind the joy of running. It might even see you getting out of your chair and doing something more interesting instead.Few have done it so artfully and completely"—The Literary Review (UK)
"Footnotes is an entertaining combination of personal narrative and rich literary episodes. Delightful" —The Times Literary Supplement (UK)
"A brilliant, broad-ranging and beautiful book about one man's passion for outdoor running, Footnotes reclaims this life-affirming act, gently revealing how it is essential to our physical and psychological wellbeing. Like a great run into a wild landscape, this book opens the heart and the mind, taking you off into the unknown, delighting at every turn and returning you changed for the better."—Rob Cowen, author of Common Ground
"It's hard to imagine a more compelling or poetic running companion than Vybarr Cregan-Reid. He inspires us not just to run, but to be truly alive while we are doing it."—Scarlett Thomas
or
Not Currently Available for Direct Purchase