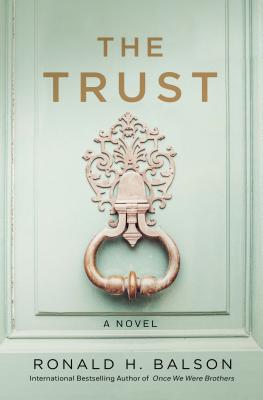 The Trust
A Novel (Liam Taggart and Catherine Lockhart #4)
Hardcover

* Individual store prices may vary.
Other Editions of This Title:
Digital Audiobook (9/18/2017)
Paperback (10/9/2018)
Library Binding, Large Print (1/3/2018)
CD-Audio (9/19/2017)
Description
"A thrilling, action-filled suspense novel.... Those who loved Balson's other books like Once We Were Brothers and Karolina's Twins will love this latest entry." —The Huffington Post

The Trust, from Ronald H. Balson, the international bestselling author of Once We Were Brothers, finds private investigator Liam Taggart returning to his childhood home for an uncle's funeral, only to discover his death might not have been natural.

When his uncle dies, Liam Taggart reluctantly returns to his childhood home in Northern Ireland for the funeral—a home he left years ago after a bitter confrontation with his family, never to look back. But when he arrives, Liam learns that not only was his uncle shot to death, but that he'd anticipated his own murder: In an astonishing last will and testament, Uncle Fergus has left his entire estate to a secret trust, directing that no distributions be made to any person until the killer is found. Did Fergus know, but refuse to name, his killer? Was this a crime of revenge, a vendetta leftover from Northern Ireland's bloody sectarian war? After all, the Taggarts were deeply involved in the IRA. Or is it possible that the killer is a family member seeking Fergus's estate? Otherwise, why postpone distributions to the heirs? Most menacingly, does the killer now have his sights on other family members?

As his investigation draws Liam farther and farther into the past he has abandoned, he realizes he is forced to reopen doors long ago shut and locked. Now, accepting the appointment as sole trustee of the Fergus Taggart Trust, Liam realizes he has stepped into the center of a firestorm.
Praise For The Trust: A Novel (Liam Taggart and Catherine Lockhart #4)…
Praise for The Trust:

"A thrilling, action-filled suspense novel.... Those who loved Balson's other books like Once We Were Brothers and Karolina's Twins will love this latest entry." —The Huffington Post

"Weaving together history with mystery, Ronald H. Balson crafts a compelling tale." —Us Weekly

Praise for Karolina's Twins:

"Readers who crave more books like Balson's Once We Were Brothers and Kristin Hannah's best-selling The Nightingale will be enthralled by Karolina's Twins." —Booklist (starred review)

"A heart-wrenching...triumphant story." —The Chicago Tribune

"Lena Woodward's survivor account becomes the main source of suspense, since she is reluctant to reveal the full horror of what she experienced until the end…and it does not disappoint." —Kirkus

"Karolina's Twins is involving right from the start, it reads quickly, and fans of historical fiction are sure to enjoy it." —Chicago Jewish Star

"Quite a read! I must say that Balson kept me on the edge of my seat wondering what the next chapter would reveal. He did an excellent job in staying true to the historical facts.... Throughout the book, Balson keeps the suspense so riveting...that it was difficult to put the book down. I would say most will read it in one night sitting—Kudos to Ronald Balson." —Dr. Miriam Klein Kassenoff, Director of the University of Miami Holocaust Teacher Institute

"Secrets, friendships, survival, and the Holocaust are woven together in Ronald H. Balson's haunting Karolina's Twins."—Family Circle


Praise for Saving Sophie:

"In Balson's solid sequel to Once We Were Brothers, …[he] succeeds in illuminating the personal side of the Middle Eastern conflict through his deeply human, psychologically credible characters." —Publishers Weekly

"Saving Sophie is a page turning read filled with despair and anger but with hope, love, and humanity at its core." —Jewish Book Council

"Balson keeps readers wanting to know more, as he ties up each loose end toward the conclusion of this action-adventure thriller." —Baltimore Jewish News

Praise for Once We Were Brothers:

"As compelling a story as you would ever want to read. . . . A new look at an old story, and it will stay with you long after you have finished it." —Jackie K Cooper, Huffington Post

"Once We Were Brothers tells a great story . . . gripping…" —The Chicago Tribune

"This novel is uplifting and moving, intelligently written and featuring historically accurate context and an unusual insight into human character and motivations. Highly recommended for all readers." —Library Journal (starred review)

"Readers will be riveted by this novel's central question: Will justice long delayed be denied?" —Kirkus Reviews

"This thriller opens with a bang . . . [a] decades-spanning page-turner." —Reader's Digest

"The author describes the atrocities of wartime Poland and the beautiful, eternal romance between Ben Solomon and his wife, Hannah. Balson's first novel is hard to put down." —The Jewish Book World

"Balson does a number of things superbly: he crafts a highly readable plotline and makes great use of the Chicago backdrop…many will enjoy this gripping novel for its narrative drive and its emotional storytelling." —Booklist

"A legal thriller...a reader knows he's writing from the inside." —Chicago Jewish Star

"This novel touches the heart of the reader." —Midwest Book Review
St. Martin's Press, 9781250127440, 368pp.
Publication Date: September 19, 2017
About the Author
RONALD H. BALSON is an attorney, professor, and writer. His novel The Girl From Berlin won the National Jewish Book Award and was the Illinois Reading Council's adult fiction selection for their Illinois Reads program. He is also the author of Eli's Promise, Karolina's Twins, The Trust, Saving Sophie, and the international bestseller Once We Were Brothers. He has appeared on many television and radio programs and has lectured nationally and internationally on his writing. He lives in Chicago.
or
Not Currently Available for Direct Purchase