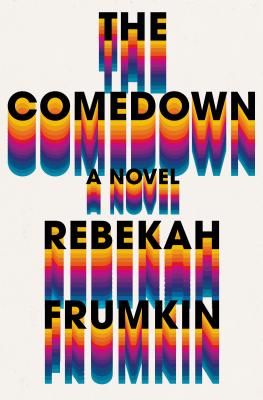 The Comedown
A Novel
Hardcover

* Individual store prices may vary.
Other Editions of This Title:
Digital Audiobook (4/16/2018)
Paperback (10/8/2019)
Description
A dazzling epic that follows two very different families in Cleveland across generations, beginning with their patriarchs, who become irrevocably intertwined one fateful night

A blistering dark comedy, Rebekah Frumkin's The Comedown is a romp across America, from the Kent State shootings to protest marches in Chicago to the Florida Everglades, that explores delineating lines of race, class, religion, and time.

Scrappy, street smart drug dealer Reggie Marshall has never liked the simpering addict Leland Bloom-Mittwoch, which doesn't stop Leland from looking up to Reggie with puppy-esque devotion. But when a drug deal goes dramatically, tragically wrong and a suitcase (which may or may not contain a quarter of a million dollars) disappears, the two men and their families become hopelessly entangled. It's a mistake that sets in motion a series of events that are odd, captivating, suspenseful, and ultimately inevitable.

Both incendiary and earnest, The Comedown steadfastly catalogs the tangled messes the characters make of their lives, never losing sight of the beauty and power of each family member's capacity for love, be it for money, drugs, or each other.
Praise For The Comedown: A Novel…
"So good, so fully realized and meticulously, skillfully rendered. . . .Rebekah Frumkin can write. . . .A book about crests and troughs, highs and comedowns, joys and brutalities -- about how easily our lives are wrecked, but also how powerfully we're able to survive and rebuild." —Nathan Hill, The New York Times Book Review

"At its core, The Comedown is about relationships and the joy and pain they bring. In that realm, and others, it's a resounding success." —The L.A. Review of Books

"Devastatingly smart...That this is Frumkin's debut makes the ambition of this story all the more remarkable." —NYLON, 50 Books We Can't Wait to Read in 2018

"Ambitious, exhilarating...The mystery here is within the hearts of the characters, so compelling that, even when the novel concludes, the reader is left wondering where their lives took them." —The Columbus Dispatch

"It's rare that a novel this smart is such an engrossing read...Frumkin is whip-smart and funny. The writing is compulsively readable without being pedestrian. Sentences seem to vibrate. . . A reminder of what good old-fashioned fiction can do." —The Millions


"Frumkin's debut may find itself sharing shelf space with Franzen and Chabon. . . . The Comedown is a romp which never loses track of its compassion, messy in a charismatic, lifelike way, a giant, leaping wash of twentieth and twenty-first century Americana which never lapses into cliche. Frumkin's characters linger long after the final page, such that finishing the book is a comedown of its own." —Full Stop

"Ambitious, sensitive, and busy...this is a powerful debut. Frumkin has talent to burn." —Kirkus (starred)

"Frumkin thoughtfully delves into issues of mental illness, addiction, poverty, and racism in a story filled with penetrating insights into the human character. . . .This ambitious saga features vivid and compassionately drawn characters." —Library Journal (starred)

"With both satirical flair and vestiges of observational reporting. . . .Frumkin has created a snapshot of authentic people in a real place. . . .[Frumkin is a] talented debut novelist with a sharp eye." —Shelf Awareness

"Frumkin's powerfully drawn moments present themes of race, religion, and education; addiction and mental illness; sex, love, and inheritance....Frumkin displays a real knack for creating lifelike, original characters and letting them do the talking." —Booklist

"The Comedown is everything you could want in a novel—an intergenerational family saga, a mystery that spans modern American history, a scalpel cut through our many national foibles and shames. Funny, heartbreaking, tremendous; Frumkin's intelligence and empathy radiates off every page." —Carmen Maria Machado, author of Her Body and Other Parties

"Rebekah Frumkin is a writer of deeply impressive imagination and brilliant execution. I've read few writers who take such an ambitious and convincing bite of the world." —Ethan Canin, Guggenheim fellow and author of A Doubter's Almanac, America America and more


"Eighties-era Cleveland might be the stage, the Mittwoches and Marshalls the players, but The Comedown is really the story of all of us. As inclusive and capacious as it is intimate, this look at a turbulent time in American political and family life will invite comparisons to Jonathan Franzen and the Coen Brothers, but Rebekah Frumkin's unsparingly honest and endlessly compassionate voice is unique, as is her ability to combine humor and pathos in a way that strikes the heart." —Deborah E. Kennedy, author of Tornado Weather
Henry Holt and Co., 9781250127525, 336pp.
Publication Date: April 17, 2018
About the Author
Rebekah Frumkin's fiction and essays have appeared in Granta, McSweeney's, and Best American Nonrequired Reading, among other places. She holds an MFA from the Iowa Writers' Workshop and was the 2014 recipient of the Richard E. Guthrie Memorial Fellowship. She is currently getting her MSJ from the Medill School of Journalism at Northwestern University. The Comedown is her first novel.
or
Not Currently Available for Direct Purchase