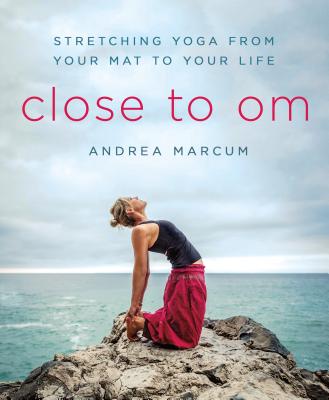 Close to Om
Stretching Yoga from Your Mat to Your Life
Paperback

* Individual store prices may vary.
Other Editions of This Title:
Digital Audiobook (12/25/2017)
CD-Audio (12/26/2017)
Description
Andrea Marcum's Close to Om is a beautifully illustrated, practical and philosophical, yoga book that promotes and teaches mindfulness in both your yoga practice and your everyday life.

Before Marcum was a sought after celebrity yoga teacher, she was someone who thought she couldn't do yoga because she couldn't be still. Now after sixteen years of teaching yoga, she works with network executives, global brands, Hollywood actresses, and everyone in between.

Yoga is the yoke of body, mind, and spirit, and in Close to Om, Marcum offers a guide to teach all three aspects of yoga showcasing Marcum's signature unique style, this program combines the teaching of poses with the exploration of yoga philosophy and insight into meditation and mindfulness.

By the end of Close to Om, readers will not only know a lot about yoga and its poses, but they'll also know more about themselves: who they are, what they want, and how to get there—on and off their mat. The progression in Close to Om is the architecture of every yoga practice—and will show readers that how they do their yoga is how they do their life.
Praise For Close to Om: Stretching Yoga from Your Mat to Your Life…
"The raw humility and positive energy of Marcum's perspective radiate off each page—what a great addition to the Modern Yoga canon!"—Jessamyn Stanley, author of EveryBody Yoga: Let Go Of Fear, Get On The Mat, Love Your Body

"Deliciously sublime…There is a practical accessibility and innate kindness in the way Andrea shares her wisdom of the body, the practice of yoga and the work of calming the mind. Like a steady, wise, unconditionally loving friend, Andrea offers here a beautiful toolbox for all of us practicing, always practicing the path of yoga."—Annabeth Gish

"Andrea's combination of a challenging class, and a great sense of humor are unique, intelligent, and always leave me feeling better when I leave than when I arrived. She is an amazing teacher and I love her class."— Heather Graham

"Reading through Close to Om is a light, and airy foray into yoga. Andrea Marcum presents yoga as a serious, but fun and doable practice, with lots of good tips for practice – both on and off the mat. Her delightful stories and metaphors make it easy to understand why we might want to incorporate yoga into our daily lives for a more peaceful ,happy, and healthy existence."—Beryl Bender Birch, bestselling author of Power Yoga and Director/Founder of The Hard & The Soft Yoga Institute

"[An] inspiring guide for both beginners and seasoned practitioners. Marcum intersperses wisdom from such revered ancient texts as the Bhagavad Gita and Patanjali's yoga sutras with wisecracks, amusing anecdotes, and useful instructions and illustrative photos. Tales from her life give this vibrant memoir-cum-manual a personal and accessible yogic touch."—Publishers Weekly

"Close to Om cuts to the heart of a yoga practice. Rather than lecture on doctrine or extol ever more athletic postures, Andrea Marcum guides us in that true core workout: awakening, connecting, and residing in stillness."—Benjamin Lorr, author of Hell-Bent

"At our executive retreat, Andrea convinced even the most skeptical on our team that mindfulness and yoga are exciting tools to improve our quality of life and job performance. His approachable style allowed everyone to feel comfortable and made the session a great success."— Michael Edelstein President, NBCUniversal International Television Production

"Andrea Marcum is vitality and grace personified. To meet her is to know her. She is truly fully expressed and the embodiment of love in every moment – inspiring you to laugh a little louder and love a little harder. As you flow through the pages of Close to Om,you feel as if she is alongside you personally guiding you throughout the process. Andrea is a brilliant teacher, committed to being of service to others and a forever student – contagiously curious about the world. Close to Om will invite you inside Andrea's knowledge, curiosity and heart – you'll leave with a renewed sense of inquisitiveness, inspiration and guidance."—Sarah Harvison, lululemon Global Yoga Ambassador Program Manager

"In Close to Om, Andrea's vulnerable, accessible honesty invites you onto the path. She's an expert at guiding you to embrace your unique potential and at making you feel she's right there with you as you do." —Liz Hernandez, Host Access Hollywood

"In Close to Om, Andrea takes us down a path that reinforces why yoga is so important to our often chaotic lives. I am grateful to have her as a steadfast and inspiring guide on my own journey."—Shannon Furman, NFL network producer
St. Martin's Griffin, 9781250127594, 224pp.
Publication Date: December 26, 2017
About the Author
ANDREA MARCUM has been teaching yoga in LA for sixteen years. She teaches at Yogaworks locally and at major events including Wanderlust festivals, as well as leading corporate and private retreats all over the world. Her classes are also available through My Yoga Gaia for streaming online and TV. Among her celebrity clients are actresses Heather Graham and Jennifer Jason Leigh, directors Noah Baumbach and Mark Pellington, and Oprah's The Life You Want Tour celebrity life coach Angela Davis.