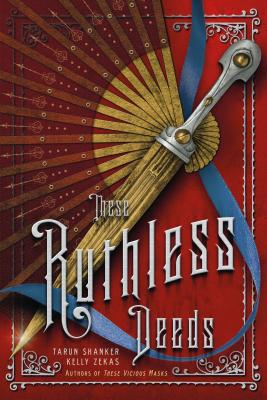 These Ruthless Deeds (These Vicious Masks #2) (Paperback)
Swoon Reads, 9781250127952, 320pp.
Publication Date: March 14, 2017
Other Editions of This Title:
Compact Disc (8/29/2017)
MP3 CD (8/29/2017)
* Individual store prices may vary.
Description
Everyone's favorite sarcastic Victorian healer is back in the sequel to These Vicious Masks, and this time she's struggling with both a sinister secret society and an increasingly tangled love life...
England, 1883. Recovering from a devastating loss, Evelyn has become determined to use her powers to save other gifted people from those who would study and oppress them. But when her rescue of a young telekinetic girl goes terribly wrong, Evelyn finds herself involved with a secret society devoted to recruiting and protecting people like Evelyn and her friends.
Like magic, Evelyn's problems start to disappear. Her reputation is repaired, her friends are provided for, and her parents are thrilled at all her new suitors. She's even been reunited with the dashing Mr. Kent and the reclusive Mr. Braddock (who is much less brooding now that the society is helping him to control his dangerous power). Yet, somehow Evelyn can't help fearing that there is something sinister going on…
Don't miss These Ruthless Deeds, Tarun Shanker and Kelly Zekas' gripping, action-filled sequel to These Vicious Masks, chosen by readers like you for Macmillan's young adult imprint Swoon Reads.
Praise for the These Vicious Masks trilogy:
"This is a perfect pick for someone who wants a little magic in their Victorian novels, and its combination of historical fiction and mysticism will remind readers of Libba Bray's Gemma Doyle trilogy." —Booklist
"This tale has brisk pacing, plenty of action, and a heroine with more than her fair share of girl-power confidence." —School Library Journal
About the Author
Mild-mannered assistant by day, milder-mannered writer by night, Tarun Shanker is a New York University graduate currently living in Waltham, MA. His idea of paradise is a place where kung fu movies are projected on clouds, David Bowie's music fills the air, and chai tea flows freely from fountains. He is the author of These Vicious Masks, These Ruthless Deeds, and These Vengeful Souls.

Kelly Zekas, a New York University graduate, writes, acts, and reads in New York City. YA is her absolute favorite thing on earth (other than cupcakes), and she has spent many hours crying over fictional deaths. She also started reading Harlequin romances at a possibly too-early age (twelve?) and still loves a good historical romance. She is the author of the These Vicious Masks, These Ruthless Deeds, and These Vengeful Souls.
Praise For These Ruthless Deeds (These Vicious Masks #2)…
Praise for the These Vicious Masks trilogy:
These Ruthless Deeds:
"I have to admit that I'm truly becoming obsessed with this series. The writing is humorous and brilliant. The characters are all perfection. ... Utter brilliance." —BookCrushin
"Intrigue, action, magic, swords (lots of swords), and fantastic characters await the reader in this newest installment to These Vicious Masks! ... I can't wait for the next one and the ending of this one will have you screaming for more." —Crossroad Reviews
"These Ruthless Deeds is everything the title suggests: it is ruthless, but the synergy between Shanker and Zekas allows the novel to be so much more. It is a romance, a suspense, a comedy, a fantasy, an adventure… it is everything I love in YA books and more and I cannot wait for the third and final book in this amazing series." —thebookcorps
These Vicious Masks:
"Striking a strong balance between romance and mystery, this novel captures society's rules just as well as it does the unbelievable powers of the main characters. This is a perfect pick for someone who wants a little magic in their Victorian novels, and its combination of historical fiction and mysticism will remind readers of Libba Bray's Gemma Doyle trilogy." —Booklist
"This tale has brisk pacing, plenty of action, and a heroine with more than her fair share of girl-power confidence." —School Library Journal

"This is a great read, compelling and addictive. Well written and great character development you cannot stop reading. I was spellbound from the beginning and I thoroughly enjoyed the journey!" —Sue Speakman, reader on Swoon Reads.com