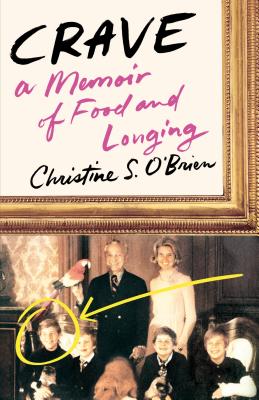 Crave
A Memoir of Food and Longing
Hardcover

* Individual store prices may vary.
Description
"Do you mind that I'm going to be writing a book about the fact that I was hungry?" I asked my mother. "Just tell a good story," she replied.

Hunger comes in many forms. In her memoir, Crave, Christine S. O'Brien tells a story of family turmoil and incessant hunger hidden behind the luxury and privilege of New York's famed Dakota apartment building. Her explosively angry father was ABC Executive Ed Scherick, the successful television and film producer who created shows and films like ABC's Wide World of Sports and The Stepford Wives. Raised on farm in the Midwest, her calm, beautiful mother Carol narrowly survived a dramatic accident when she was child. There was no hint of instability in her life until one day she collapsed in the family's apartment and spent the next year in bed. "Your mother's illness is not physical," Christine's father tells her.

Craving a cure for a malady that the doctors said had no physical basis, Carol resorted to increasingly bizarre nutritional diets—from raw liver to fresh yeast—before beginning a rigid dietary regime known as "The Program." It consisted largely of celery juice and blended salads—a forerunner of today's smoothie. Determined to preserve the health of her family, Carol insisted that they follow The Program. Despite their constant hunger, Christine and her three younger brothers loyally followed their mother's eating plan, even as their father's rage grew and grew. The more their father screamed, the more their mother's very survival seemed to depend on their total adherence to The Program.

This well-meant tyranny of the dinner table led Christine to her own cravings for family, for food, and for the words to tell the story of her hunger. Crave is the chronicle of Christine's painful and ultimately satisfying awakening. And, just as her mother asked, it's a good story.
Praise For Crave: A Memoir of Food and Longing…
"...one version of a 20th-century fairy tale... O'Brien describes her unusual childhood with loving generosity. " —The New York Times Book Review


"Emotionally Fraught"
—Publisher's Weekly


"A page turner…compelling."
—Booklist


"A book that makes the topic of hunger entirely satisfying."
—Kirkus


"A thoroughly engaging memoir,"
—Library Journal

Christine Sherick O'Brien has written a beautiful literary memoir of a very complex childhood, living in ostensible glamour but with great emotional bruising. Especially today, with women re-examining their pasts for the hidden abuse that seemed un-fightable at the time, it is a necessary and thought provoking re-examination of childhood wounds—and conquest of them."— Sheila Weller, author of Girls Like Us and The News Sorority


"I met Edgar Scherick early in my mid-twenties, and witnessed his volatility first hand. He would terrorize me but also entrusted in me the tremendous opportunity to create and produce. I had to condition myself to tolerate his outbursts so I could optimize these opportunities and build a successful television career. In Crave, Christine Scherick O'Brien tells her harrowing story of growing up terrified by Edgar's rage and psychologically damaged by her mother's draconian and stomach-turning health food regimen. It's a riveting tale of deprivation amidst privilege, but also a story about redemption as Christine finds personal strength to overcome her damaged upbringing."
—Brian Grazer, Academy, Emmy, and Golden Globe winning film and television producer whose credits include films, A Beautiful Mind, The Da Vinci Code, Apollo 13, 8 Mile, and television series, 24, Friday Night Lights, Arrested Development


"This book was startling to me, as it describes a family I thought I knew, but evidently didn't. Edgar Scherick was my friend and my guardian angel—a man who believed in my dreams and made my career. I loved Edgar, who I knew to be kind, thoughtful and, most of all, protective. What I didn't know is that he also carried demons—that made him unpredictably angry and frequently volatile, at home. In her brave, painful and ultimately triumphant memoir, Christine O'Brien reconciles a complicated childhood—a life of privilege that was often held hostage by an explosive father, an obsessive and controlling mother, and the constant terror of feeling unsafe. It is never easy to untangle the knotty contradictions of a life lived, particularly when those memories recall the people we loved. But Christine has emerged from her harrowing journey with a story worthy of celebration—by women, by victims of domestic trauma and by anyone who longs for inner peace. A courageous and inspiring book." —Marlo Thomas
St. Martin's Press, 9781250128836, 272pp.
Publication Date: November 13, 2018
About the Author
Christine S. O'Brien earned a BA in English at UC Berkeley and holds a Double MFA from Saint Mary's College in Nonfiction and Fiction, where she was awarded Saint Mary's Agnes Butler Scholarship for Literary Excellence. Her essays and short stories have appeared in The Seneca Review and The Slush Pile Magazine, and her work received an Honorable Mention in Glimmer Train's Short Story Award for New Writers. O'Brien has worked for ABC-TV, Alex Ponti, and NBC Productions. She is currently a part-time lecturer in the English Composition Department at Saint Mary's College and lives in Walnut Creek, California, with her husband and two children. Crave is her first book.
or
Not Currently Available for Direct Purchase