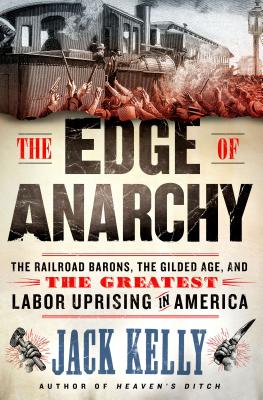 The Edge of Anarchy
The Railroad Barons, the Gilded Age, and the Greatest Labor Uprising in America
Hardcover

* Individual store prices may vary.
Other Editions of This Title:
Digital Audiobook (1/7/2019)
MP3 CD (1/8/2019)
Compact Disc (1/8/2019)
Compact Disc (1/8/2019)
Description
"Timely and urgent...The core of The Edge of Anarchy is a thrilling description of the boycott of Pullman cars and equipment by Eugene Debs's fledgling American Railway Union..." —The New York Times

"During the summer of 1894, the stubborn and irascible Pullman became a central player in what the New York Times called "the greatest battle between labor and capital [ever] inaugurated in the United States." Jack Kelly tells the fascinating tale of that terrible struggle." —The Wall Street Journal

"Pay attention, because The Edge of Anarchy not only captures the flickering Kinetoscopic spirit of one of the great Labor-Capital showdowns in American history, it helps focus today's great debates over the power of economic concentration and the rights and futures of American workers." —Brian Alexander, author of Glass House

"In gripping detail, The Edge of Anarchy reminds us of what a pivotal figure Eugene V. Debs was in the history of American labor... a tale of courage and the steadfast pursuit of principles at great personal risk." —Tom Clavin, New York Times bestselling author of Dodge City

The dramatic story of the explosive 1894 clash of industry, labor, and government that shook the nation and marked a turning point for America.

The Edge of Anarchy by Jack Kelly offers a vivid account of the greatest uprising of working people in American history. At the pinnacle of the Gilded Age, a boycott of Pullman sleeping cars by hundreds of thousands of railroad employees brought commerce to a standstill across much of the country. Famine threatened, riots broke out along the rail lines. Soon the U.S. Army was on the march and gunfire rang from the streets of major cities.

This epochal tale offers fascinating portraits of two iconic characters of the age. George Pullman, who amassed a fortune by making train travel a pleasure, thought the model town that he built for his workers would erase urban squalor. Eugene Debs, founder of the nation's first industrial union, was determined to wrench power away from the reigning plutocrats. The clash between the two men's conflicting ideals pushed the country to what the U.S. Attorney General called "the ragged edge of anarchy."

Many of the themes of The Edge of Anarchy could be taken from today's headlines—upheaval in America's industrial heartland, wage stagnation, breakneck technological change, and festering conflict over race, immigration, and inequality. With the country now in a New Gilded Age, this look back at the violent conflict of an earlier era offers illuminating perspectives along with a breathtaking story of a nation on the edge.
Praise For The Edge of Anarchy: The Railroad Barons, the Gilded Age, and the Greatest Labor Uprising in America…
"What used to be our middle class is up against what Debs was up against in 1893. Jack Kelly's crisp retelling of the Pullman strike helps you understand why there is not much of a labor movement—or socialism—in America. Today it would now be even harder now to pull off a strike so big and threatening as one the Kelly describes here in such fast moving detail." —Tom Geoghegan, author of Which Side Are You On?: Trying to Be for Labor When It's Flat on Its Back

"Timely...Kelly tells this story with exhilaration...[The Edge of Anarchy] is not only a wonderful distillation of why the 1894 Pullman strike still matters, but it also presents an excellent overview of what life was like in 1894—full of technological promise, and yet riddled with class conflict and economic warfare." —New York Journal of Books

"Jack Kelly's work presents an era that, though passed from collective memory, still resonates today." —The Pittsburgh Post-Gazette

"It's an epic yarn and Jack Kelly tells it with Homeric power and sweep." —The Washington Times

"Masterful." —Railroad History

"Kelly does a great job of telling a lively and readable story." —Democratic Socialists of America

"It takes a book like Kelly's to make history truly relevant to what we face today . . . I urge all union activists to read Jack Kelly's book." —Ron Kaminkow, Brotherhood of Locomotive Engineers & Trainmen #51, Railroad Workers United

"Kelly vividly portrays the personalities involved, from elected officials to labor leaders, and makes the tensions of the time quite contemporary." —Booklist (starred review)

"Kelly's vigorous narrative serves well to set down the facts of a turbulent, little-known history." —Kirkus Reviews

"A vivid account of a tumultuous era." —Nick Salvatore, author of Eugene V. Debs: Citizen and Socialist

"Think Erik Larson meets Howard Zinn...Jack Kelly's remarkable new book, Ragged Edge, explores an era of our industrial and labor history with remarkable parallels to our own moment: ascendant forces of all-powerful capital, a government beholden to it, new labor movements emerging from the ashes of older ones, populist uprisings on the left and right, political polarization, and a working class divided to its detriment by issues of race and status. Kelly writes history with the storytelling prowess of a novelist or screenwriter, making forgotten subject matter newly accessible and exciting. " —David Rolf, President SEIU 775; Author of Fight for $15: The Right Wage for a Working America (New Press, 2016)

"A skilled craftsman...Kelly's writing is vivid, especially in its depiction of Debs and Pullman." —Robert D. Parmet, New York Labor History Association

"Pay attention, because Jack Kelly's Ragged Edge not only captures the flickering Kinetoscopic spirit of one of the great Labor-Capital showdowns in American history, it helps focus today's great debates over the power of economic concentration and the rights and futures of American workers." —Brian Alexander, author of Glass House: The 1% Economy and the Shattering of the All-American Town
St. Martin's Press, 9781250128867, 320pp.
Publication Date: January 8, 2019
About the Author
JACK KELLY is a journalist, novelist, and historian, whose books include Band of Giants, which received the DAR's History Award Medal. He has contributed to national periodicals including The Wall Street Journal and is a New York Foundation for the Arts fellow. He has appeared on The History Channel and interviewed on National Public Radio. He grew up in a town in the canal corridor adjacent to Palmyra, Joseph Smith's home. He lives in New York's Hudson Valley.
or
Not Currently Available for Direct Purchase