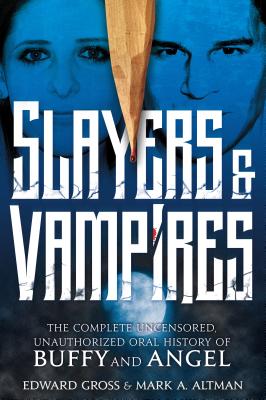 Slayers & Vampires
The Complete Uncensored, Unauthorized Oral History of Buffy & Angel
Hardcover

* Individual store prices may vary.
Other Editions of This Title:
Paperback (9/26/2017)
Description
From the bestselling authors of the critically acclaimed two-volume series The Fifty-Year Mission, comes Slayers & Vampires: The Complete, Uncensored, Unauthorized Oral History of Buffy The Vampire Slayer & Angel.

Two decades after its groundbreaking debut, millions of fans worldwide remain enthralled with the incredible exploits of Joss Whedon's Buffy Summers, the slayer and feminist icon who saved the world...a lot; as well as Angel, the tortured vampire with a soul who fought against the apocalyptic forces of evil.

Now, go behind-the-scenes of these legendary series that ushered in the new Golden Age of Television, with the candid recollections of writers, creators, executives, programmers, critics and cast members. Together they unveil the oftentimes shocking true story of how a failed motion picture became an acclaimed cult television series, how that show became a pawn between two networks, and the spin-off series that was as engaging as everything that came before.

This is the amazing true story of Buffy and the friends, vampires, slayers, and demons who changed television forever.

The authors talked to almost 100 writers, producers, directors, filmmakers, sociologists and stars from Buffy The Vampire Slayer and Angel in new and vintage interviews from their personal archives, among them:

Joss Whedon
Guillermo del Toro
Felicia Day
Anthony Stewart Head
Charisma Carpenter
James Marsters
David Boreanaz
Amy Acker
J. August Richards
Eliza Dushku
Christian Kane
Julie Benz
And More!
Praise For Slayers & Vampires: The Complete Uncensored, Unauthorized Oral History of Buffy & Angel…
Praise For Edward Gross & Mark A. Altman

"Slayers & Vampires is a new primary text to pour over, with plenty of behind-the-scenes tidbits about who hated whom and how TV shows are made."— The New York Times

"The authors have done an exhaustive, masterful job of collecting interviews and editing memories, opinions and reflections of hundreds of creative artists, business executives, critics and even the occasional social scientist. What emerges is an intriguing look inside the sausage-making process that is television and film production." – The Wall Street Journal

"At last, the final word on the final frontier!" – Scott Mantz, Access Hollywood

"Breathtaking in scope and depth, this is a must-read for Star Trek lovers as well as anyone who wants a better understanding of how television and film production works" – Booklist

"A tantalizing Star Trek tell-all… perhaps the most comprehensive compendium of Star Trek knowledge you'll ever find" – Emmy Magazine


"Authors Mark A. Altman and Edward Gross do an unbelievable job organizing large quantities of information. What went on behind the scenes? Which casting decisions almost weren't? If you're just dying for juicy secrets about the famous franchise, then your search is over. We just know you're going to love this book; resistance is futile" - Bookish

"An unprecedented behind-the-scenes look into the making of a TV series. Some days you have liftoff, and other days you blow up on the pad. Trust me, this is what it's like. A must for genre fans and aspiring filmmakers alike." - Jesse Alexander (Executive Producer: Lost, Heroes)

"An absolute must for any Star Trek fan" - Kirkus Reviews

"Mark and Ed tell the fascinating story of that rare Hollywood product that actually means something to mankind" – Seth MacFarlane
Tor Books, 9781250128928, 528pp.
Publication Date: September 26, 2017
About the Author
EDWARD GROSS is a veteran entertainment journalist who took his childhood passion for film and television and turned it into a career. As a student at Hofstra University, while most of the staff of The New Voice was interviewing the likes of student senators and faculty members, he was speaking to people like playwright Neil Simon (awarded an honorary degree by the school), Curtis Sliwa of New York's Guardian Angels, Dr. Daniel Schwartz, the police psychiatrist who interviewed both David Berkowitz and Mark David Chapman; and James Bond director John Glen. Early on he sold pieces to New York Nightlife, Starlog and Filmfax magazines and was on his way.

Over the years he would not only become a correspondent for Starlog, but part of the editorial staff of Fangoria, Cinefantastique, SFX, Cinescape, Sci-Fi Now, Not of This Earth, RetroVision, Life Story, Movie Magic, Film Fantasy and TV Magic. Online he was Executive Editor, US for empireonline.com, Film and TV Editor at closerweekly.com, lifeandstylemag.com and intouchweekly.com, and Nostalgia Editor for doyouremember.com. Currently he is senior editor at Geek magazine and editor as well as podcast host for voicesfromkrypton.net (devoted to the superhero genre), tvretrovision.com (classic television) and vampiresandslayers.net, the URL of which says it all.

In addition to the oral history books he's written with Mark A. Altman, Gross' other titles include Secret File: The Making of a Wiseguy and The Unofficial 25th Anniversary Odd Couple Companion (both 1990, Pioneer Books), X-Files Confidential (1995, Little, Brown & Co.), Spider-Man Confidential (2001, Hyperion), Planet of the Apes Revisited with Joe Russo and Larry Landsman (2001, St. Martin's Press), Rocky: The Ultimate Guide (2006, DK Books) and Stargate: SG1 — In Their Own Words (2021, Eaglemoss).
MARK A. ALTMAN is a television and motion picture writer/producer/director who is currently the showrunner/executive producer of the sci-fi series, Pandora, distributed globally by Sony Pictures Television. Previously he served as Co-Executive Producer of The Librarians (TNT), Agent X (TNT), Castle (ABC), Necessary Roughness (USA) among others. He also recently completed work on the gonzo documentary spotlighting the pop culture touchstones of the seminal moviegoing year of 1982, Greatest Geek Year Ever!

His first motion picture was the award winning, Free Enterprise, starring William Shatner and Eric McCormack, which he wrote and produced and for which he won the Writers Guild of America Award for Best New Writer. In addition, Altman has sold numerous pilots and feature films and produced the $30 million film adaptation of the bestselling video game, DOA: Dead Or Alive, which was released by Dimension Films. He is also a producer of the House of the Dead series, based on the videogame from Sega, released by Lionsgate. In addition, he produced director Craig Mazin (Chernobyl) and writer James Gunn's feature film, the superhero satire, The Specials.

Altman has also directed several comedy specials including Aries Spiers: Comedy Blueprint for NBC/Universal and Comedy Dynamics and in 2019, he launched the Electric Surge video podcast network with producer Dean Devlin (Independence Day, Stargate) which produces and distributes numerous podcasts spotlighting pop culture topics with notable experts in their field. The video podcasts which include The 4:30 Movie and Inglorious Treksperts, the only podcast for Star Trek fans with a life, which he co-hosts, along with Best Movies Never Made is also available on the streaming OTT platform, Electric Now, as well as through traditional podcast providers.

His bestselling two-volume book with Edward Gross, The 50 Year Mission: The Complete Uncensored, Oral History of Star Trek, was released by St. Martin's Press in 2016 in hardcover to unanimous critical acclaim including raves in The Wall Street Journal, Booklist and Publishers Weekly. His follow-up on Battlestar Galactica, So Say We All, was released in hardcover by Tor Forge in 2018. His most recent oral histories including Nobody Does It Better about the James Bond films and Spymania which was released in February of 2020 and Secrets of the Force, an oral history of the complete Star Wars saga which was published by St. Martin's in Summer 2021.

Altman is a former entertainment journalist as well. In the past, he has contributed to such newspapers and magazines as The Boston Globe, Written By, L'Cinefage, Film Threat, The Guardian, Brandeis Magazine and many others, including the legendary genre journal, Cinefantastique for which he launched their independent film division, CFQ Films, which produced numerous successful genre features for both DTV and VOD release.

He has also spoken at numerous industry events and conventions, including ShowBiz Expo as well as the Variety/Final Draft Screenwriters Panel at the Cannes Film Festival. He was a juror at the prestigious Sitges Film Festival in Barcelona, Spain. He has been a frequent guest and panelist at Comic-Con held annually in San Diego, CA and a two-time juror for the Comic-Con Film Festival. In addition to being a graduate of the Writers Guild of America Showrunners Training Program, he is a member of the Television Academy.

For interviews or personal appearances with the authors, please contact us at 50yearmissionbook@gmail.com.
or
Not Currently Available for Direct Purchase