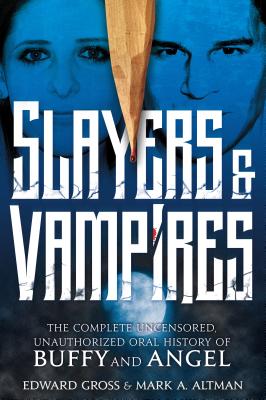 Slayers & Vampires
The Complete Uncensored, Unauthorized Oral History of Buffy & Angel
Hardcover

* Individual store prices may vary.
Description
From the bestselling authors of the critically acclaimed two-volume series The Fifty-Year Mission, comes Slayers & Vampires: The Complete, Uncensored, Unauthorized Oral History of Buffy The Vampire Slayer & Angel.

Two decades after its groundbreaking debut, millions of fans worldwide remain enthralled with the incredible exploits of Joss Whedon's Buffy Summers, the slayer and feminist icon who saved the world...a lot; as well as Angel, the tortured vampire with a soul who fought against the apocalyptic forces of evil.

Now, go behind-the-scenes of these legendary series that ushered in the new Golden Age of Television, with the candid recollections of writers, creators, executives, programmers, critics and cast members. Together they unveil the oftentimes shocking true story of how a failed motion picture became an acclaimed cult television series, how that show became a pawn between two networks, and the spin-off series that was as engaging as everything that came before.

This is the amazing true story of Buffy and the friends, vampires, slayers, and demons who changed television forever.

The authors talked to almost 100 writers, producers, directors, filmmakers, sociologists and stars from Buffy The Vampire Slayer and Angel in new and vintage interviews from their personal archives, among them:

Joss Whedon
Guillermo del Toro
Felicia Day
Anthony Stewart Head
Charisma Carpenter
James Marsters
David Boreanaz
Amy Acker
J. August Richards
Eliza Dushku
Christian Kane
Julie Benz
And More!
Praise For Slayers & Vampires: The Complete Uncensored, Unauthorized Oral History of Buffy & Angel…
Praise For Edward Gross & Mark A. Altman

"Slayers & Vampires is a new primary text to pour over, with plenty of behind-the-scenes tidbits about who hated whom and how TV shows are made."— The New York Times

"The authors have done an exhaustive, masterful job of collecting interviews and editing memories, opinions and reflections of hundreds of creative artists, business executives, critics and even the occasional social scientist. What emerges is an intriguing look inside the sausage-making process that is television and film production." – The Wall Street Journal

"At last, the final word on the final frontier!" – Scott Mantz, Access Hollywood

"Breathtaking in scope and depth, this is a must-read for Star Trek lovers as well as anyone who wants a better understanding of how television and film production works" – Booklist

"A tantalizing Star Trek tell-all… perhaps the most comprehensive compendium of Star Trek knowledge you'll ever find" – Emmy Magazine


"Authors Mark A. Altman and Edward Gross do an unbelievable job organizing large quantities of information. What went on behind the scenes? Which casting decisions almost weren't? If you're just dying for juicy secrets about the famous franchise, then your search is over. We just know you're going to love this book; resistance is futile" - Bookish

"An unprecedented behind-the-scenes look into the making of a TV series. Some days you have liftoff, and other days you blow up on the pad. Trust me, this is what it's like. A must for genre fans and aspiring filmmakers alike." - Jesse Alexander (Executive Producer: Lost, Heroes)

"An absolute must for any Star Trek fan" - Kirkus Reviews

"Mark and Ed tell the fascinating story of that rare Hollywood product that actually means something to mankind" – Seth MacFarlane
Tor Books, 9781250128928, 528pp.
Publication Date: September 26, 2017
About the Author
EDWARD GROSS has an extensive history of covering film and television as a member of the editorial staff of a wide variety of magazines, including CINESCAPE, STARLOG, CINEFANTASTIQUE, SFX, FEMME FATALES, MOVIE MAGIC, LIFE STORY and SCI-FI NOW. He has written numerous non-fiction books and, along with THE FIFTY-YEAR MISSION coauthor Mark Altman, has written more about Star Trek over the past 35 years than just about anyone else.

MARK A. ALTMAN has been hailed as "the world's foremost Trekspert" by the LOS ANGELES TIMES. Altman is a former journalist for such publications as THE BOSTON GLOBE, CINEFANTASTIQUE and GEEK. He is also the writer/producer of the beloved romantic comedy, FREE ENTERPRISE, starring William Shatner and Eric McCormack as well as the hit TV series AGENT X, CASTLE, NECESSARY ROUGHNESS and FEMME FATALES.
or
Not Currently Available for Direct Purchase