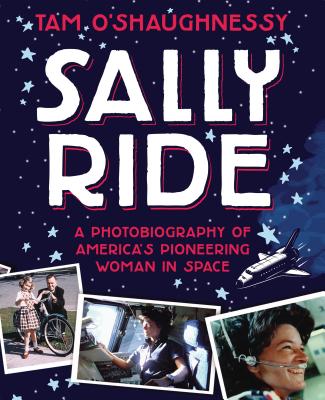 Sally Ride (Paperback)
A Photobiography of America's Pioneering Woman in Space
Square Fish, 9781250129611, 160pp.
Publication Date: October 17, 2017
Other Editions of This Title:
Hardcover (10/6/2015)
* Individual store prices may vary.
Description
A fascinating glimpse into the life of the first American woman in space, with gorgeous black-and-white and color photographs.
Years before millions of Americans tuned in to watch her historic space flight aboard the Challenger in 1983, Sally Ride stayed up late to watch Neil Armstrong become the first person to walk on the moon. The next morning, she woke up to win her first round singles match at a national junior tennis tournament.
Sally Ride: A Photobiography of America's Pioneering Woman in Space, is an intimate journey from her formative years to her final moments. Before she was an astronaut, Sally was a competitive tennis player who excelled at the game to such an extent that Billie Jean King told her she could play on the pro circuit. Before she earned a Ph.D. in physics, she was called an underachiever by her high school classmates. After her first historic space flight-she took a second in 1984-Sally continued to break ground as an inspirational advocate for space exploration, public policy, and science education, who fought gender stereotypes and opened doors for girls and women in all fields during the second half of the twentieth century.
This vivid photobiography, written by Sally's life, writing, and business partner, Tam O'Shaughnessy, offers an intimate and revealing glimpse into the life and mind of the famously private, book-loving, tennis-playing physicist who made history.
Praise for Sally Ride: A Photobiography of America's Pioneering Woman in Space:
Selected for the 2016 National Science Teachers Association's Outstanding Science Trade Books List
Selected for the 2016 Notable Social Studies Trade Books for Young People List
"Eye-opening and inspiring . . . irresistible photos and appealing page layouts make it an especially good pick for reluctant readers." —Booklist
"Sally Ride's life will be most fascinating and inspiring to young scientists, space enthusiasts, and feminists." —Children's Literature
About the Author
Tam O'Shaughnessy is an Emeritus Professor of School Psychology at San Diego State University. A former biology teacher, she has guided the creation of over 75 science and STEM career books for young readers, as well as written 13 books for children, six of which she coauthored with Sally Ride. These include Mission: Planet Earth as well as The Third Planet, which won the American Institute of Physics Children's Science Writing Award. Tam is also the cofounder and Chief Executive Officer of San Diego-based Sally Ride Science, a company that creates programs and publications to inspire young people-especially girls-to stick with science as they go through school. Her book Sally Ride: A Photobiography of America's Pioneering Woman in Space provides an intimate portrait of her life and business partner, Sally Ride.
Praise For Sally Ride: A Photobiography of America's Pioneering Woman in Space…
Selected for the 2016 National Science Teachers Association's Outstanding Science Trade Books List
Selected for the 2016 Notable Social Studies Trade Books for Young People List

"A perceptive, loving tribute."--Kirkus, starred review
"Eyeopening and inspiring . . . irresistible photos and appealing page layouts make it an especially good pick for reluctant readers."--Booklist

"Sally Ride's life will be most fascinating and inspiring to young scientists, space enthusiasts, and feminists." --Children's Literature