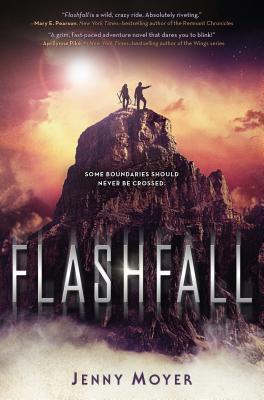 Flashfall (Paperback)
Square Fish, 9781250129666, 368pp.
Publication Date: November 14, 2017
* Individual store prices may vary.
Description
In this jaw-dropping young adult debut, a sixteen-year-old girl living in a radiation-laden world must fight for her freedom.
When the flash curtain fell, it divided them. Now those behind the curtain must risk their lives to reach freedom on the other side.
Orion and her caving partner, Dram, are Subpars, expected to mine the dangerous tunnels of Outpost Five for precious cirium—the only element that can shield humanity from the deadly particles emanating from a wall of radiation called the flashfall. Behind the flashfall: slow but certain death. Beyond it: the protected city, where miners who've collected enough cirium to earn entry can live safe from radiation.
But when newcomers arrive at Outpost Five, disturbing revelations make Orion question everything she thought she knew about life on both sides of the cirium shield. As conditions at the outpost grow increasingly dangerous, it's up to Orion to forge a way past the flashfall—and beyond the world as she knows it.
Flashfall is a thrilling young adult novel from debut author Jenny Moyer. And don't miss the sequel, Flashtide.
Praise for Flashfall:
"Flashfall is a wild, crazy ride. Absolutely riveting." —Mary E. Pearson, New York Times–bestselling author of the Remnant Chronicles
"A grim, fast-paced adventure novel that dares you to blink!" —Aprilynne Pike, #1 New York Times–bestselling author of the Wings series
"The premise of the novel has promise. . . . A distinctive post-apocalyptic world." —Kirkus Reviews
"A cinematic page-turner." —Booklist
About the Author
Jenny Moyer is the author of Flashfall. She grew up in Arizona, where she learned to fly before she could drive. Jenny studied writing at Seattle Pacific University and co-owns Luminary Creative with her filmmaker husband, Jacob. She lives in Des Moines, Iowa, with her three boys and three-pound dog, Emmy.
Praise For Flashfall…
"Flashfall is a wild, crazy ride. Absolutely riveting." —Mary E. Pearson, New York Times–bestselling author of the Remnant Chronicles
"A grim, fast-paced adventure novel that dares you to blink!" —Aprilynne Pike, #1 New York Times–bestselling author of the Wings series
"The premise of the novel has promise. . . . A distinctive post-apocalyptic world." —Kirkus Reviews
"A cinematic page-turner." —Booklist