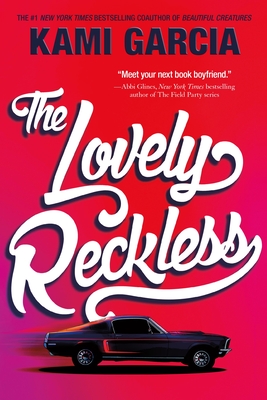 The Lovely Reckless (Paperback)
Square Fish, 9781250129680, 400pp.
Publication Date: June 6, 2017
Other Editions of This Title:
Digital Audiobook (10/3/2016)
Hardcover (10/4/2016)
CD-Audio (10/4/2016)
* Individual store prices may vary.
Description
From New York Times best-selling author Kami Garcia, a contemporary romance full of loss, love, and redemption.

She used to care about being the good girl.

Haunted by the memory of her boyfriend's death, Frankie Devereux lives her life by one dangerous rule: nothing matters. But she crosses the line with a reckless choice that forces her to move in with her dad—an overprotective cop—and transfer to a new school. When Frankie meets Marco, a tough street racer who is risking everything for his family, things get complicated.

He wasn't always the bad boy.

Everyone says Marco Leone is trouble. But at Frankie's new school, where fistfights in the halls don't faze anyone and illegal street racing is more popular than football, Marco is also the fastest (and hottest) guy around. As their attraction grows, Frankie can't seem to stay away from him—until she discovers Marco's dangerous secret.

Your own heart will race with each page turn of this heart-stopping star-crossed love story.

An Imprint Book
About the Author
Kami Garcia is a #1 New York Times, USA Today, and international bestselling author, and the coauthor of the Beautiful Creatures and Dangerous Creatures novels. Her solo works include the Bram Stoker–nominated novels Unbreakable and Unmarked (The Legion series), and The Lovely Reckless, a standalone contemporary romance.

Kami was a teacher for seventeen years and coauthored her first novel on a dare from seven of her students. If she isn't busy watching Supernatural, Kami can teach you how to escape from a pair of handcuffs or bake a Coca-Cola cake. Kami lives in Maryland with her family and their dogs, Spike and Oz.
Praise For The Lovely Reckless…
"Meet your next book boyfriend Marco Leone. You'll fall in love with him just like I did!" —Abbi Glines, New York Times bestselling author of The Field Party series & The Rosemary Beach novels

"Everything I hope for in a book... suspense, drama, romance, and heart." —Colleen Hoover, #1 New York Times–bestselling author of Hopeless

"A perfect blend of electrifying romance, pulse-pounding street racing, and page-turning suspense." —Jennifer L. Armentrout, #1 New York Times–bestselling author of The Problem With Forever

"Edge-of-your-seat suspense, love, and heartbreak." —Jamie McGuire, #1 New York Times–bestselling author of Beautiful Disaster

"Rip-roaring and hyper-real, Kami outdoes herself." —Holly Black, New York Times–bestselling author of The Darkest Part of the Forest

"The Fast and the Furious meets Romeo and Juliet, with a romance guaranteed to get your pulse racing." —Carrie Ryan, New York Times–bestselling author of The Forest of Hands and Teeth

"The Lovely Reckless is a fast-paced, fresh read that you'll want to devour in one sitting. I'm obsessed!" —Anna Todd, Internet Sensation and Bestselling Author of the After Series

"An insanely addictive, sexy, rush of a read you'll return to again and again!" —Alyson Noël, #1 New York Times–bestselling author of The Immortals series

"Sexy, fast-paced, and action-packed—this is Kami Garcia like you've never seen her before." —Tahereh Mafi, New York Times–bestselling author of Shatter Me

"Want an adrenaline rush with your swoon? Kami Garcia delivers an action-packed and addicting romance with complex characters, high stakes, and enough angst to keep you turning page after page." —Cora Carmack, New York Times–bestselling author of Losing It

"The Lovely Reckless thrills from beginning to end." —Marie Lu, #1 New York Times–bestselling author of Legend and The Young Elites

"As exciting as a high-stakes drag race with a hero hotter than a red-lined engine, The Lovely Reckless is a thrill ride without compare! You'll fall in love with sexy bad-boy Marco and root for the daring heroine Frankie as they fight to be together against all odds." —Kresley Cole, #1 New York Times–bestselling author of The Arcana Chronicles

"The Lovely Reckless is a thrilling ride full of twists and turns and a love story that will melt your heart!" —Katie McGarry, award-winning author of Nowhere but Here

"The Lovely Reckless is Garcia's superb, roaring entrance into the world of young adult contemporary fiction—full of first love jitters and heart-stopping action." —Christina Lauren, New York Times–bestselling author of Sublime

"Kami Garcia has moved into bold, new territory, and the results are spectacular. I was hooked from the first chapter!" —Richelle Mead, #1 International Bestselling Author of Vampire Academy series

"The Lovely Reckless is Garcia's superb, roaring entrance into the world of young adult contemporary fiction—full of first love jitters and heart-stopping action."—Christina Lauren, New York Times bestselling author of Autobiography

"High-stakes, suspenseful romance" —School Library Journal

"The supporting characters, especially Marco and Cruz, are vibrant, and Lex is the ultimate loyal friend. Realistically, protagonist Frankie acquires respect and likability as she evolves from predictable preppy to independent decision-maker." —Voya

"The romance scenes sizzle. A wild and enjoyable ride." —Kirkus Reviews