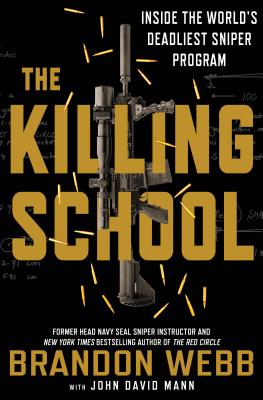 The Killing School (Hardcover)
Inside the World's Deadliest Sniper Program
St. Martin's Press, 9781250129932, 368pp.
Publication Date: May 9, 2017
* Individual store prices may vary.
Description
As a SEAL sniper and combat veteran, Webb was tapped to revamp the U.S. Naval Special Warfare (SEAL) Scout/Sniper School, incorporating the latest advances in technology and ballistics software to create an entirely new course that continues to test the skills and even the best warriors. In this revealing new book, Webb takes readers through every aspect of this training, describing how Spec Ops snipers are taught each dimension of their art. Trainees learn to utilize every edge possible to make their shot--from studying crosswinds, barometric pressure, latitude, and even the rotation of the Earth to becoming ballistic experts. But marksmanship is only one aspect of the training. Each SEAL's endurance, stealth and mental and physical stamina are tested and pushed to the breaking point.
Webb also shows how this training plays out in combat, using real-life exploits of the world's top snipers, including Jason Delgado, who led a Marine platoon in the Battle of Husaybah and made some of the most remarkable kill shots in the Iraq War; Nicholas Irving, the U.S. Army Ranger credited with thirty-three kills in a single three-month tour in Afghanistan; and Rob Furlong, who during Operation Anaconda delivered the then-longest kill shot in history.
During Webb's sniper school tenure, the course graduated some of the deadliest and most skilled snipers of this generation, including Marcus Luttrell (Lone Survivor), Adam Brown (Fearless), and Chris Kyle (American Sniper). From recon and stalk, to complex last minute adjustments, and finally the moment of taking the shot, The Killing School demonstrates how today's sniper is trained to function as an entire military operation rolled into a single individual--an army of one.
About the Author
BRANDON WEBB is a former U.S. Navy SEAL; his last assignment with the SEALs was Course Manager for the elite SEAL Sniper Course, where he was instrumental in developing new curricula that trained some of the most accomplished snipers of the twenty-first century. Webb has received numerous distinguished service awards, including the Presidential Unit Citation and the Navy Commendation Medal with a "V" for "Valor," for his platoon's deployment to Afghanistan following the September 11 attacks. He is editor for Military.com's blog Kit Up, SOFREP's Editor in Chief, and a frequent national media commentator on snipers and related Special Operations Forces military issues.

JOHN DAVID MANN, who collaborated with Brandon Webb in writing The Red Circle, is an award-winning author whose titles include the New York Times bestseller Flash Foresight and the international bestseller The Go-Giver.
Praise For The Killing School: Inside the World's Deadliest Sniper Program…
"A deeply honest and personal look into what Navy SEAL snipers do for us. . . . As you read all the real-life accounts in this book you'll find they feel so honest and read so well it is hard to put the book down. During Webb's sniper school tenure, the course graduated some of the deadliest and most skilled snipers of this generation, including Adam Brown (Fearless) and Chris Kyle (American Sniper). . . . The Killing School is a bright window into the shadowy world of our elite snipers." —Forbes

"This is what war looks like today...Through the SEALs' Sniper School, between 2003 and 2006, Webb trained 300 men to kill with stunning efficiency. He was essentially an instructor of human destruction." —New York Post
"The Killing School reads like a screenplay for the most cinematic military adventure flick you've ever seen—except that every word of it is true. Brandon Webb is the real deal, and so are the four Spec Ops snipers whose exploits he traces with pulse-pounding detail." — Kris "Tanto" Paronto, former Army Ranger, GRS operator, and coauthor of the New York Times bestseller 13 Hours
"An important piece of Naval Special Warfare history—and one hell of a gripping read!" — Dakota Meyer, former USMC scout sniper, Congressional Medal of Honor recipient, New York Times bestselling author of Into the Fire
"There were many reasons Chris Kyle (American Sniper) became the deadliest sniper in U.S. military history. Brandon Webb's contribution to the SEAL sniper course—their killing school—was a key factor in Chris's journey." — Scott McEwen, #1 New York Times bestselling coauthor of American Sniper and American Commander
"Sure to scare the hell out of any terrorist in line for a well-placed sniper shot. The Killing School is a gritty behind-the-scenes look at what makes the modern sniper so lethally effective in combat." — Dick Marcinko, founder and first commanding officer of SEAL Team 6, author of the bestselling Rogue Warrior series
"If you liked American Sniper, you'll love The Killing School." —America's 1st Freedom