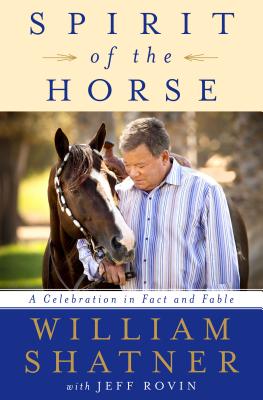 Spirit of the Horse (Hardcover)
A Celebration in Fact and Fable
Thomas Dunne Books, 9781250130020, 304pp.
Publication Date: May 23, 2017
Other Editions of This Title:
Hardcover, Large Print (6/21/2017)
* Individual store prices may vary.
Description
From his first time riding as a child, William Shatner has felt a deep love for horses. Whether seated in the saddle, communicating with them, or simply appreciating their beauty, his bond with these majestic animals is deep. For decades he has sought to share his joy—with children, veterans, those with disabilities, and many more—through his annual Hollywood Charity Horse Show. And here, he brings that same joy to his fans and readers.
In Spirit of the Horse, the Star Trek and Boston Legal legend speaks from the heart about the remarkable effect horses have had on his life and on the lives of others. From his first horse, bought impulsively on the advice of a twelve-year-old, to his favorite horses, acquired after many years of learning what to look for, this book draws from Shatner's own experience and pairs it with a wealth of classic horse stories, including unique retellings of the Pegasus myth and the feats of the most famous war horses throughout history. The result is a celebration that captures the unparalleled connection between humans and horses—and the power, courage, mindfulness, and healing that they can inspire in us.
Many fans have heard about Shatner's passion for horses; few have seen it revealed as completely as it is here.
About the Author
William Shatner played Captain Kirk of the USS Enterprise on Star Trek from 1966 to 1969 and in seven Star Trek movies. He also played Police Sergeant T.J Hooker, from 1982 to 1986, and has worked as a musician, producer, director, and celebrity pitchman, recently for Priceline.com. He has won two Emmys and a Golden Globe for his role as attorney Denny Crane on the TV drama Boston Legal.
Praise For Spirit of the Horse: A Celebration in Fact and Fable…
Praise for Spirit of the Horse
"If you like William Shatner, you'll love this book. If you like horses, you'll love this book. If you like William Shatner AND horses (like I do!!!), then you've hit paydirt, my friend! Shatner (and some other pretty great writers!) share some of the greatest horse tales ever told. I especially enjoy Bill's take on the human connection to horses—one that he tells so personally with his signature wit and wisdom." —Carson Kressley, Emmy-winning TV personality, New York Times bestselling author, and World Champion Horseman

Praise for Leonard
"This is a book Star Trek fans will love." —The Philadelphia Inquirer
"Shatner takes readers behind the nonemotive Vulcan visage to reveal the poet, photographer, devoted stage actor, recovering alcoholic, and formidable listener who was his friend. A fond remembrance of Leonard Nimoy by one who knew him like no other." —Kirkus Reviews
"Touching on Nimoy's other pursuits, including his photography, poetry, writing, and directing, Shatner offers up a lovely and moving tribute to his beloved friend." —Booklist
"Essentially a traditional biography, but one that is filtered through the prism of its author's friendship with his subject." —The Washington Post
"Trekkies will want this for the insider stories from Captain Kirk himself, but fans of candid, emotion-filled biographies will adore this account because it's a treasure trove of information." —Library Journal (starred review)
"A resonant retrospective of one of pop culture's great partnerships." —Publishers Weekly
"Star Trek fans looking for a trip down Memory Alpha lane should enjoy Leonard, William Shatner's tribute to fellow icon Leonard Nimoy, the unemotional Mr. Spock to his passionate Captain Kirk." -USA Today
"These two men shared an extraordinary life together, and fans will enjoy the anecdotes and insights into the television industry and 'Star Trek' in particular. At it's core, though, it's a loving tribute from one man to his best friend." -The National Post