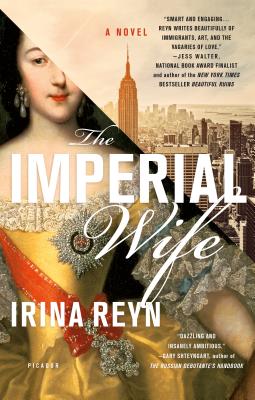 The Imperial Wife (Paperback)
A Novel
Picador, 9781250130075, 288pp.
Publication Date: August 1, 2017
Other Editions of This Title:
Hardcover (7/19/2016)
Hardcover, Large Print (1/18/2017)
Compact Disc (8/1/2017)
MP3 CD (7/19/2016)
Compact Disc (7/19/2016)
Compact Disc (7/19/2016)
Pre-Recorded Audio Player (7/19/2016)
* Individual store prices may vary.
Description
Two women's lives collide when a priceless Russian artifact comes to light.
Tanya Kagan, a rising specialist in Russian art at a top New York auction house, is trying to entice Russia's wealthy oligarchs to bid on the biggest sale of her career, the Order of Saint Catherine, while making sense of the sudden and unexplained departure of her husband.
In Imperial Wife, as questions arise over the provenance of the Order and auction fever kicks in, Reyn takes us into the world of Catherine the Great, the infamous eighteenth-century empress who may have owned the priceless artifact, and who it turns out faced many of the same issues Tanya wrestles with in her own life.
About the Author
IRINA REYN is the author of What Happened to Anna K: A Novel. She teaches fiction writing at the University of Pittsburgh and has reviewed books for L.A. Times, Publishers Weekly, San Francisco Chronicle, Pittsburgh Post-Gazette, Hartford Courant, Minneapolis Star-Tribune, The Forward, and other publications. She was formerly the Books Editor for the online magazine, Killing the Buddha.
Praise For The Imperial Wife: A Novel…
"Smart and engaging…Reyn writes beautifully of immigrants, art, and the vagaries of love." —Jess Walter, National Book Award finalist and author of the New York Times bestseller Beautiful Ruins
"This intriguing novel carries the reader between modern-day Manhattan and Russia in the age of Catherine the Great. Prepare to be absorbed and transported." —Elin Hilderbrand, bestselling author of The Rumor
"The Russians are coming in this ingeniously structured novel that travels between a present-day art specialist handling the biggest sale of her career and the 18th-century court life of the woman who becomes Catherine the Great." —O Magazine, Reading Room Top 10
"Dazzling and insanely ambitious." –Gary Shteyngart, New York Times bestselling author of The Russian Debutante's Handbook
"Reyn's mesmerizing new novel['s]...dual storylines are each intriguing, while the novel skips easily between past and present, leaving readers with more knowledge about Russia (imperial and present day), visual art, auction houses and the lives of the very rich. But its greatest accomplishment is making the inner lives of two fascinating women known... As a fast-paced novel, it's a great read, but as a meditation on what it means to be woman, it's transcendent."
—Pittsburgh Post-Gazette
"If only we could meet our historical counterparts. Reyn does just that, aligning a Russian art specialist in contemporary New York and Catherine the Great. The dual narratives make for an imaginative, thrilling, and exquisite novel." –Kaui Hart Hemmings, New York Times bestselling author of The Descendants

"Reyn cleverly weaves Tanya's story around that of young Catherine's [Catherine the Great]. Both suffer because they possess certain qualities—ambition, decisiveness, sangfroid—that society expects from powerful men but finds suspicious in women."
—Stephen Heyman, Vogue
"Two boss women living in very different time periods in history—modern-day New York City and 18th-century Russia—are connected through the ages by their shared obsession with a priceless piece of royal bling."
—Cosmopolitan
"Imperial Wife trains its spotlight on powerful women, past and present…even though centuries separate their worlds, the two female protagonists find themselves in a similar difficult martial dynamic: Both women wrestle with having an ambitious nature, while being tied to expectations within the confines of marriage." —NPR
"An intricately plotted and engagingly written literary mystery." —Los Angeles Review of Books
"A cunning tale of ambition and art." —The Toronto Star
"Irina Reyn writes splendidly. This book is full of brilliant observation and beautiful writing." —Roxana Robinson, author of Sparta
"Irina Reyn's smart novel...seamlessly flits between the 20 years of Catherine, sometimes in a cold, friendless castle and Tanya, sometimes in a cold, loveless city. Both women are stronger and smarter than they realize and both are married to men who are anvils, not anchors."
—Jacqueline Cutler, NJ Star Ledger
"[Reyn] is a master of creating realistic and nuanced female characters." —Shannon Reed, The Washington Post

"The parallels between the heroines are neat and unforced...if the clever Reyn convinces us to appreciate the historical Catherine as a modern woman, she also encourages us to second-guess the thoroughly modern and undauntable Tanya." —Bob Blaisdell, The Christian Science Monitor
"Reyn is a wonderful writer–witty and compassionate, lyrical and sharp–a deeply intelligent and expansive book. I loved it." –Molly Antopol, author of The UnAmericans, nominated for the National Book Award and finalist for the PEN/Robert W. Bingham Prize
"Nothing less than masterful and reminiscent of Mantel's finest work, this is the most satisfying novel I've read in a long, long time." –Katie Crouch, New York Times bestselling author of Girls in Trucks and Abroad
"An insider's view of a world that few witness. In "The Imperial Wife," Tanya must try to placate two Russian oligarchs who are bidding on the rarest of items: a medallion that once belonged to Catherine the Great." —Rege Behe, Pittsburgh Tribune-Review
"An absorbing and ingeniously layered novel that seamlessly braids Russian royalty from queens to oligarchs with the darker truths of New York's sparkling art auctions, it's everything a great read should be—informative, insightful and enormously entertaining."—Carol Cassella, bestselling author of Oxygen and Gemini

"A marvelously engaging, affecting, and amusing novel." —Phillip Lopate
"A twist at the end pulls the stories together in a satisfying manner. The stories of two eras and two marriages are related in evocative language steeped in keenly observed details." —Kirkus

"With its sharp characterizations and unexpected twists, Reyn's novel keeps readers on their toes. Both women elicit compassion due to their position as outsiders, and their stories intertwine in playful and profound ways." —Booklist