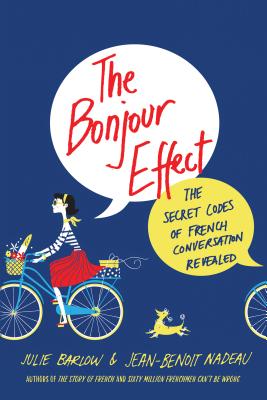 The Bonjour Effect
The Secret Codes of French Conversation Revealed
Paperback

* Individual store prices may vary.
Other Editions of This Title:
Compact Disc (8/29/2017)
Hardcover (4/19/2016)
MP3 CD (8/29/2017)
Description
Jean-Benoît Nadeau and Julie Barlow spent a decade traveling back and forth to Paris as well as living there. Yet one important lesson never seemed to sink in: how to communicate comfortably with the French, even when you speak their language. In The Bonjour Effect Jean-Benoît and Julie chronicle the lessons they learned after they returned to France to live, for a year, with their twin daughters. They offer up all the lessons they learned and explain, in a book as fizzy as a bottle of the finest French champagne, the most important aspect of all: the French don't communicate, they converse. To understand and speak French well, one must understand that French conversation runs on a set of rules that go to the heart of French culture. Why do the French like talking about "the decline of France"? Why does broaching a subject like money end all discussion? Why do the French become so aroused debating the merits and qualities of their own language? Through encounters with school principals, city hall civil servants, gas company employees, old friends and business acquaintances, Julie and Jean-Benoît explain why, culturally and historically, conversation with the French is not about communicating or being nice. It's about being interesting. After reading The Bonjour Effect, even readers with a modicum of French language ability will be able to hold their own the next time they step into a bistro on the Left Bank.
Praise For The Bonjour Effect: The Secret Codes of French Conversation Revealed…
Praise for The Bonjour Effect:

"The authors clearly had a ball researching the book, and their glee is infectious. The writing is as light as it is substantive, and if that sounds like a contradiction, I would refer you to a soufflé"– New York Times Book Review

"Whether you're an expat in France, or simply dream of living there one day, The Bonjour Effect is a helpful resource to cracking the arcane cultural code. Engaging and often funny, filled with examples drawn from the authors' experiences, this is a guide to the most essential of French arts: conversation." – Ann Mah, author of Mastering the Art of French Eating

"Whether "bonjour" is the beginning or the end of your French vocabulary, you'll find something fascinating, surprising, or just plain fou on nearly every page. Before reading this invaluable codebook to French language and culture, I feared that I'd somehow insulted every French waiter, shopkeeper, and clerk between Paris and Nice. Now I know I did, but at least I know why!"— William Alexander, author of Flirting with French

"I love this book!" — Michael Patrick Shiels, Michigan's Big Show

"Very funny." — Rudy Maxa's World with the Careys

"There's a lot more than irregular verbs in conversing with the French." — Sonali Karnick, All In a Weekend, CBC Montreal

"Packed with fascinating insights." — 49th Shelf

"A lively and informative description of the country's cultural habits and social codes. First-time travellers to France will find useful tips, and for most North Americans this is a good introduction to the long history and complex culture of the country." — Lysiane Gagnon, The Globe and Mail

Praise for The Story of French:

"A well-told, highly accessible history of the French language that leads to a spirited discussion of the prospects for French in an increasingly English-dominated world." —William Grimes, The New York Times

"Exceptionally told, a celebration of the lasting influence of la langue francaise." —Kirkus Reviews (starred review)

"Excellent...An engaging and well-conceived book. Highly recommended." —Library Journal

"Francophiles will be well-served by the care and detail with which the authors handle their subject, while English speakers will find an illuminating portrait of Gallic sensibility." —Publishers Weekly

Praise for Sixty Million Frenchmen Can't Be Wrong:

"Learning to love the French as they are." — The New York Times

"…finally there is a book which explains in non-romantic, lucid terms, better than anything else I have read, why the French are as they are…Sixty Million Frenchmen Can't Be Wrong should be handed out at Calais and Charles de Gaulle airport to anyone hoping to get a grip on France and make a holiday or life work here." — The Daily Telegraph

"Sixty Million Frenchmen does its job marvelously well. After reading it, you may still think the French are arrogant, aloof and high-handed, but you will know why." —The Wall Street Journal

"…simply marvellous. Sixty Million Frenchmen will interest those readers who want to understand what makes the French mind go tickety-tock. And it will definitely help smooth anyone's introduction to this puzzling and beautiful country." —The Globe and Mail

"… a hard-eyed and mostly affectionate survey of what makes French society tick and why outsiders, and particularly North Americans, so often misread it." — The Toronto Star

"…a must read for Francophiles and surprise hit of the year…Sixty Million Frenchmen Can't Be Wrong [is a ] penetrating and witty enquiry by two Canadian journalists into the unique essence of being French." —Critic's Choice, The Daily Mail

"A surprising book written with a touch of humour, that combs through all the ticks and obsessions of the French." — Le Monde.fr

"It's the story of two Canadians, who, coming out of nowhere, help us see ourselves in a different light." —Le Figaro

"An invigorating read" — Bernard Pivot
St. Martin's Griffin, 9781250130273, 320pp.
Publication Date: May 9, 2017
About the Author
Canadian journalist-author JULIE BARLOW is a regular contributor to Montreal public affairs magazine L'actualité. Her writing has appeared in magazines and newspapers in the U.S. Canada and Europe, including the New York Times, USA Today, Toronto Star, and the International Herald Tribune. In 2003, Barlow published an international bestseller Sixty Million Frenchmen Can't Be Wrong with her husband and co-author Jean-Benoît Nadeau. In 2006 the couple published the critical success The Story of French. They've also released The Story of Spanish.

Canadian journalist-author JEAN-BENOÎT NADEAU is an award-winning contributor to L'actualité. Writings with his life partner, JULIE BARLOW, have appeared in the Toronto Star, the Ottawa Citizen, Saturday Night, The Christian Science Monitor and the International Herald Tribune, among others. In 2003, Nadeau and Barlow published their critical and popular success, Sixty Million Frenchmen Can't Be Wrong. They live in Montreal.