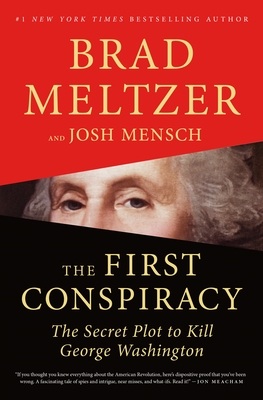 The First Conspiracy
The Secret Plot to Kill George Washington
Hardcover

* Individual store prices may vary.
Other Editions of This Title:
Digital Audiobook (1/7/2019)
Paperback (1/7/2020)
Mass Market (10/27/2020)
Paperback, Large Print (2/12/2020)
Library Binding, Large Print (2/6/2019)
CD-Audio (1/8/2019)
Description
Taking place during the most critical period of our nation's birth, The First Conspiracy tells a remarkable and previously untold piece of American history that not only reveals George Washington's character, but also illuminates the origins of America's counterintelligence movement that led to the modern day CIA.

In 1776, an elite group of soldiers were handpicked to serve as George Washington's bodyguards. Washington trusted them; relied on them. But unbeknownst to Washington, some of them were part of a treasonous plan. In the months leading up to the Revolutionary War, these traitorous soldiers, along with the Governor of New York, William Tryon, and Mayor David Mathews, launched a deadly plot against the most important member of the military: George Washington himself.

This is the story of the secret plot and how it was revealed. It is a story of leaders, liars, counterfeiters, and jailhouse confessors. It also shows just how hard the battle was for George Washington and how close America was to losing the Revolutionary War.

In this historical page-turner, New York Times bestselling author Brad Meltzer teams up with American history writer and documentary television producer, Josh Mensch to unravel the shocking true story behind what has previously been a footnote in the pages of history. Drawing on extensive research, Meltzer and Mensch capture in riveting detail how George Washington not only defeated the most powerful military force in the world, but also uncovered the secret plot against him in the tumultuous days leading up to July 4, 1776.


Praise for The First Conspiracy:

"This is American history at its finest, a gripping story of spies, killers, counterfeiters, traitors and a mysterious prostitute who may or may not have even existed. Anyone with an interest in American history will love this book." —Douglas Preston, #1 bestselling author of The Lost City of the Monkey God

"A wonderful book about leadership and it shows why George Washington and his moral lessons are just as vital today. What a book. You'll love it." —former president George H.W. Bush
Praise For The First Conspiracy: The Secret Plot to Kill George Washington…
New York Times bestseller

"A breezily entertaining account. For Meltzer…this foray into nonfiction has a decidedly melodramatic flavor, rushing along in the present tense from one breathless, cliffhanging chapter to the next." —USA Today

"The authors extract what they can out of the historical record to tell a colorful story giving the reader a sense of Revolutionary-era Manhattan. The writing is punchy and the chapters are short." —Associated Press

"[Meltzer and Mensch] bring a propulsive energy to the narrative—it can be difficult to create tension and suspense in a nonfiction book where the reader already knows how the story ends, but the authors do a great job keeping the reader turning the pages.... Nothing about the book is phoned in; the amount of research behind it is genuinely remarkable. The First Conspiracy is an excellent book, enthralling and beyond fascinating, and it's sure to delight both fans of thrillers and American history." —NPR

"Meltzer and Mensch have taken an obscure chapter of U.S. history and retold it as a thriller…they aim to make the past come alive for a modern audience, but readers who enter this literary wayback machine are in for a bumpy ride." —Newsday

"Readers who like their histories full of twists, turns, and cliff-hangers will enjoy this romp through the Revolution." —Booklist

"In brisk, tense chapters, Meltzer [and] Mensch relate a tale of spies and treason, conspiracy and counterintelligence at the start of the colonists' war against Britain.... A lively political thriller." —Kirkus Reviews

"This absolutely fascinating book brings to light an enthralling, deliberately hidden episode in American history, chronicling the machinations leading to war and the remarkable character of Washington himself. This is American history at its finest, a gripping story of spies, killers, counterfeiters, traitors—and a mysterious prostitute who may or may not have even existed. Anyone with an interest in American history will love this book." —Douglas Preston, #1 bestselling author of The Lost City of the Monkey God

"You need to read this book—the patriotic and daring untold story about George Washington and the real-life traitors who secretly tried to take him out. Just wait until you see how General Washington punishes those who cross him. Here's why Brad Meltzer is America's historian. Americans need to hear this incredible story." —Brian Kilmeade, cohost of Fox & Friends and New York Times bestselling author of Andrew Jackson and the Miracle of New Orleans, George Washington's Secret Six, and Thomas Jefferson and the Tripoli Pilots

"History and mystery combine in this taut true-life thriller. Meltzer and Mensch write a page-turner with rich characters and compelling details that just so happens to be part of the real story about George Washington and a conspiracy against him. A joy to read!" —Jake Tapper, CNN Anchor and bestselling author of The Hellfire Club

"The First Conspiracy is a true mystery story that very few Americans know, written with a voice that beckons to be heard." —Joseph J. Ellis, author of the forthcoming American Dialogue: The Founding Fathers and Us

"If you thought you knew everything about the American Revolution, here's dispositive proof that you've been wrong. Brad Meltzer and Josh Mensch have given us a powerful account of a conspiracy to assassinate George Washington on the eve of all-out war—a fascinating tale of spies and intrigue, of near-misses, and what-ifs. Read it!" —Jon Meacham, author The Soul of America: The Battle for our Better Angels, Thomas Jefferson: The Art of Power, and American Lion: Andrew Jackson in the White House

"This story of skullduggery, bribery, espionage, and treason sheds new light on the beginnings of the American Revolution. It also highlights the importance of intelligence and counterintelligence in waging war, as the Patriots exposed and forestalled the plot and caused Washington to create his own highly successful intelligence service." —James M. McPherson, author of The War That Forged a Nation and Pulitzer Prize-winner Battle Cry of Freedom


Flatiron Books, 9781250130334, 432pp.
Publication Date: January 8, 2019
About the Author
BRAD MELTZER is the #1 New York Times bestselling author of The Lightning Rod, The Escape Artist, and eleven other bestselling thrillers, as well as the Ordinary People Change the World series. He is also the host of the History Channel TV shows Brad Meltzer's Decoded and Brad Meltzer's Lost History, which he used to help find the missing 9/11 flag that the firefighters raised at Ground Zero.

JOSH MENSCH is a New York Times bestselling author and documentary television producer with a focus on American history and culture. He is coauthor with Brad Meltzer of The First Conspiracy: the Secret Plot to Kill George Washington. For television he has written, directed, and been a showrunner on nonfiction series for PBS, the History Channel, National Geographic, and many other networks. He lives in Brooklyn, NY with his wife and children.
or
Not Currently Available for Direct Purchase