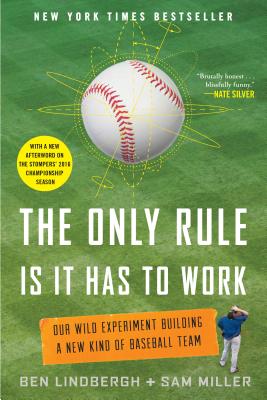 The Only Rule Is It Has to Work
Our Wild Experiment Building a New Kind of Baseball Team [Includes a New Afterword]
Paperback

* Individual store prices may vary.
Other Editions of This Title:
Digital Audiobook (5/16/2016)
MP3 CD (5/17/2016)
Compact Disc (5/17/2016)
Compact Disc (5/17/2016)
Description
What would happen if two statistics-minded outsiders were allowed to run a professional baseball team?

It's the ultimate in fantasy baseball: You get to pick the roster, set the lineup, and decide on strategies -- with real players, in a real ballpark, in a real playoff race. That's what baseball analysts Ben Lindbergh and Sam Miller got to do when an independent minor-league team in California, the Sonoma Stompers, offered them the chance to run its baseball operations according to the most advanced statistics. Their story in The Only Rule is it Has to Work is unlike any other baseball tale you've ever read.

We tag along as Lindbergh and Miller apply their number-crunching insights to all aspects of assembling and running a team, following one cardinal rule for judging each innovation they try: it has to work. We meet colorful figures like general manager Theo Fightmaster and boundary-breakers like the first openly gay player in professional baseball. Even José Canseco makes a cameo appearance.

Will their knowledge of numbers help Lindbergh and Miller bring the Stompers a championship, or will they fall on their faces? Will the team have a competitive advantage or is the sport's folk wisdom true after all? Will the players attract the attention of big-league scouts, or are they on a fast track to oblivion?

It's a wild ride, by turns provocative and absurd, as Lindbergh and Miller tell a story that will speak to numbers geeks and traditionalists alike. And they prove that you don't need a bat or a glove to make a genuine contribution to the game.
Praise For The Only Rule Is It Has to Work: Our Wild Experiment Building a New Kind of Baseball Team [Includes a New Afterword]…
Best Sports Book of the Year by Sports Illustrated, The Boston Globe, and The Buffalo News, and a Great Read of the Year by NPR

"Ben Lindbergh and Sam Miller have given us a brutally honest but blissfully funny look at where we really stand a decade into the 'analytics revolution.' If you want the insights that statheads and baseball traditionalists still need to learn from one another, start by reading this book."
--Nate Silver, bestselling author of The Signal and the Noise and the founder and editor in chief of FiveThirtyEight

"The Only Rule Is It Has to Work is a terrific read, as Ben Lindbergh and Sam Miller – two of baseball's leading sabermetric writers – put their beliefs on the line by taking over an actual team of actual players and trying to implement their unorthodox theories. The story of their season with the Sonoma Stompers is a fascinating human drama about the give-and-take between the new thinking and the old school."
--Ken Rosenthal, MLB on FOX reporter, FOXSports.com senior baseball writer, and MLB Network insider

"In a phenomenal book that is a fun, breezy, and moving read, Ben Lindbergh and Sam Miller invite us into their mad experiment. They show us the trials, travails, and challenges of running an independent league baseball team, and along the way they do something remarkable: they make us care deeply for the players who put their hearts into every point of on-base percentage."
--Jonah Keri, bestselling author of Up, Up, and Away and The Extra 2%

"The Only Rule Is It Has to Work is the happy, improbable spawn of Moneyball and Bull Durham—a relentlessly smart and consistently funny journey into the dregs of the minors that proves one thing above all: No matter how many statistics you apply to baseball, you can never kill its heart."
--Stefan Fatsis, author of Word Freak, A Few Seconds of Panic, and Wild and Outside

"The Only Rule might be the most important baseball book published this year — though to use the word 'important' detracts from the sheer fun of the situation. . . . You'll never look at a baseball game, from professional down to fantasy, the same way again."
--Allen Barra, Chicago Tribune

"A fun lark . . . a terrific book."
--Will Leitch, Sports on Earth

"A worthy modern heir to [George] Plimpton's 1950s stunt."
--Jack Dickey, Sports Illustrated

"The Only Rule Is It Has to Work [is] more than a book about using data and objectivity to build a better baseball team. It's an intimately human story. . . . While readers will come for the stats, they'll stay for the story."
--Michael Kershner, Eephus

"Lindbergh and Miller are real storytellers, explaining their strengths and defects as they attempt to field a capable team, using the best stats money can buy. . . . For fantasy baseball junkies and baseball purists alike, this is a vivid, joyful exploration of recruiting and running a team by numbers—and instinct."
--Publishers Weekly

"The Only Rule tops most works of its genre because it explains the real-world successes and pitfalls that come with trying to take theories and apply them to a team of real humans who might not always be as receptive to change as a simulation league team. If you ever wondered what it would be like to jump from running a fantasy team to being a GM, The Only Rule is your guidebook."
--J. J. Cooper, Baseball America

"The Only Rule Is It Has to Work sounded like it would be a book that would document all the crazy things you could do on a baseball diamond. And while at times it did, it was more a story about loving baseball. As the authors note in the book's acknowledgments, there is no wrong way to love the game, and this book drives that point home thoroughly and unflinchingly."
--Paul Swydan, The Hardball Times

"Lindbergh and Miller revel in [esoterica], but they're admirable communicators, too, and unafraid to explain exactly why and how a particular idea failed or succeeded. If the game has recently started to seem a little impenetrable to you, this might be the book that brings you back into the fold, a welcome reminder of all that's eccentric, idiosyncratic and optimistic in baseball."
--Dwyer Murphy, LitHub
St. Martin's Griffin, 9781250130907, 400pp.
Publication Date: May 30, 2017
About the Author
Ben Lindbergh is a staff writer for FiveThirtyEight and, with Sam Miller, the cohost of Effectively Wild, the daily Baseball Prospectus podcast. He is a former staff writer for Grantland and a former editor in chief of Baseball Prospectus. He lives in New York City.

Sam Miller is the editor in chief of Baseball Prospectus, the coeditor of Baseball Prospectus's annual guidebook, and a contributing writer at ESPN The Magazine. He lives on the San Francisco peninsula with his wife and daughter.
or
Not Currently Available for Direct Purchase