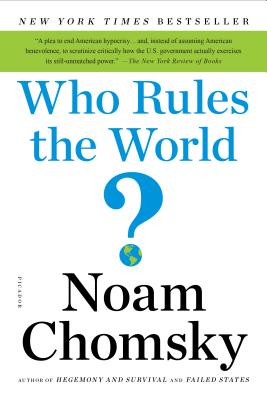 Who Rules the World? (American Empire Project) (Paperback)
Picador, 9781250131089, 336pp.
Publication Date: May 2, 2017
Other Editions of This Title:
Digital Audiobook (5/9/2016)
CD-Audio (5/10/2016)
Hardcover (5/10/2016)
Paperback, Chinese (8/21/2018)
* Individual store prices may vary.
Description
A New York Times Bestseller

With a New Afterword

In an incisive, thorough analysis of the current international situation, Noam Chomsky examines the way that the United States, despite the rise of Europe and Asia, still largely sets the terms of global discourse. Drawing on a wide range of examples, from the sordid history of U.S. involvement with Cuba to the sanctions on Iran, he details how America's rhetoric of freedom and human rights so often diverges from its actions. He delves deep into the conflicts in Iraq, Afghanistan, and Israel-Palestine, providing unexpected and nuanced insights into the workings of imperial power on our increasingly chaotic planet. And, in a new afterword, he addresses the election of Donald Trump and what it shows about American society.

Fierce, unsparing, and meticulously documented, Who Rules the World? delivers the indispensable understanding of the central issues of our time that we have come to expect from Chomsky.

An American Empire Project
About the Author
Noam Chomsky is the author of numerous bestselling political works, including Hegemony or Survival and Failed States. A laureate professor at the University of Arizona and professor emeritus of linguistics and philosophy at MIT, he is widely credited with having revolutionized modern linguistics. He lives in Tuscon, Arizona.
Praise For Who Rules the World? (American Empire Project)…
"Chomsky's book is . . . a polemic designed to awaken Americans from complacency. America, in his view, must be reined in, and he makes the case with verve. . . . We should understand it as a plea to end American hypocrisy, to introduce a more consistently principled dimension to American relations with the world, and, instead of assuming American benevolence, to scrutinize critically how the US government actually exercises its still-unmatched power."—The New York Review of Books

"Chomsky is a global phenomenon. . . . He may be the most widely read American voice on foreign policy on the planet."—The New York Times Book Review

"With relentless logic, Chomsky bids us to listen closely to what our leaders tell us—and to discern what they are leaving out. . . . Agree with him or not, we lose out by not listening."—BusinessWeek

"How did we ever get to be an empire? The writings of Noam Chomsky—America's most useful citizen—are the best answer to that question."—The Boston Globe

"It is possible that, if the United States goes the way of nineteenth-century Britain, Chomsky's interpretation will be the standard among historians a hundred years from now."—The New Yorker

"For anyone wanting to find out more about the world we live in . . . there is one simple answer: read Noam Chomsky."—New Statesman