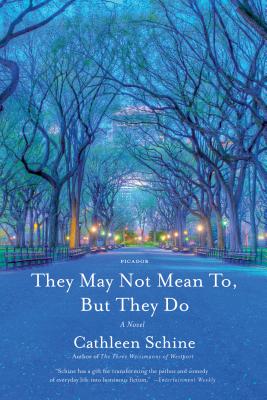 They May Not Mean To, But They Do
A Novel
Paperback

* Individual store prices may vary.
Other Editions of This Title:
Digital Audiobook (6/6/2016)
Hardcover, Large Print (6/8/2016)
CD-Audio (6/7/2016)
Hardcover (6/7/2016)
Description
From one of America's greatest comic novelists, a hilarious new novel about aging, family, loneliness, and love

The Bergman clan has always stuck together, growing as it incorporated in-laws, ex-in-laws, and same-sex spouses. But families don't just grow, they grow old, and the clan's matriarch, Joy, is not slipping into old age with the quiet grace her children, Molly and Daniel, would have wished. When Joy's beloved husband dies, Molly and Daniel have no shortage of solutions for their mother's loneliness and despair, but there is one challenge they did not count on: the reappearance of an ardent suitor from Joy's college days. And they didn't count on Joy herself, a mother suddenly as willful and rebellious as their own kids.
The New York Times–bestselling author Cathleen Schine has been called "full of invention, wit, and wisdom that can bear comparison to [ Jane] Austen's own" (The New York Review of Books), and she is at her best in this intensely human, profound, and honest novel about the intrusion of old age into the relationships of one loving but complicated family. They May Not Mean To, But They Do is a radiantly compassionate look at three generations, all coming of age together.
Praise For They May Not Mean To, But They Do: A Novel…
Praise for They May Not Mean To, But They Do

"Cathleen Schine [is] one of our most realistically imaginative, dependably readable novelists. . . [H]er ten books comprise a sly, illuminating corpus that seems more related to the English comic novel than to most contemporary American fiction. [S]hapely and precisely structured. . . ruefully satiric. . . buoyant. . . sharply observant. . . Her tenth and newest novel . . . cuts deeper, feels fuller and more ambitious, and seems to me her best." —Phillip Lopate, New York Review of Books
"They May Not Mean To, But They Do is a very funny novel. . . . This is a situation plenty of readers will recognize. . . . Schine reminds us that a family is as united by its trials as by its triumphs. . . . Schine writes with economy and style. . . . Deftly handled storytelling." —Penelope Lively, The New York Times Book Review
"Schine's painfully beautiful depiction of a woman's heroism in the face of that abyss offers, like the best literature, a reminder of the tender, frightening vulnerability we all share." —Los Angeles Review of Books
"This marvelous novel is emotionally stirring and hilarious on virtually every page. How does Cathleen Schine know everything about everything? Her observations about family life, friendship, loss, aging, dignity, indignity, and the attachments we miraculously make that never seem to unattach are profound and rewarding. I already miss living in the world of this special and winning book." —Meg Wolitzer, author of The Interestings
"Cathleen Schine has written an entirely different kind of coming-of-age novel. This is not about how a twentysomething becomes a thirtysomething. It's about how people making the difficult and at times scary journey into old old age figure out how to live. And it's about the people who surround them—with love, anxiety, resentment, and sometimes complete misunderstanding. They May Not Mean To, But They Do is a great read: empathetic, and also very, very funny." —Roz Chast, author of Can't We Talk About Something More Pleasant?
"Oh, but you do need Schine's novel. At least, you do if you're a reader who relishes acute psychological perceptions and lots of laughs to leaven the existential grimness, like those other literary domestic goddesses to whom she's sometimes compared, Jane Austen and Nora Ephron . . . Does anyone really ever do anyone else any good? That's the question this sparkling and sad novel mulls over and answers with a wry shrug." —Maureen Corrigan, NPR
"This is one of those laugh-out-loud-on-the-subway novels, but it also manages to be sad and authentic . . . [S]he tells a story that is tender, wise, hilarious and painful. Give this book to your siblings and your parents: everyone will find a passage to love." —Toronto Star
"[A] hugely satisfying novel." —Minneapolis Star Tribune
"A seamless blend of humor and heartbreak." —Miami Herald
"Schine has a gift for transforming the pathos and comedy of everyday life into luminous fiction." —Entertainment Weekly

"Schine's latest novel combines the dark, pithy humor of a Lorrie Moore short story with quieter insights into aging, death, and the love, loneliness, and incomprehension that gets passed back and forth between generations." —Tablet
"A deeply affecting yet very funny intergenerational novel . . . the novel is as humorous as it is compassionate . . . They May Not Mean To, but They Do has an extra layer of depth and dignity, making for a profound but very readable novel that is among her very best." —Bookpage
"[They May Not Mean To, But They Do] showcase[s] Schine's intuitive empathy, and any adult with an aged parent will recognize [Joy's] children's well-meaning concern." —Publishers Weekly
"Schine once again captures the love laced with guilt and sardonic humor that keeps generations of New York families together, whether they like it or not." —Booklist
"Schine is a master at limning family dynamics in all their messiness . . . Replete with aging parents, grandchildren growing up faster than one would like, and adult children wanting to take charge but being stifles by their mother's stubbornness, this could be any reader's clan. In addition, Schine's ability to shift seamlessly from one person's point of view to another's adds depth and richness." —Library Journal
"With its unexpected moments of profundity and laugh-aloud humor, Cathleen Schine's novel movingly demonstrates how parents and children may not mean to but they do, ultimately, strain yet sustain one another." —Lilith Magazine
Praise for Fin & Lady

"Schine's writing sparkles, and her finale proves as unexpected and luminous as love itself." —People
"Weighty themes are addressed with subtlety and grace . . . An utterly believable fictional world. As the novel draws to its conclusion, it may well break your heart with joy." —O, The Oprah Magazine
Praise for The Three Weissmanns of Westport
"And off races the sparkling, crisp, clever, deft, hilarious and deeply affecting new novel by Cathleen Schine, her best yet, The Three Weissmanns of Westport . . . Schine's homage [to Jane Austen] has it all: stinging social satire, mordant wit, delicate charm, lilting language and cosseting materialistic detail . . . Schine is clearly a writer who loves to read as much as she loves to write. And it is great fun to play English major with her." —Dominique Browning, The New York Times Book Review
"A clever, frothy novel . . . Schine playfully probes the lies, self-deceptions, and honorable hearts of her characters." —The New Yorker
"Schine is perceptive, even breathtaking, in her observations." —The New York Times Book Review
Picador, 9781250132123, 304pp.
Publication Date: June 6, 2017
About the Author
Cathleen Schine is the author of They May Not Mean To, But They Do, The Three Weissmanns of Westport, and The Love Letter, among other novels. She has contributed to The New Yorker, The New York Review of Books, The New York Times Magazine, and The New York Times Book Review. She lives in Los Angeles.