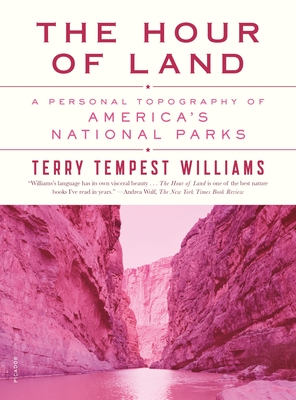 The Hour of Land
A Personal Topography of America's National Parks
Paperback

* Individual store prices may vary.
Other Editions of This Title:
Digital Audiobook (6/6/2016)
MP3 CD (6/7/2016)
Compact Disc (6/7/2016)
Hardcover (5/31/2016)
June 2016 Indie Next List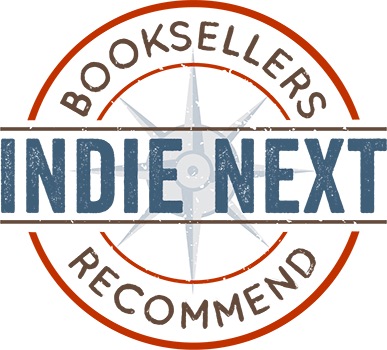 "Terry Tempest Williams' latest book, published for the 100th anniversary of the National Park Service, is personal, political, and profound. Her examination of 12 national parks is much more than a guide to the history and landscape of those places. It is a guide to the heart and soul of the entire National Park system, whose depth is exceeded only by its beauty."
— Chuck Robinson (M), Village Books, Bellingham, WA
View the List
Top Ten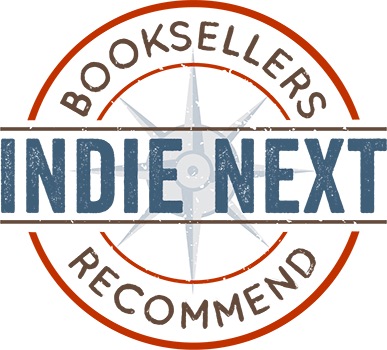 "I cannot think of a better person to commemorate the National Park Service on its 100th birthday. When Terry Tempest Williams writes, the personal blends with the political, the public and private meet, and truth spreads into layers of beautiful, often troubling complexity. The same can be said for the National Park Service. By exploring 12 national parks and monuments throughout the country, Williams creates both an intimate elegy to the land and a plea to recognize it for all its history and connection."
— Melinda Powers, Bookshop Santa Cruz, Santa Cruz, CA
View the List
Description
Longlisted for an Andrew Carnegie Medal for Excellence
A Washington Post Notable Book of the Year

America's national parks are breathing spaces in a world in which such spaces are steadily disappearing, which is why more than 300 million people visit the parks each year. Now Terry Tempest Williams, the New York Times bestselling author of the environmental classic Refuge and the beloved memoir When Women Were Birds, returns with The Hour of Land, a literary celebration of our national parks and an exploration of what they mean to us and what we mean to them.

From the Grand Tetons in Wyoming to Acadia in Maine to Big Bend in Texas, Williams creates a series of lyrical portraits that illuminate the unique grandeur of each place while delving into what it means to shape a landscape with its own evolutionary history into something of our own making. Part memoir, part natural history, and part social critique, The Hour of Land is a meditation and a manifesto on why wild lands matter to the soul of America.
Praise For The Hour of Land: A Personal Topography of America's National Parks…
"Williams's language has its own visceral beauty. . . . The Hour of Land is one of the best nature books I've read in years."—Andrea Wulf, The New York Times Book Review

"If you have never set foot in a national park, love the wilderness, like history, or enjoy great storytelling, The Hour of Land is calling you."—The Philadelphia Inquirer

"Terry Tempest Williams is a force of nature in at least two ways. First, she pleads forcefully on behalf of the natural world, especially national parks, wilderness areas, and endangered species. And, second, she writes as she damn well pleases. . . . The author's trademark poetic prose dominates every page."—Dennis Drabelle, The Washington Post

"[A] necessary new book . . . Williams shows how national parks can be both symbols of and actual catalysts for the things that are best about America, offering a montage of grandeur that can not only make one tear up in gratitude and an embarrassing sort of patriotic pride but also demonstrate the real value of these 'wholesome' feelings to human emotional life, spurring one to engage differently with the world. . . . Williams' is only one voice in the polyphonic story of the American landscape. But it is an especially valuable one in addressing how land, even that which is nominally preserved in a state of Edenic purity, shifts with this country's social history as much as it does through geology and time."— Jenny Hendrix, Slate

"Whether contemplating the spiritual life she finds 'inside the heart of the wild' or marveling at the peaks and monuments that comprise 'our best idea' – the National Parks system – Williams movingly urges us to remember that 'heaven is here.'"—O Magazine

"Williams (When Women Were Birds), a longtime environmental activist, adds a meditative element to memoir as she shares her abiding love for America's open spaces. . . . In passionate and insightful prose, Williams celebrates the beauty of the American landscape while reinforcing the necessity of responsible stewardship."—Publishers Weekly

"A broadly ambitious and deeply impassioned collection of essays . . . There are few nonfiction writers who can capture the essence of the American wilderness landscape as eloquently as Williams. . . . Her distinctive prose style is capable of conveying a deep spiritual dimension within the physical setting. . . . An important, well-informed, and moving read for anyone interested in learning more about America's national parks."—Kirkus Reviews

"Readers who like their prose ardent and their politics leaning left will take particular pleasure in The Hour of Land. . . . Williams is frequently a lyrical writer and an intrepid thinker. . . . Reading her is better than buying a commemorative postage stamp — she delivers us into a more thoughtful grove."—Karen R. Long, Newsday

"An impassioned call to preserve and protect our national park system, America's network of natural splendor, which celebrates its 100th anniversary this year. . . . Repeatedly, [Williams] calls for us to listen to the land, to respect it, to behave more responsibly. . . . [She] raises issues about movements to sell public lands, off-road vehicle damage and other 'acts of greed,' water use, toxic emissions from oil and gas development apparently causing increased infant mortality, and other problems. Williams awakens readers to present issues easily obscured by the National Park Service's carefully cultivated, idyllic image. . . . She hopes to shake us from our fondness for souvenir T-shirts."—Irene Wanner, The Seattle Times

"The Hour of Land is about National Parks as battlegrounds. What it means to hold land in trust, who defines its best uses, the tangibility of park boundaries, and whether and how we will reconcile our history with our present and future, are all tested on these lands. . . . It's a heady book. But it is an important one, too, because the chronically underfunded National Park Service—and more broadly, all our public lands—are confronting a staggering list of stressors right now. . . . The Hour of Land is part of a conversation to kick off the next 100 years."—Outside Magazine

"A provocative, heartfelt collection of essays . . . As Tempest Williams turns her attention to 12 different parks, from Gates of the Arctic National Park in Alaska to Acadia National Park in Maine, she considers both the large-scale forces—economical, ecological, political—bearing upon these landscapes, and the smaller scope of her personal relationships with these individual parks. . . . We are reminded that the parks are preserved only by the grace of people, and Tempest Williams insists, in the end, that 'the history of our national parks and monuments is a history of subversion, shaped by individuals.'"—Jeffrey Zuckerman, Pacific Standard Magazine

"In this gorgeous collection of 12 essays, published to mark the centennial of the National Park Service, Terry Tempest Williams provides a poetic and searing portrait of the land and, by extension, of America itself."—Kelly Blewett, BookPage

"Enrapturing and encompassing chronicle of her deeply inquisitive, meditative, and dramatic sojourns in a dozen national parks . . . illustrated with exquisite photographs by such masters as Lois Conner, Lee Friedlander, Sally Mann, and Sebastião Salgado, this is a uniquely evocative, illuminating, profound, poignant, beautiful, courageous, and clarion book about the true significance of our national parks. These sanctuaries, Williams muses, are not only about preservation and recreation, but also about education and remembrance."—Donna Seaman, Booklist (starred review)

"It would have been easy for Terry Tempest Williams to fall back on 'the best idea we ever had'—an interpretation articulated by Wallace Stegner in 1983 and popularized by Ken Burns in 2009. Instead, Williams asks hard questions about the current relevance and original goodness of America's parks. She offers a poetic revision to the Organic Act of 1916, which mandated the conservation of scenery and wildlife for the enjoyment of the public in such a manner as to leave them unimpaired. In her 400-page mission statement, Williams updates 'enjoyment' to spiritual renewal, specifies that 'the public' means more than white people, and insists that 'unimpaired' means what it says. . . . A sincerely disobedient book."—Jared Farmer, Science

"Our public lands are ours, she argues, and it's up to us to keep them safe. It is because of this sentiment, the well-researched history, and the unforgettable prose, The Hour of Land will join my bookshelf's ranks of nature writers. But before that, it will travel in my daypack on train rides or a hike, its weight beside my water bottle, my smart phone, a trail map, and a blue book for the next election."—Gretchen Lida, Brevity

"[Williams's] writing is poetic, passionate and unexpected. . . . By turns sad, despairing, and hopeful, even thrilled in the presence of natural beauty, The Hour of Land is emotive, intelligent and well-traveled. It is only right that Williams should celebrate the Park Service's centennial with such a remarkable collection of wisdom and scintillating lines."—Julia Jenkins, Shelf Awareness
Picador, 9781250132147, 416pp.
Publication Date: July 3, 2017
About the Author
Terry Tempest Williams is the award-winning author of The Hour of Land: A Personal Topography of America's National Parks; Refuge: An Unnatural History of Family and Place; Finding Beauty in a Broken World; and When Women Were Birds, among other books. Her work is widely taught and anthologized around the world. A member of the American Academy of Arts and Letters, she is currently the Writer-in-Residence at the Harvard Divinity School and divides her time between Cambridge, Massachusetts and Castle Valley, Utah.