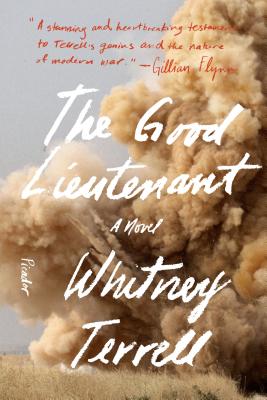 The Good Lieutenant
A Novel
Paperback

* Individual store prices may vary.
Other Editions of This Title:
Digital Audiobook (6/6/2016)
Compact Disc (6/7/2016)
MP3 CD (6/7/2016)
Compact Disc (6/7/2016)
Description
Longlisted for the Andrew Carnegie Medal for Excellence in Fiction

A Washington Post Notable Book of the Year

Named a Best Book of the Year by The Boston Globe and Refinery29

On the outskirts of Baghdad, Lieutenant Emma Fowler's platoon unwittingly rolls into a buried maze of IEDs—and their Humvee is blasted into a shrapnel-torn wreck.

From this catastrophic moment, The Good Lieutenant unspools backward in time as Fowler and her platoon are guided into disaster by suspicious informants and questionable intelligence, their mission the result of a previous snafu in which a soldier was kidnapped by insurgents. The novel unfolds from points of view that are not customarily included in war coverage—a tenacious female officer, jaded career soldiers, and Iraqis both innocent and not so innocent.

Brilliantly told by an acclaimed writer at the top of his form, Whitney Terrell's The Good Lieutenant is a gripping, insightful, and necessary novel about a war that is proving to be the defining tragedy of our time.
Praise For The Good Lieutenant: A Novel…
"Surprising...We are left to wonder about our own lies, when they became acceptable to us, whom we trust and how we've become who we are." —The New York Times Book Review

"A bitter, sly, heartbreaking story of well-meant but ill-fated intentions, and of a battlefield incident that wreaks havoc on the lives that converge, or end, there." —The New Yorker

"Terrell's audacious new novel begins with a literal bang as a U.S. Army patrol in Iraq goes terribly wrong for Lt. Emma Fowler, who is present as her secret lover, Lt. Dixon Pulowski, is critically wounded in an explosion while attempting to recover the corpse of a kidnapped sergeant." —Publishers Weekly (starred review)

"The Bush wars' best novel" —The Guardian

"[One of] 18 incredible books you need to read this summer." —BuzzFeed

"One of the most unique and deeply felt novels of the Iraq war." —Men's Journal

"An addicting epic about disaster and, more important, what leads to disaster." —The Washington Post

"Terrell has taken a stark departure from his Kansas City novels by writing about Fowler and her platoon, a recovery unit retrieving blown up vehicles and dead soldiers in Iraq during the dark days of high American casualties in 2006." —Lit Hub

"The details about Emma's trials feel true down to the tiniest details" —Los Angeles Review of Books

"War novels skew decidedly masculine - even as women have taken on greater prominence in the military in numbers and rank. Whitney Terrell breaks from that myopia in "The Good Lieutenant." —The Kansas City Star

"The novel's...reverse chronology...cleverly destabilizes expectations of closure, sidelining questions about the who, what, when of Fowler's failed raid to raise more difficult questions....A memorable tale of thwarted optimism, incomplete intimacy, and collateral damage." —Booklist

"A stunning and heartbreaking testament to Terrell's genius and the nature of modern war." —Gillian Flynn

"The Good Lieutenant has the grand complexity of war embedded in its bones. It makes ingenious, compelling art out of those complexities. For that reason alone, its considerable graces are saving ones." —Richard Ford

"Impossible to forget...Should be read by all." —Anthony Swofford

"Whitney Terrell has written a deeply moving work of fiction to set beside Phil Klay's Redeployment and Kevin Powers's The Yellow Birds, with a singularity of vision uniquely its own." —Joyce Carol Oates

"An arrestingly ingenious achievement." —Chang-rae Lee

"With The Good Lieutenant, Whitney Terrell has unwound the myths of one of our most encrusted literary forms—the war novel—and remade it to be humane and honest, glowingly new and true. Terrell knows his facts on the ground, but this is emphatically, triumphantly, a work of imagination and literary ingenuity. It opens in conflagration—everything having gone wrong for Lieutenant Emma Fowler in one explosive instant—and from there the mystery of how we got to this disastrous moment unfolds backward, Memento­-like, as we watch Emma become more innocent, her life more full of hope and possibility, with each day less of war that she has experienced. This is brilliant, bold, heartbreaking storytelling for material that demands nothing less." —Adam Johnson

"So exhilarating in its tautly rendered, faultless reality, so timeless in its play of human emotion in extremis, The Good Lieutenant dazzles and shames us as it breaks our hearts. In Lieutenant Emma Fowler, Whitney Terrell makes real the confused politics, personal heroism, and human cost of the Iraq War. The Good Lieutenant joins the ranks of great war novels that explain, too late, why 'victory is an illusion of philosophers and fools.'" —Jayne Anne Phillips

"Whitney Terrell has been in his career both a great novelist and a great war reporter. In The Good Lieutenant he is both, and the effect is overpowering. One job of the reporter is to use facts to let us understand who these men and women are whom we ask to kill and die for us. One job of the novelist is to use imagination to explain the interior lives of others and the infinite nuances of life. It is extraordinary and rare that one writer can do both, but Whitney Terrell does, and masterfully." —Arthur Phillips
Picador, 9781250132161, 288pp.
Publication Date: June 13, 2017
About the Author
WHITNEY TERRELL is the author of The Huntsman, a New York Times notable book, and The King of Kings County. He is the recipient of a James A. Michener-Copernicus Society Award and a Hodder Fellowship from Princeton University's Lewis Center for the Arts. He was an embedded reporter in Iraq during 2006 and 2010 and covered the war for the Washington Post Magazine, Slate, and NPR. His nonfiction has additionally appeared in The New York Times, Harper's, The New York Observer, The Kansas City Star, and other publications. He teaches creative writing at the University of Missouri-Kansas City and lives nearby with his family.