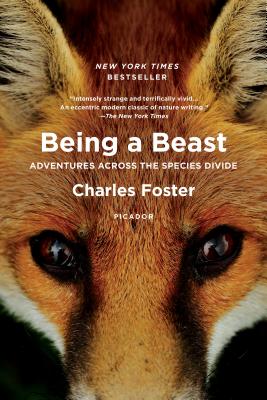 Being a Beast
Adventures Across the Species Divide
Paperback

* Individual store prices may vary.
Other Editions of This Title:
Digital Audiobook (6/20/2016)
Hardcover (6/21/2016)
Description
Charles Foster set out to know the ultimate other: the non-humans, the beasts. And to do that, he tried to be like them, choosing a badger, an otter, a fox, a deer, and a swift. He lived alongside badgers for weeks, eating earthworms and learning to sense the landscape by smell rather than sight. He tried to catch fish in his teeth while swimming like an otter, rooted through London garbage cans as an urban fox, was hunted by bloodhounds as a red deer, nearly dying in the snow. And he followed the swifts on their migration route over the Strait of Gibraltar, discovering himself to be strangely connected to the birds.
A lyrical, joyful, and completely radical look at the life of animals—human and other—Being a Beast mingles neuroscience and psychology, nature writing and memoir to cross the boundaries separating the species.
Praise For Being a Beast: Adventures Across the Species Divide…
"Intensely strange and terrifically vivid . . . An eccentric modern classic of nature writing." —Dwight Garner, The New York Times
"Spectacularly unconventional . . . A meditative romp that leaves you laughing out loud (and occasionally cursing in anger), even as you soak up the spray of science . . . Steeped in scholarship yet directed by his own quirky mysticism, Foster brilliantly takes on questions of animal consciousness, cognition, emotion, and theory of mind." —The New York Times Book Review

"A tour de force of modern nature writing . . . that shows us how to better love the world beyond ourselves." —The Guardian (London)
"A blend of memoir, neuroscience and nature writing . . . that pushes zoological obsession to even greater heights—and depths." —The Wall Street Journal

"Gonzo nature writing . . . Extremely entertaining." —The New York Review of Books

"An embed with the animals . . . Foster's quirky book shows how emulating animals not only helps our understanding of them—it makes us more human." —People

"Foster wants to be the wild thing, living as wild things live. In Being a Beast, he nearly convinces us that such shape-shifting is possible in the way he lyrically tells his stories—uncensored, intensely descriptive and often hysterical." —Milwaukee Journal Sentinel

"Extraordinary, hair-raising, and deliberately funny . . . Atrophied senses limit our lived experiences. Be a beast, says Foster, to become a better human." —Maclean's

"A splendid, vivid contribution to the literature of nature . . . Daringly imaginative . . . There's not an ounce of sentimentality in any of it, but instead good science and hard-nosed thought. Furthermore, Foster has the gift of poetry." —Kirkus Reviews (starred review)
"A fascinating exploration . . . His attempts to actually be a beast make this a different sort of wildlife book. . . . Ultimately, Foster found reciprocity in his unusual and daring immersion in nature, feeling that he now knows the essence of animals' lives and is somehow newly known in return." —Booklist (starred review)
"Woven through the lyrical narrative are neuroscience, facts about the creatures, and philosophy. . . . This book's fascinating premise, with its unique perspective of how animals perceive their surroundings, will be of interest to scientists, naturalists, and those who enjoy reading about natural history." —Library Journal

"An extraordinary account . . . In lesser hands this could come off as trite or patronizing, but Foster is quick to acknowledge his shortcomings and errors in perspective regarding his project, and he projects a healthy sense of humor. . . . This approach, along with his willingness to address and avoid the temptation for anthropomorphism, makes his book interesting and informative." —Publishers Weekly
"When it comes to wilderness porn, it's going to be very hard to beat Being a Beast." —London Evening Standard

"Being a Beast is a strange kind of masterpiece: the song of a satyr, perhaps, or nature writing as extreme sport. Foster marks out the distance between us and the beasts in a way that helps sharpen their boundaries and ours—and ours are not always where we think." —Financial Times

"This year's H is for Hawk, the book leaves you feeling that perhaps Helen MacDonald's bestseller might have been improved if she had only tried to fly." —World Travel Guide

"An extraordinary book." —Sunday Times (UK)
"Living like an animal in order to write about it sounds like a gimmick. It isn't. Groundbreaking? Definitely." —The Scotsman

"A highly original attempt to break free from the anthropocentrism that often characterizes nature writing . . . A rich, joyful, and inspiring book." —The Independent (UK)
Picador, 9781250132215, 256pp.
Publication Date: July 3, 2017
About the Author
Charles Foster is a Fellow of Green Templeton College at the University of Oxford. He is a qualified veterinarian, teaches medical law and ethics, and is a practicing barrister. Much of his life has been spent on expeditions: he has run a 150-mile race in the Sahara, skied to the North Pole, and suffered injuries in many desolate and beautiful landscapes. He has written on travel, evolutionary biology, natural history, anthropology, and philosophy.