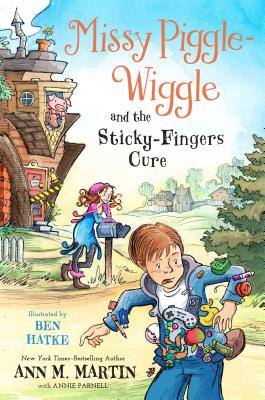 Missy Piggle-Wiggle and the Sticky-Fingers Cure (Hardcover)
Feiwel & Friends, 9781250132291, 240pp.
Publication Date: September 4, 2018
Other Editions of This Title:
Paperback (9/3/2019)
MP3 CD (11/6/2018)
* Individual store prices may vary.
Description
From powerhouse author Ann M. Martin, this third book in a delightful series and revitalization of a classic series is sure to draw in readers both new and old.
Once in a generation, the Effluvia strikes and it affects everyone differently. Missy wakes one morning to find the upside-down house is . . . right-side up? It's not long before Missy has to quarantine the house. Meanwhile she's still fielding calls from worried parents, and Louie can't keep his sticky fingers from taking other people's things! But Missy's magic cure might just do the trick, and even teach some valuable lessons along the way.
About the Author
Ann M. Martin is the New York Times-bestselling author of Rain Reign and many other award-winning novels and series, including the much-loved Baby-Sitters Club. She lives in upstate New York.

Annie Parnell worked for nearly a decade with some of the most successful writers and producers in television. Today she works as a mommy, photographer, and writer, and lives in Los Angeles with her husband and their two children. Annie's books include Missy Piggle-Wiggle and the Whatever Cure and Missy Piggle-Wiggle and the Won't Walk the Dog Cure.

Ben Hatke is the author and illustrator of the New York Times–bestselling Zita the Spacegirl trilogy, the picture books Julia's House for Lost Creatures and Nobody Likes a Goblin, and the graphic novels Little Robot and Mighty Jack. He lives and works in the Shenandoah Valley with his wife and their boisterous pack of daughters.
Praise For Missy Piggle-Wiggle and the Sticky-Fingers Cure…
Missy Piggle-Wiggle and the Whatever Cure:
"Betty MacDonald's beloved Mrs. Piggle-Wiggle always had one-of-a-kind ways to remedy children of their annoying or impolite habits. Now, nearly seventy years later, her singular magic can enchant a new generation, thanks to this delightful contemporary follow-up." —Publishers Weekly, starred review

Rain Reign:
A New York Times Bestseller
A New York Times Notable Book
A Kirkus Review Best of 2014 Pick
A School Library Journal Best of 2014 Pick
A Publishers Weekly best of 2014 Pick
"If you can read, you'll love this book. . . . It's about love and fealty, fear, hope, the release from burdens, and what kids—all kids—need but often don't get." —The New York Times Book Review
"Newbery Honor author Martin is extremely successful in capturing Rose's perspective and personality. . . . Filled with integrity and determination, Rose overcomes significant obstacles in order to do what is right." —Publishers Weekly, starred review
"The plot here is uncontrived, the resolution completely earned, and the style whole-grain simple until it blossoms into a final sentence of homonymic joy." —The Horn Book, starred review