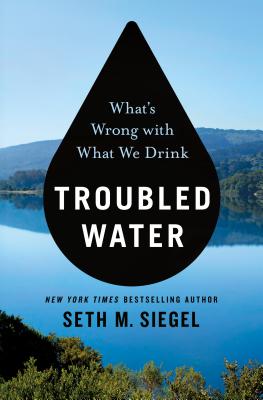 Troubled Water
What's Wrong with What We Drink
Hardcover

* Individual store prices may vary.
Other Editions of This Title:
Digital Audiobook (9/30/2019)
Paperback (11/10/2020)
Description
New York Times bestselling author Seth M. Siegel shows how our drinking water got contaminated, what it may be doing to us, and what we must do to make it safe.

If you thought America's drinking water problems started and ended in Flint, Michigan, think again. From big cities and suburbs to the rural heartland, chemicals linked to cancer, heart disease, obesity, birth defects, and lowered IQ routinely spill from our taps.

Many are to blame: the EPA, Congress, a bipartisan coalition of powerful governors and mayors, chemical companies, and drinking water utilities—even NASA and the Pentagon. Meanwhile, the bottled water industry has been fanning our fears about tap water, but bottled water is often no safer.

The tragedy is that existing technologies could launch a new age of clean, healthy, and safe tap water for only a few dollars a week per person.

Scrupulously researched, Troubled Water is full of shocking stories about contaminated water found throughout the country and about the everyday heroes who have successfully forced changes in the quality and safety of our drinking water. And it concludes with what America must do to reverse decades of neglect and play-it-safe inaction by government at all levels in order to keep our most precious resource safe.
Praise For Troubled Water: What's Wrong with What We Drink…
"A generation ago, Rachel Carson's Silent Spring launched the US environmental movement. Today, Seth M. Siegel's remarkable book has the potential to spark a similar citizen's awakening and with it a demand for better quality drinking water. Every elected official should be compelled to read Troubled Water – and every American should want to do so."
—U.S. Senator Mark Kirk

"Seth M. Siegel's new book Troubled Water: What's Wrong with What We Drink tells the haunting story of how America's drinking water came to be at risk. He's a masterful storyteller with the powerful call to action to ensure safe drinking water for all."
—Senator Kirsten Gillibrand

"As one of the principal members of Congress long campaigning for safer drinking water, I'm amazed by how Seth Siegel has woven decades of activity into his sweeping narrative of what needs to be done now. Troubled Water is far more than a remarkably well-told story. It is also an inspiring work filled with interesting insights and creative ideas. A delight to read."
—Congressman Henry Waxman

"Seth Siegel has done it again! Just as he caused us all to think differently about water scarcity with his great book, Let There Be Water, his new (and also great) book will alter the way we think about water quality. Troubled Water is one of those rare works that will change your view of the world – and how things do and don't get done."
—Mayor Bill de Blasio

"There is a national drinking water crisis – a form of silent, invisible violence foisted upon an often unsuspecting public from varieties of drinking water contaminants and polluters. Seth Siegel's detailed and gripping new book exposes what has been going wrong and what can be accomplished to reverse course for safer drinking water. Troubled Water is a fresh, piercing narrative about a widening problem." —Ralph Nader

"Troubled Water is a finely written, highly readable, and provocative book that recognizes the marvel that is modern drinking water while ringing needed alarm bells that need to be rung. Despite considerable progress, there are still too many people without safe drinking water and there are too many unregulated contaminants, whether in bottles or from the tap. No matter where we live in the U.S., we take water for granted at our peril. There are millions of people buying bottled water when tap water is safe, and too many people having to buy bottled water because their tap water isn't safe. Siegel illuminates the under-appreciated problems with the status quo, and empowers and motivates us all to engage."
—Felicia Marcus, former Chair, California State Water Resources Control Board, and former EPA Regional Administrator

"From the cancer-causing chemical tainting industrial towns to the lead poisoning the little kids of Flint, we've made a mess of one of America's greatest blessings—clean, abundant drinking water. If you want to know how we bungled our way into this disaster and what we need to do to trust our taps once again, you're in for a fantastic read. Troubled Water is Seth M. Siegel's powerful wake-up call and call to action to make America's water clean again."
—Ken Cook, co-founder and president, Environmental Working Group

"Meticulously researched and well written, Troubled Water addresses the quality of drinking water in the United States with fascinating stories and profound examples that bolster Seth M. Siegel's provocative arguments. The book's sweeping list of proposed reforms will generate a large readership and shape the national debate over our most precious resource."
—Robert Glennon, Regents' Professor, University of Arizona, and author of Unquenchable: America's Water Crisis and What To Do About It

"Seth M. Siegel is a master storyteller who captures the essence of complex situations and challenges in clear terms that connect how a problem evolved, what was done about it and by whom, to where we need to go today, and to a solution. His research and its presentation are engaging, accurate and insightful. Troubled Water is enjoyable, provocative and motivates the reader to action towards addressing our critical infrastructure needs. I give it an A+."
—Upmanu Lall, Chair, Department of Earth & Environmental Engineering, Director, Columbia Water Center

"Seth M. Siegel reminds us how America has used its waterways and aquifers as its private, toxic dumping grounds – and urges us not to forget in this era of the 24-hour news cycle. Thankfully, Siegel provides many 'soft-path' solutions that collectively could greatly enhance water security in the United States. The rest, he points out, is up to us, as consumers and as the voting public. A must-read for anyone who drinks water!
—Jay Famiglietti, Executive Director, Global Institute for Water Security, University of Saskatchewan; and former NASA Jet Propulsion Laboratory Senior Water Scientist

"Think about this. 80% of your blood . . . 60% of your brain . . . is water. You are what you drink. And what you drink is in peril. In Troubled Water, Seth Siegel has given us a call to arms for what is arguably the most widespread human health issue of our time, and also arguably, one of the most ignored – Drinking water. Eminently readable, meticulously researched, and unquestionably important – this should be on the reading list of every person who cares about the livelihood of their community, the health of their children, and the economic well-being of our collective future. And this is not just a diagnosis of the harms we face, as Siegel also provides us with effective and affordable prescriptions for solutions to the problems in providing this basic human right – clean water. Read this book, and let's answer Siegel's call.
—J. Val Klump, Dean and Professor, School of Freshwater Sciences, University of Wisconsin-Milwaukee

"US water-supply crises go far beyond Flint, Michigan. So reveals environmental writer Seth Siegel in this engrossing, well-reported survey."
—Nature

"Thoroughly researched and passionately written...the information he imparts as he focuses on water contamination is critically important...this is a science title with real power to heal our sickened world."
—Booklist, starred review

"Well-presented, hard truths about our drinking water, which 'is less safe than we deserve.'"
—Kirkus

"Seth Siegel's thorough and articulate uncovering of the plague of contaminated drinking water is a must-read for those who care about the environment and human health. Children in Flint and Newark have suffered from tainted water from the tap, and so have many others throughout the country who rely on the government to provide safe drinking water. This compelling book sheds persuasive light on this pervasive problem. Is it not a right of every American to turn on the tap and know the water is healthy and clean? Siegel raises that question, and his lucid, penetrating prose provides the answer."
—Mitch Bernard, President, Natural Resources Defense Council (NRDC)

"For too long drinking water has been framed as an environmental issue and overseen by a politicized EPA. Thanks to Seth Siegel and his remarkable book, it is clear that it has been mischaracterized to our detriment. As Troubled Water makes clear, the water we drink, from a bottle or a sink, is as much about public health, caring for the vulnerable among us, and raising healthy children as it is about anything else."
—Jaime Matyas, former COO, National Wildlife Federation (NWF)

"Just when you (mistakenly) thought it was safe to drink your tap water, along comes Seth Siegel. His penetrating book, Troubled Water, exposes systematic safety gaps at our drinking water taps, and offers recommendations that – if followed – will go a long way towards restoring the trust that our drinking water deserves."
—Marc Edwards, University Distinguished Professor, Virginia Tech

"Seth M. Siegel is a rarity among environmental writers. Neither an alarmist nor a partisan, he is foremost an educator, and he has an important lesson to teach all Americans, regardless of where they live, about the troubled state of our drinking water and the antiquated systems that deliver it. Siegel explains why utilities and regulatory institutions — local and national, public and private — have failed to keep up with the countless chemical pollutants that taint what comes out of our taps. And he tells us just what we can do to make them and our political representatives more responsive to this underreported crisis. Siegel's book is both an engaging work of history and a call to action, presented with a fair mind, a firm grasp of facts, and prose as crystal clear as we'd like our water to be."
—Paul Milazzo, Department of History, Ohio University

"From microplastics to 'forever' chemicals, Seth Siegel brings America's drinking water challenges to life. But Troubled Water is far more than a litany of potential problems. This special book inspires us to think differently about protecting our drinking water sources and offers a plan on how to do this most important of jobs better."
—Lynn Thorp, National Campaigns Director, Clean Water Action

"Seth Siegel does an incredible and exhaustive job of capturing the long arc of America's struggle to assure the water we drink will garner our trust. By illuminating where we have triumphed and where we have sold ourselves short, the reader is left to assess our current place in the history of our water story. It is difficult to not conclude we are now at a low point but that there are also actionable ways to secure water quality and quantity for today and future generations. Having Siegel's roadmap will serve citizens as well as policy-makers."
—Gary White, CEO & Co-Founder, Water.org

"Siegel makes excellent arguments in favor of producing purer public drinking water. His proposals for doing that deserve serious consideration."
—Library Journal

"Lively, engaging, and occasionally infuriating, Troubled Water describes the historical, economic, and institutional factors that plague the American water sector. The main threats to drinking water in the U.S. are not chemical or biological—they're political. Siegel concludes with a compelling call for reform and an injection of creativity for the nation's water systems. Let's hope the nation heeds it!"
—Professor Manny Teodoro, Texas A&M University

"Siegel has done it again! While Let There Be Water examined the challenges of water quantity around the world, Troubled Water scrutinizes water quality in the United States. Siegel tackles the topic with ambitious scope, attention to detail, and an engaging writing style. Weaving together personal narratives and a sweeping array of facts, he tells a story that is both interesting and educational."
—Dr. Michael E. Webber, Professor of Mechanical Engineering, The University of Texas at Austin, and author of Thirst for Power: Energy, Water and Human Survival

"Troubled Water is an intriguing, thought-provoking, and even-handed account of what's lurking in our drinking water. Seth Siegel's excellent read gives a comprehensive overview of the complexities of managing water, the frustrations that responsible and proactive utilities have with often slow regulatory processes, and the variety of solutions and investments already made by communities. Seth keeps the conversation flowing and gives hope to millions of Americans that water quality will get better."
—Michael R. Markus, General Manager, Orange County Water District

"Troubled Water is a great book that will motivate lots of change."
—Jon Bowermaster, Environmentalist and Filmmaker
Thomas Dunne Books, 9781250132543, 352pp.
Publication Date: October 1, 2019
About the Author
SETH M. SIEGEL is a lawyer, an activist, a serial entrepreneur and the author of the New York Times bestseller Let There Be Water. His writing has appeared in The New York Times, The Wall Street Journal, The Los Angeles Times, and in leading publications in Europe and Asia. He has spoken on water policy hundreds of times around the world and in Congress, the United Nations, the World Bank, and at dozens of leading universities. He is married and lives in New York City.
or
Not Currently Available for Direct Purchase