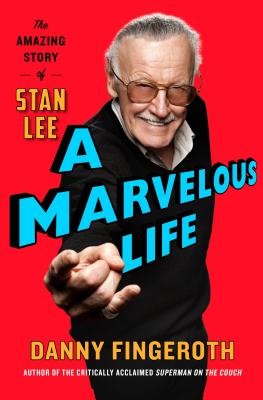 A Marvelous Life
The Amazing Story of Stan Lee
Hardcover

* Individual store prices may vary.
Other Editions of This Title:
Digital Audiobook (9/30/2019)
Digital Audiobook (11/4/2019)
Paperback (9/1/2020)
Library Binding, Large Print (2/26/2020)
CD-Audio (1/28/2020)
Description
The definitive biography of the beloved—often controversial—co-creator of many legendary superheroes, A Marvelous Life: The Amazing Story of Stan Lee presents the origin of "Stan the Man," who spun a storytelling web of comic book heroic adventures into a pop culture phenomenon: the Marvel Universe.

Stan Lee was the most famous American comic book creator who ever lived.

Thanks, especially, to his many cameos in Marvel movies and TV shows, Lee was—and even after his 2018 death, still is—the voice and face of comics and popular culture in general, and Marvel Comics in particular. How he got to that place is a story that has never been fully told—until now.
With creative partners including Jack Kirby and Steve Ditko—with whom he had tempestuous relationships that rivaled any superhero battle—Lee created world-famous characters including Spider-Man, Iron Man, the X–Men, the Avengers, and the Hulk!

But Lee's career was haunted by conflict and controversy. Was he the most innovative creator to ever do comics? Was he a lucky no-talent whose only skill was taking credit for others' work? Or was he something else altogether?

Danny Fingeroth's A Marvelous Life: The Amazing Story of Stan Lee attempts to answer some of those questions. It is the first comprehensive biography of this powerhouse of ideas who, with his invention of Marvel Comics, changed the world's ideas of what a hero is and how a story should be told.

With exclusive interviews with Lee himself, as well as with colleagues, relatives, friends—and detractors—Fingeroth makes a doubly remarkable case for Lee's achievements, while not ignoring the controversies that dogged him his entire life—and even past his death. With unique access to Lee's personal archives at the University of Wyoming, Fingeroth explores never-before-examined aspects of Lee's life and career, and digs under the surface of what people thought they knew about him.

Fingeroth, himself a longtime writer and editor at Marvel Comics, and now a lauded pop culture critic and historian, knew and worked with Stan Lee for over four decades. With his unique insights as a comics world insider, Fingeroth is able to put Lee's life and work in a unique context that makes events and actions come to life as no other writer could.

Despite F. Scott Fitzgerald's famous warning that "There are no second acts in American lives," Stan Lee created a second act for himself that changed everything for him, his family, his industry, and ultimately for all of popular culture. How he did it—and what it cost him—is a larger-than-life tale of a man who helped create the modern superhero mythology that has become a part of all our lives.
Praise For A Marvelous Life: The Amazing Story of Stan Lee…
"[Fingeroth's] intimate yet balanced account, highlights Lee's humanity, humor and even humility. But it doesn't ignore how his canny self-promotion at times shortchanged his collaborators and constrained his own choices." —Wall Street Journal

"Across a lifetime of creativity, collaboration and endless hustle, Stan Lee saw possibilities no else could imagine and made them real. And if you want to understand how Lee and Marvel did it, Danny Fingeroth's new book A Marvelous Life is the place to start. As a lifelong fan of Spider-Man, The X-Men, Star-Lord and the rest, it was delightful introduction to a guy I'd never met but felt I'd known my whole life." —Adam Frank, NPR

"Enthusiastic...a fittingly ebullient tribute to a man who never failed to add one more exclamation mark. This is a sure hit for comics fans of all camps." —Publishers Weekly

"Detail-packed....Fans of comics culture will enjoy Fingeroth's tribute to his legendary boss." —Kirkus Reviews

"Lee remains a pivotal figure in the superhero genre that's come to dominate popular culture, and Fingeroth, a comics veteran who worked closely with Lee, gives evenhanded treatment to his accomplishments and foibles." —Booklist

"A high-demand biography for fans of Lee and Marvel comics." —Library Journal

"A fascinating peek behind the curtain at Lee's legendary bullpen. Comics fans will appreciate the inside lane knowledge of Kirby and Ditko's feuds with Lee and the epiphanies of their collaborations." —Forward

"His life's work, as it turned out, was serious enough, and Fingeroth honours it with a book that is as much an affectionate biography of a business as it is of the man who made it."
—Sunday Times (UK)

"A must-read for anyone who wants to learn more about one of comics' greatest and most polarizing figures." —SYFY WIRE

"Drawing information from Lee's own archives, firsthand experience, others who knew the most famous comic book creator who ever lived, and many more sources, Fingeroth strives to be both factual and fair to all parties, concerned throughout this complicated and controversial life history. This gripping and entertaining read offers an account not only of one man but also of Marvel Comics itself, along with the lives impacted along the way." —Psychology Today

"This one might be the comic-lovers go-to gift for the 2019 season. Danny Fingeroth takes readers on a deep dive into Stan's life, stuffing this book with balanced analysis and long-lost stories. It's a page turner and there's something for everyone inside." —Ed Catto, Pop Culture Squad

"There's more about Stan Lee in this roller coaster of a book than I thought I'd ever want to know. But I couldn't stop reading it. Danny Fingeroth gives us, page after page, rapid and cogent insights into the Marvel world, the comics universe, and Stan Lee as innovator, ring master, high-stakes gambler, con man, and an indefatigable charmer. And visionary, as well Stan would want to take the book apart, and put it together again." —Jules Feiffer (assisted Will Eisner on The Spirit, and authored The Great Comic Book Heroes)

"There have been several bios of Stan, including ones attributed to himself, but Danny's is the best so far! I think this will become the standard source about Stan's life." —Peter Sanderson, comics scholar and historian

"Fingeroth seems to cover everything with extensive research, interviews, his personal relationship with Stan and the archives at the University of Wyoming. It's just a great look at Stan Lee and for comic book fans, a great behind the scenes look at how they were developed and made." —Red Carpet Crash

"Lieber's origin story is as good as any of the characters he would go on to create, and Danny Fingeroth's new biography, A Marvelous Life: The Amazing Story Of Stan Lee, tells it well." —AV Club

"Danny understands Stan's special talent of blending together the diverse creations of his myriad collaborators into a coherent universe with a single voice which made each of us feel it had been created for us alone. I'm glad Stan's bio was written and he was the one to write it." —Scott Edelman, award-winning comics and science fiction writer and editor

"Danny Fingeroth has written an essential book for anyone interested in the popular culture that surrounds us. More than just his critical role in the creation of many comics for Marvel, but the films that dominate the theaters are impossible to imagine without Stan Lee." —James Danky, University of Wisconsin-Madison (School of Journalism and Mass Communication); Co-author of Underground Classics (The Transformation of Comics into Comix)

"It's wonderful—even-handed, affectionate but not hagiographic, and genuinely insightful." —Professor Ben Saunders, Director of Comics Studies, University of Oregon
St. Martin's Press, 9781250133908, 400pp.
Publication Date: November 5, 2019
About the Author
DANNY FINGEROTH was an award-winning writer and editor at Marvel Comics. A highly-regarded pop culture critic and historian, he is the author of books including Superman on the Couch: What Superheroes Really Tell Us About Ourselves and Our Society and co-editor of The Stan Lee Universe, an annotated collection of Lee-rarities from his personal archives. Fingeroth worked with Lee on numerous projects and conducted original, in-depth interviews with him (and many others) in the course of researching A Marvelous Life. Fingeroth has lectured on comics at Columbia University, the Smithsonian Institute, and at Milan's MiMaster Institute, among many other venues.