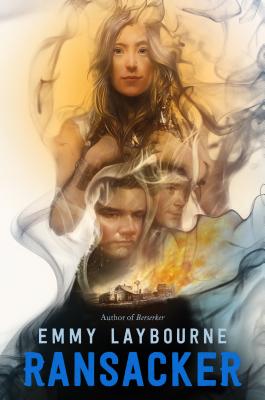 Ransacker (Berserker #2)
Hardcover

* Individual store prices may vary.
Description
The gripping, heart-wrenching companion novel to Emmy Laybourne's much acclaimed historical fantasy Berserker.

Rare powers. Precious metals. A final showdown.

1886. The Hemstads possess supernatural powers bestowed upon their family by the ancient Norse gods. Now Sissel, the youngest at 16, discovers her gift: she is a Ransacker. She can find gold and other precious metals and pull them to her. Hers is an awesome and dangerous gift.

Sissel and her siblings have been living peacefully in a small town in Montana, trying to blend-in and escape the violent events that haunt them, but they've all been tricked—the handsome young man courting Sissel is secretly a Pinkerton spy, reporting to the man who wants to control them, the Baron Fjelstad.

Sissel's beau is not the only one interested in her new talents. She's also caught the attention of a local mine owner who's convinced Sissel has a lucky touch when it comes to finding gold. With betrayal lurking around every corner, Sissel must tread carefully. Harnessing her powers could bring great fortune . . . or cause the powerful Baron to come hunting her and her siblings down for once and for all.
Praise For Ransacker (Berserker #2)…
"Ransacker combines Norse Mythology with the Wild West in a thoroughly engrossing tale of a young girl coming into her powers. Despite devastating betrayals, a villainous hunter, and a bum leg, Sissel perseveres. I am a fan!"-- Brodi Ashton, NYT bestselling author of the Everneath series, Diplomatic Immunity and the My Lady Jane series

"Compulsively readable, Ransacker is a tour-de-force, part epic family saga and part thrilling adventure novel. In a tale with Viking curses and Pinkerton spies, most captivating of all is the depth and complexity of the relationships and Sissel's journey of self-discovery. Relentless, vivid, and deftly imagined." -- Axie Oh, Author of Rebel Seoul

"This companion to Laybourne's Berserker (2017) picks up three years after the events of the first book. The narrative bounces between Hanne Hemstad and her fiancé, Owen, who have joined a cattle drive (complete with satisfying descriptions of food prep, cowboy politics, and life on the trail) to make ends meet, and that of Hanne's sister Sissel, who is coming into her independence as a young woman, as well as her unexpected Nyette (power). ... A terrific follow-up to Berserker, full of adventure, magic, and deep family loyalty.--Booklist magazine

"Amidst a strikingly original premise, Sissel's journey from feeling like a burden to embracing her strong but dangerous legacy, compromised as it is with credibly naïve mistakes, is set against a richly imagined historical setting and augmented by some surprising but satisfying character twists. There is certainly girl power here, but also family-and-friends power and plenty of action adventure, making for an absorbing read that will appeal to a broad range of tastes. Recommended."--Bulletin of the Center for Children's Books

"Readers who enjoy mythology and fantasy mixed with American historical fiction will find themselves easily involved in the narrative."--VOYA

Berserker:

"Emmy Labourne deftly melds Viking lore with the American West and creates something wholly new, a journey filled with heart-pounding suspense and surprising tenderness. Loved!" —Danielle Paige, New York Times–bestselling author of the Dorothy Must Die series

"Startlingly original, unputdownable, and electrifying." —Kass Morgan, author of the New York Times bestseller The 100

"A completely winning, romantic, and heart-wrenching historical fantasy. Your pulse will race from page one of this rich, rugged adventure of a book." —Alyson Noel, New York Times-bestselling author of The Immortals series

"Berserker embraces the beautiful brutality of both Viking lore and Frontier tales, and it does so without resorting to tired tropes or toxic masculinity. This is a brilliantly unexpected fusion of cowboys and old gods—intense and gritty and yet surprisingly tender—but the real strength of Emmy Laybourne's writing is that, for all their superhuman abilities, her characters are so very human." —William Ritter, author of the New York Times-bestselling Jackaby series

Monument 14:

"Laybourne's strong characterizations of the resourceful, optimistic children who make up this improvised family intensify the horror of the situation and make the almost-cartoonish series of catastrophes frighteningly real." —The New York Times Book Review

"...Laybourne's debut ably turns what could have been yet another postapocalyptic YA novel into a tense, claustrophobic, and fast-paced thriller." —Publishers Weekly, starred review

"Monument 14 is raw, honest, gritty, and full of emotionally taut storytelling. I had to hug so many kittens after reading it that the pet store asked me not to come back." —Lish McBride, author of Hold Me Closer, Necromancer

Monument 14:Sky on Fire:

"Laybourne excels at combining specific details of a world gone horribly wrong with intriguing characters." —The Horn Book

Sweet:
"Simultaneously terrifying, hilarious, and action-packed, Sweet is a wild ride that holds up a warped mirror to our society. I loved it from the first line to the last." —Marie Lu, New York Times bestselling author of Legend and The Young Elites

"Laybourne's fictional world highlights themes of friendship, the culture of celebrity, and addiction...A finely knit narrative in which romance pairs perfectly (somehow) with societal horror." —Jennifer Prince, Buncombe County Public Libraries, NC, School Library Journal

"Laybourne's masterful novel opens as a comical potential romance, becomes suspenseful, then horrific, and ends as a gripping action-adventure survival story sure to enthrall readers ... The book is recommended as required summer reading." —VOYA, Starred Review
Feiwel & Friends, 9781250134141, 448pp.
Publication Date: January 29, 2019
About the Author
Emmy Laybourne is a screenwriter, lyricist, and actress. She has acted in movies, television, and improv groups including Chicago City Limits. She lives in Chestnut Ridge, New York, with her husband and their two children. She is the author of the Monument 14 trilogy.
or
Not Currently Available for Direct Purchase