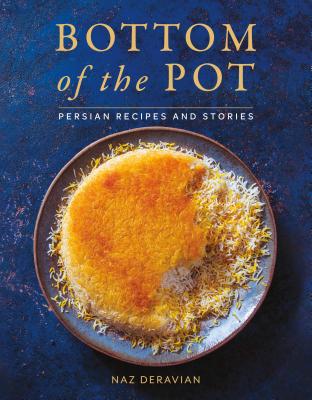 Bottom of the Pot
Persian Recipes and Stories
Hardcover

* Individual store prices may vary.
Description
Winner of the IACP 2019 First Book Award presented by The Julia Child Foundation

"Like Madhur Jaffrey and Marcella Hazan before her, Naz Deravian will introduce the pleasures and secrets of her mother culture's cooking to a broad audience that has no idea what it's been missing. America will not only fall in love with Persian cooking, it'll fall in love with Naz." - Samin Nosrat, author of Salt, Fat, Acid, Heat: The Four Elements of Good Cooking

Naz Deravian lays out the multi-hued canvas of a Persian meal, with 100+ recipes adapted to an American home kitchen and interspersed with Naz's celebrated essays exploring the idea of home.

At eight years old, Naz Deravian left Iran with her family during the height of the 1979 Iranian Revolution and hostage crisis. Over the following ten years, they emigrated from Iran to Rome to Vancouver, carrying with them books of Persian poetry, tiny jars of saffron threads, and always, the knowledge that home can be found in a simple, perfect pot of rice. As they traverse the world in search of a place to land, Naz's family finds comfort and familiarity in pots of hearty aash, steaming pomegranate and walnut chicken, and of course, tahdig: the crispy, golden jewels of rice that form a crust at the bottom of the pot. The best part, saved for last.

In Bottom of the Pot, Naz, now an award-winning writer and passionate home cook based in LA, opens up to us a world of fragrant rose petals and tart dried limes, music and poetry, and the bittersweet twin pulls of assimilation and nostalgia. In over 100 recipes, Naz introduces us to Persian food made from a global perspective, at home in an American kitchen.
Praise For Bottom of the Pot: Persian Recipes and Stories…
"In her debut cookbook Bottom of the Pot, Naz Deravian brings us right to her table, and to all the tables that have informed hers. Every bit of writing and each recipe is a poem, each photograph so tempting. I am so taken by this book and am reminded of what made me fall in love with cookbooks in the first place: they teach us about the world outside of our own walls, introduce us to people we might not otherwise know, and invite us to make new memories and traditions in our own kitchens. In this way, cookbooks are the most hospitable political tool I know. They don't build walls, they elongate tables. Thank you Naz for this beautiful book that I already cherish." - Julia Turshen, author of Now & Again, Feed the Resistance and Small Victories

"Yes, Bottom of the Pot is a beautiful, engaging book. Yes, its stories, recipes, and photos will bring an entirely new generation of cooks into the extraordinary, sophisticated Persian kitchen. But far more importantly, Bottom of the Pot is a timely book. As a nation, we stand at a crossroads: we can choose to turn our attention outward, look out into the world with empathy, celebrate diversity, and immerse ourselves in the sensual pleasures of cultures foreign to us. Or, we can build walls, both figurative and literal. We can close ourselves off to the infinite gifts of this wild and vibrant world. This book will nudge us to choose the former path. Indeed, by appealing to our senses and our hearts, Bottom of the Pot will bring new meaning to Michael Pollan's idea that 'Eating is a political act.'
Like Madhur Jaffrey and Marcella Hazan before her, Naz Deravian will introduce the pleasures and secrets of her mother culture's cooking to a broad audience that has no idea what it's been missing. America will not only fall in love with Persian cooking, it'll fall in love with Naz."
- Samin Nosrat, author of Salt, Fat, Acid, Heat: The Four Elements of Good Cooking

"This beautiful book tells the story of the Iranian diaspora through recipes ranging from breathtaking feats of culinary mastery, to humble, everyday family meals. What an absolute pleasure to join Deravian on this sweet and tender journey; her warmth and Persian hospitality shine through the page, inviting you in like family to her dinner table."
- Louisa Shafia, author of The New Persian Kitchen and Lucid Food

"From cover to cover of her beautiful book, Naz invites us into the intoxicating embrace of Persian-American cooking. Her stories are as charming and welcoming as her recipes, gently wafting into our own kitchens with the promise of aromatic flavors we can't wait to experience. The procession of ingredients—from saffron and fresh herbs to rose petals and cool yogurt—is dazzling, and I feel completely at ease under Naz's guiding hand to explore them all. The bottom of my own pot will happily never be the same!"
- Maureen Abood, author of Rose Water & Orange Blossoms

"Colors, aromas, and stories seduce and transport the reader to a world of food that is simply irresistible! Naz Deravian, a passionate home-cook, created this brilliant collection of easy-to-follow recipes from her native Persian cuisine —the mother of urban Eastern Mediterranean cooking. The author's personality permeates the book as she complements the recipes with family narratives and traditional tales. She describes appetizers as 'Music and Poetry;' soups as 'Heart,' and Khoresh --the long-simmered, jam-like stews-- as 'the Soul.' Rice dishes, with their crunchy tahdig are the 'Jewels' of Persian cooking, and the ever-present naan (breads) are, of course, 'Life;' Kookoo --my favorite frittata-like, egg-and-vegetable dishes-- are 'the Light.' And we mustn't forget 'Love,' the well-chosen, simple desserts. With easy to find ingredients and wonderful spice and herb combinations every dish becomes a new adventure: 'follow the recipe for the first time,' the author advises, 'then relax, throw it all away, play, and, make it your own.' The book's beautiful pictures and clear instructions on what to pre-cook and how to store –most dishes are better the next day— or freeze, inspire everybody to get into the kitchen and recreate these tantalizing, age-old savory and sweet dishes." - Aglaia Kremezi, author of Mediterranean Vegetarian Feasts

"An easy access to a sophisticated cuisine.
Delicious homemade gourmet food.
Just follow the instructions, uncork the wine,
and get ready for a royal feast."
- Shohreh Aghdashloo, Emmy Award winner

"In Bottom of the Pot, Naz Deravian has crafted a superb cookbook that combines cultural and family history with mouth-watering recipes to create a full and rich portrait of Persian cuisine. Personal memories weaved into each made-from-scratch Persian dish evoke a strong sense of place and bring alive the senses.This is a must-have cookbook that breaks down barriers by introducing readers to a colorful and vibrant cuisine and gives well-crafted advice to those already familiar with this beautiful tapestry of dishes. More than just a cookbook, its stories and recipes nourish and soothe, celebrate and unite. I will be giving Bottom of the Pot to my friends and family for years to come!"
- Marjan Kamali, author, TOGETHER TEA

"With seductive must-make-it-now! recipes and gorgeous lyrical prose Naz beautifully captures the saffron-scented allure of Persian cooking, creating a rich multi-layered evocation of an entire culture at table. Whether you want to master the delicate fragrant Persian pilafs or just savor the heartrending family stories of exile and longing, every page of Bottom of the Pot is full of rewards. This is one of those rare books that both captures the culinary zeitgeist and transports you to an exotic world you don't want to leave." - Anya von Bremzen

"This book is written with love and filled with beautiful recipes that will take you straight to the heart of Naz's Persian kitchen." - Meera Sodha, author of FRESH INDIA and MADE IN INDIA


Flatiron Books, 9781250134417, 384pp.
Publication Date: September 18, 2018
About the Author
Naz Deravian is a writer and actor born in Iran, who grew up in Italy and Canada, and now lives in Los Angeles with her husband and two children.

She is the award-winning voice behind the food blog Bottom of the Pot, which won the 2015 International Association of Culinary Professionals (IACP) Award for best culinary blog. She has also been twice nominated in several categories for the Saveur Food Blog Awards.

Naz has been profiled in The New York Times, Sunset magazine, and Condé Nast Traveler, among others. She is the author of Bottom of the Pot: Persian Recipes and Stories.