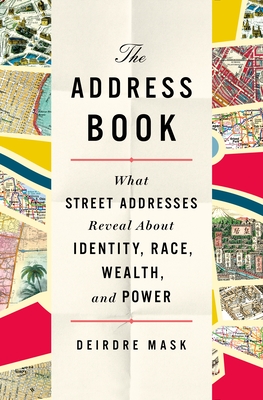 The Address Book (Hardcover)
What Street Addresses Reveal About Identity, Race, Wealth, and Power
St. Martin's Press, 9781250134769, 336pp.
Publication Date: April 14, 2020
Other Editions of This Title:
MP3 CD (4/14/2020)
Compact Disc (4/14/2020)
* Individual store prices may vary.
Description
An extraordinary debut in the tradition of classic works from authors such as Mark Kurlansky, Mary Roach, and Rose George.
An exuberant and insightful work of popular history of how streets got their names, houses their numbers, and what it reveals about class, race, power, and identity.
When most people think about street addresses, if they think of them at all, it is in their capacity to ensure that the postman can deliver mail or a traveler won't get lost. But street addresses were not invented to help you find your way; they were created to find you. In many parts of the world, your address can reveal your race and class.
In this wide-ranging and remarkable book, Deirdre Mask looks at the fate of streets named after Martin Luther King Jr., the wayfinding means of ancient Romans, and how Nazis haunt the streets of modern Germany. The flipside of having an address is not having one, and we also see what that means for millions of people today, including those who live in the slums of Kolkata and on the streets of London.
Filled with fascinating people and histories, The Address Book illuminates the complex and sometimes hidden stories behind street names and their power to name, to hide, to decide who counts, who doesn't—and why.
About the Author
Deirdre Mask graduated from Harvard College summa cum laude, and attended University of Oxford before returning to Harvard for law school, where she was an editor of the Harvard Law Review. She completed a master's in writing at the National University of Ireland.
The author of The Address Book: What Street Addresses Reveal About Identity, Race, Wealth, and Power, Deirdre's writing has appeared in The New York Times, The Atlantic, and The Guardian. Originally from North Carolina, she has taught at Harvard and the London School of Economics. She lives with her husband and daughters in London.
Praise For The Address Book: What Street Addresses Reveal About Identity, Race, Wealth, and Power…
"An impressive book-length answer to a question few of us consider: "Why do street addresses matter?" In her first book, Mask combines deep research with skillfully written, memorable anecdotes to illuminate the vast influence of street addresses as well as the negative consequences of not having a fixed address....Throughout this eye-opening book, the author clearly demonstrates that package deliveries constitute a minuscule part of the significance of addresses—not only today, but throughout human history....A standout book of sociological history and current affairs."—Kirkus Review (starred)
"An entertaining and wide-ranging debut....Mask's fluid narration and impressive research uncover the importance of an aspect of daily life that most people take for granted, and she profiles a remarkable array of activists, historians, and artists whose work intersects with the evolution and meaning of street addresses. This evocative history casts its subject in a whole new light."—Publishers Weekly (starred)
"Adam Gopnik observes that 'cities are their streets. Streets are not a city's veins but its neurology, its accumulated intelligence.' In this light, street addresses map not just a city's geography, but its very thoughts, and even its way of thinking. It is no accident that, in suburban sprawl, most people live on streets that go nowhere, or on parking lots with no proper street addresses at all. In this lively and eye-opening book, Deidre Mask unearths the many layers of meaning hiding just below the surface of the ways we place ourselves and others in our communities." —Jeff Speck, urban planner and author of Walkable City: How Downtown Can Save America, One Step at a Time.
"The story of our streets is the history of our cities. Deirdre Mask reveals how the tales secreted within a street name can be as mesmerizing and mystifying as the city itself—and the people who call that place home." —Janette Sadik-Khan, Bloomberg Associates, former NYC Department of Transportation Commissioner

"I had hoped The Address Book would change the way I think about an oft-overlooked, seemingly banal bit of everyday life. I had no idea it would so change the way I think about life itself." —Tom Vanderbilt, author of Traffic and You May Also Like
"The Address Book is a deeply-researched dive into the surprising histories and meanings that lie behind the seemingly mundane way we name our streets and number our houses and buildings. Deidre Mask provides powerful insight into the ways these addresses not only structure our lives but function as a tool to classify and track people, reflecting the enduring divides of class, race, and power. A must read for urbanists and all those interested in cities and modern economic and social life." —Richard Florida, author of The Rise of the Creative Class