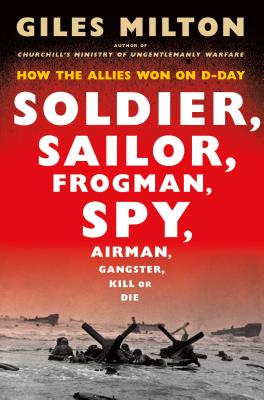 Soldier, Sailor, Frogman, Spy, Airman, Gangster, Kill or Die
How the Allies Won on D-Day
Hardcover

* Individual store prices may vary.
Other Editions of This Title:
Digital Audiobook (3/11/2019)
Paperback (6/1/2021)
CD-Audio (3/12/2019)
Description
A ground-breaking account of the first 24 hours of the D-Day invasion told by a symphony of incredible accounts of unknown and unheralded members of the Allied – and Axis – forces.

An epic battle that involved 156,000 men, 7,000 ships and 20,000 armoured vehicles, D-Day was, above all, a tale of individual heroics – of men who were driven to keep fighting until the German defences were smashed and the precarious beachheads secured. This authentic human story – Allied, German, French – has never fully been told.

Giles Milton's bold new history narrates the events of June 6th, 1944 through the tales of survivors from all sides: the teenage Allied conscript, the crack German defender, the French resistance fighter. From the military architects at Supreme Headquarters to the young schoolboy in the Wehrmacht's bunkers, Soldier, Sailor, Frogman, Spy, Airman, Gangster, Kill or Die lays bare the absolute terror of those trapped in the front line of Operation Overlord. It also gives voice to those who have hitherto remained unheard – the French butcher's daughter, the Panzer Commander's wife, the chauffeur to the General Staff.

This vast canvas of human bravado reveals "the longest day" as never before – less as a masterpiece of strategic planning than a day on which thousands of scared young men found themselves staring death in the face. It is drawn in its entirety from the raw, unvarnished experiences of those who were there.
Praise For Soldier, Sailor, Frogman, Spy, Airman, Gangster, Kill or Die: How the Allies Won on D-Day…
"Earns its place in a crowded field by bringing a completely fresh, very human approach to the largest amphibious landing in history, telling stories from the American, British, French and German perspectives. It has a wonderful immediacy and vitality—living history in every sense." —Anthony Horowitz, #1 New York Times bestselling author of the Alex Rider Adventure series, in the Wall Street Journal

"The day is narrated in a symphony of surviving voices – a teenage Allied conscript, a French resistance fighter, a butcher's daughter – placing the reader in the heat of the action." —USA Today

"A labor of love and respect . . . Milton's writing is often vivid . . . Readers will . . . be thrilled and moved by this sweeping mosaic." —Publishers Weekly

"Vivid, graphic and moving." —Mail on Sunday Book of the Year

"Stirring and unsettling in equal measure, this is history writing at its most powerful." —Evening Standard

Praise for Churchill's Ministry of Ungentlemanly Warfare

"Milton is a meticulous researcher and masterful storyteller. Churchill's Ministry of Ungentlemanly Warfare, with its ghastly details and dollops of droll British humor, will reward readers who appreciate military history and good writing."—USA Today (3.5 star out of 4)

"A rousing historical romp." —The New York Times Book Review

"Milton has a rare ability--a talent for sifting fine pearls from faraway sands and transmuting the merely arcane into little literary gems." —Simon Winchester, Boston Globe

"A rousing account–and celebration–of World War II's most insidious and devious heroes."—The Wall Street Journal

"An exciting, suspenseful tale of international intrigue."—Kirkus

"Impressive . . . [an] entertaining history of spectacular, often nasty derring-do by real-life secret agents." —Publishers Weekly

"Giles Milton's research is impeccable and his narrative reads in part like a modern-day Robert Louis Stevenson novel." —The Times (London)

"Deftly and arrestingly captures the sorry history of the European lust for nutmeg and its devastating impact on the Spice Islands....Milton is a storyteller of the first rank." —Kirkus Reviews
Henry Holt and Co., 9781250134929, 512pp.
Publication Date: March 12, 2019
About the Author
Giles Milton is the internationally bestselling author of a dozen works of narrative history, including Soldier, Sailor, Frogman, Spy, Airman, Gangster, Kill or Die: How the Allies Won on D-Day. His previous work, Churchill's Ministry of Ungentlemanly Warfare, is currently being developed into a major TV series. Milton's works—published in twenty-five languages—include Nathaniel's Nutmeg, serialized by the BBC. He lives in London and Burgundy.
or
Not Currently Available for Direct Purchase