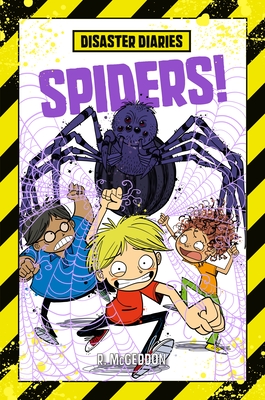 Disaster Diaries (Hardcover)
Spiders!
Imprint, 9781250135650, 192pp.
Publication Date: October 3, 2017
* Individual store prices may vary.
Description
How do you survive an encounter with a 6-foot tall spider?
1) Run away screaming
2) Try to pet it
3) Ask it nicely to spin you a silk dress
Find out in the fifth installment of this silly series, when Sam, Arty, and Emmie save the town of Sitting Duck from another disaster!
New student Felicia Forester quickly becomes the star of science class! But she secretly runs dangerous science experiments that soon have the entire town completely overrun with giant, human-eating spiders!
To make matters even worse, spiders are Sam's greatest fear. Emmie and Arty must help him overcome his phobia to face the eight-legged crawlies—or their town will be totally infested!
Disaster Diaries includes funny illustrations and survival tips to avoid impending doom —and face your fears!
Don't miss the other Sitting Duck adventures by R. McGeddon: Zombies!, Aliens!, Brainwashed!, Robots!
An Imprint Book
About the Author
R. McGeddon is absolutely sure the world is almost certainly going to probably end very soon. His middle grade series, The Disaster Diaries, details the many ways this could happen, including a zombie apocalypse, an alien invasion, and a mad scientist. A strange, reclusive fellow – so reclusive in fact, that no one has ever seen him, not even his mom – he plots his stories using letters cut from old newspapers and types them up on an encrypted typewriter. It's also believed that he goes by other names, including A. Pocalypse and N. Dov Days, but since no one's ever met him in real life, it's hard to say for sure. One thing we know is that when the zombie apocalypse comes, he'll be ready!