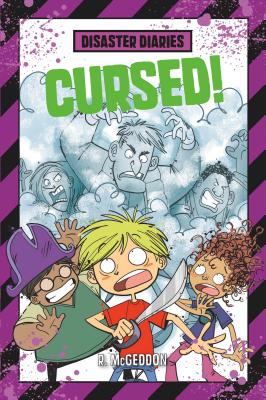 Disaster Diaries (Hardcover)
Cursed!
Imprint, 9781250135674, 192pp.
Publication Date: February 13, 2018
* Individual store prices may vary.
Description
A curse is not a big deal.
Sitting Duck has already survived five disasters,
so what's the worst that can happen, really?
Well… you're about to find out.
During Sitting Duck Founder's holiday, the town gathers to view the legendary pirate ship that brought the town's founder to their shores. ButSam, Arty, and Emmie soon learn it carries more than just treasure and swords—an ancient pirate curse is sweeping across the town, turning people to stone!
Who has unleashed this deadly curse and why? Sam, Artie, and Emmie must take to the high seas before their town is wiped off the map for good!
Filled with funny illustrations and tips to survive a pirate curse, R. McGeddon's Disaster Diaries: Cursed! will have middle-grade readers laughing out loud!
Survive all the disasters:
Disaster Diaries: Zombies!
Disaster Diaries: Aliens!
Disaster Diaries: Brainwashed!
Disaster Diaries: Robots!
Disaster Diaries: Spiders!
An Imprint Book
About the Author
R. McGeddon is absolutely sure the world is almost certainly going to probably end very soon. His middle grade series, The Disaster Diaries, details the many ways this could happen, including a zombie apocalypse, an alien invasion, and a mad scientist. A strange, reclusive fellow – so reclusive in fact, that no one has ever seen him, not even his mom – he plots his stories using letters cut from old newspapers and types them up on an encrypted typewriter. It's also believed that he goes by other names, including A. Pocalypse and N. Dov Days, but since no one's ever met him in real life, it's hard to say for sure. One thing we know is that when the zombie apocalypse comes, he'll be ready!