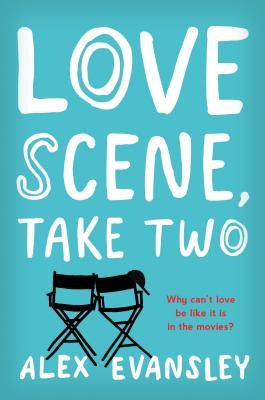 Love Scene, Take Two (Hardcover)
Swoon Reads, 9781250135704, 368pp.
Publication Date: June 12, 2018
Other Editions of This Title:
Paperback (5/1/2022)
* Individual store prices may vary.
Description
Debut author Alex Evansley delivers a sweet summer romance in this inventive novel about a young heartthrob and teen author falling in love.
Teddy Sharpe is kind of famous. He might actually be on his way to being really famous, especially if he'd nailed an audition for the lead role in the movie adaption of the newest bestselling young adult book series. There's just one problem: He totally blew the audition. And he's stuck in a tiny North Carolina airport. And his maybe-ex-girlfriend kind of just broke up with him.
The weekend isn't exactly looking good until Bennett Caldwell, author of the very book series he just auditioned for, takes pity on him and invites him to her family's lake house. Away from the glitz and glam of Hollywood for a few days, Teddy starts to relax . . . and somehow he and Bennett just click. But dating is hard enough when you aren't the subject of several dozen fanblogs, and the Internet is full of juicy gossip about Teddy and Bennett . . . gossip that Bennett might not be prepared to handle.
Chosen by readers like you for Macmillan's young adult imprint Swoon Reads, Alex Evansley's debut novel, written from both Bennett and Teddy's perspectives, will have teens laughing, swooning, and falling in love along with these fantastically relatable characters.
Praise for Love Scene, Take Two:
"A modern, cool, lovable story that easily makes you swoon." —SofiaTypes, reader on SwoonReads.com
"This story had me laughing and crying." —Basicgrill, reader on SwoonReads.com
About the Author
Alex Evansley is a twenty-something-year-old writer from North Carolina. After earning a BA in political science from the University of South Carolina, she realized she wanted nothing to do with politics or becoming a lawyer, and decided to focus on writing stories instead. Her special talents include putting on workout clothes and not working out, sleeping during the day, losing socks, and procrastinating aforementioned stories. Love Scene, Take Two is her debut novel.
Praise For Love Scene, Take Two…
Praise for Love Scene, Take Two:
"Sweet, intelligent, charming Teddy and accomplished, smart Bennett suffer all the drama and angst of young love, complicated by celebrity status and the power of social media. Romance lovers and readers fascinated with Hollywood life (on and off set) should enjoy this flirty, of-the-moment, tale." —Publishers Weekly
"Bennett and Teddy's romance is full of fun and flirty banter, chemistry, misunderstandings and miscommunications, and dealing with fame and gossip....This new adult/older YA title is the perfect summer novel for fans of Jennifer E. Smith, Jenny Han, and Morgan Matson." —School Library Journal
"A modern, cool, lovable story that easily makes you swoon." —SofiaTypes, reader on SwoonReads.com
"From the awkward jokes and heartwarming scenes to the drama and the heartbreak this story had me laughing and crying." —Basicgrill, reader on SwoonReads.com
"This book was utterly amazing. I've reread it multiple time at this point and to me it's almost a comfort. The writing is luscious, gripping and intriguing, the arc and plotting of the story is done beautifully and the characters were so real and honest. ... I cannot help but compare it to Fangirl by Rainbow Rowell, another one of my favorite books." - PriyaWrites, reader on SwoonReads.com